The warmer weather of spring is right around the corner, and the advent of insects is just about to set in. If you don't have insect screens on your windows, your home is prone to insect infestation, which can cause damage to the interior of your property, while also making your living space uncomfortable for you and your family.
Luckily, homeowners now have the choice between the regular fiberglass mesh screens which serve great in keeping out bugs while allowing for ventilation versus the next step Andersen Truscene models- a choice that often comes with a substantial sticker price.
At $85 per window, Andersen Truscene screens are a great investment- around three times the price of traditional mesh screens. Similar to other investments, it is important to weigh the pros and cons between Andersen Truscene Vs Regular Screen.
Andersen Truscene Vs Regular Screen: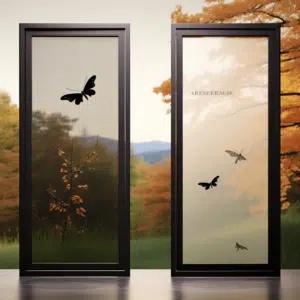 The upgraded screens are normally based on a stainless steel mesh that can be run at a much thinner gauge and therefore allows for a good amount of light. As you may have already figured out, Andersen Truscene screens are generally pricey.
You might want to get some samples or VT comparisons that will help you in making a decision or legitimize the cost. In many cases, buyers say to live with the products for a few weeks to see if they will get used to them.
No one would like the insect screens; it ruins the view both outside and inside of the home. In fact, many people will prefer to move their screens simply to relish an unencumbered view of the great outdoors.
On that note, one of Andersen Truscene's selling points is the incredible view through its micro-fine mesh. At just one-third of the diameter of regular fiberglass screens, Truscene screens deliver up to 50% more clarity that appears almost invisible to the most discerning eye.
Unlike some regular window screens, the Andersen Truscene screen comes as a complete screen option, allowing you to have more ventilation. With these screens, there's no need to choose from the top or bottom ventilation, which is typically the case with standard screens.
Advantage
Homeowners can opt for either half or choose to take full advantage of the whole screen for ventilation. Another important consideration is air circulation. Truscene screens are designed with 33% more air circulation than fiberglass or aluminum screens. The point here is the size of the mesh.
The stated micro-fine mesh is one-third the diameter of the regular wire and thus it provides more fresh air on ideal and not-so-ideal weather days. The design of these screens also allows for more natural light to enter the home.
In addition to great ventilation options, Truscene full screens eliminate the unsightly half-screen look for windows, where one half of the window is shaded darker than the other. Bu ensuring a uniform full window look, the unsightly Truscene quality enhances the external and internal of the home.
Truscene Screen Color and Casement Options
Truscene offers color and casement options to match renewal by Andersen windows.
Stone, white, or unfinished pine frames are available for awning and casement windows, and Sandtone, white, Terratone, and jungle green for double-hung and gliding windows. Since casement choices use stainable woods, Truscene can match your home's wood.
The tightly woven stainless steel mesh and robust frame of Truscene screens make them tear- and impact-resistant.
Truscene window screens keep pests out. The micro-fine mesh's tight weave allows near-invisible vision while blocking nature. Nothing is worse than little bugs entering your home despite your efforts.
Andersen Truscene Screen: Non-Reparable
Unfortunately, even the best window screen has some downsides. The process that makes Truscene screens more durable also makes them non-reparable. That means when damage occurs, you will have to re-order a whole new frame and new screen.
Most people are used to running down to the local hardware store for a rolling screen mesh that they can cut to size and replace their broken screens, but the hard truth is there are no rolls of Truscene mesh at the hardware stores.
Most of the damages, however, are dents from impact, slices, and tears. The cost of replacing a Truscene screen may sway homeowners who are on the fence about making the investment.
Andersen Truscene Vs Regular Screen: Regular Fiberglass Mesh Window Screen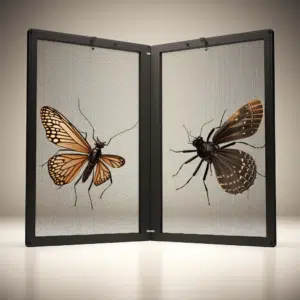 These alternatives are for new replacement window screens, window screen repair, screen doors, patio screening, pet screening, and other professional and DIY screening applications.
One of the major aspects of regular window screens is that they are generally easy to install. Anti-wrinkle fiberglass screen material features a flexible and durable charcoal fiberglass mesh that's friendly to work with and does not easily crease, crinkle, dent, or unravel, which is typically the case with Truscene screens.
They are perfect for custom window screens as well as other custom screening projects and are much sturdier and easier to work with compared to aluminum screens or other types of metal mesh screens.
Regular insect screens keep out pests. They are the best screen and bug screen option for pest-free summer fun.
These alternatives have an appropriately balanced design. Their dimensions balance insect protection, visibility, and sun screening. They are also affordable.