American Standard Bone and is a manufacturer of plumbing fixtures and related products. 
It was established in 2008 and after a number of mergers and acquisitions, the company finally joined forces with two other manufacturing plumbing fixtures companies, Crane Plumbing, and Eljer forming American Standard Brands.
American Standard products and more so the brand is the most recognizable and relatable brand name for toilet, bathroom, and kitchen fixtures in the public, even winning the top spot for Brand Familiarity in bathroom accessories in Builder Magazine back in 2015.
One of the main reasons for this is their target market and vis a vis their price range. On average just about every individual looking to buy plumbing accessories can easily afford to take home American Standard products. 
American Standard products are fiscally accessible to middle and low-income buyers. Nearly all stores carry American Standard fixtures.
Additionally, American Standard has positioned itself as an authority in whichever products they choose to manufacture and sell by undertaking rigorous testing and evaluation of all their units. 
American standard bone vs linen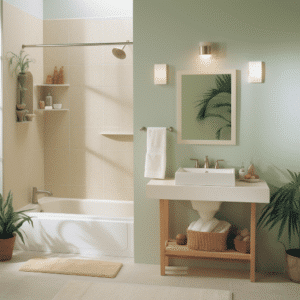 American Standard's most popular bathroom and toilet fixtures are bone and linen.
White is the most frequent color for toilets and bathroom fixtures, although it may not be the greatest suit. Manufacturers may propose bone or linen for different bathrooms and toilets.
American Standard makes toilets and bathtubs in white, black, beige, silver, blue, bone, and linen. Bone and linen are both colors on the white spectrum, which is only separated by undertones. Off-white hues, both.
American Standard Bone
Bone is a color similar to beige with light yellow and light brown undertones.

Bone is a somewhat dull off-white color and a neutral shade that is commonly found in interior walls as a default choice for contractors and also most homeowners who feel it easily fits into the natural aura of the home.
American Standard toilets come in bone which is a common color for most people to adopt.
American Standard Linen
Linen is a slightly lighter version of bone and on any color palette, you will usually find the two adjacent to one another separated by a small amount of hue with linen coming off as the lighter color.
Thus, linen is off-white with light beige and subtle brown tints.
The neutral tone is commonly contrasted with bone, which is preferred by individuals who want a darker hue to off-white and beige, while linen is lighter. American standard toilets also come in linen which is equally common in many homes.
American Standard Bone Vs Linen: Which is better?
When choosing a color for your bathroom and toilet fixtures, especially when picking between these two fairly similar colors, several factors must come into play. 
In fact, most stores will ask you to bring a color palette of your lobby area as well as your home in an attempt to provide you with the best match. 
If you underestimate the value of this exercise, you may wind up with an incredibly offputting bathroom or toilet which will be permanent unless you change it. This will cost you more than a few minutes of your time to consider the following:
Size of the room

The lighting of the room

Cleaning and staining of fixtures

The color palette of the room
The size of the room
Between bone and linen, bone is darker in shade and therefore better suited to a larger room. A small room can appear even smaller if you pick darker shades and darker colors for your bathroom fixtures. 
Lighter linen is appropriate for tiny rooms. American Standard linen is ideal for smaller bathrooms since it looks bigger and brighter than bone fixtures on the color wheel or palette.
The lighting of the room
If your toilets and bathrooms do not get a good amount of natural light, even bigger square footage may not be suited to brighten up the place. 
Choose linen-colored toilets and fixtures for rooms that receive little natural light and if you wish to diminish excessive brightness for instance in a bathroom that has large windows and a bright color palette you are free to go for bone-colored toilets.
Cleaning and staining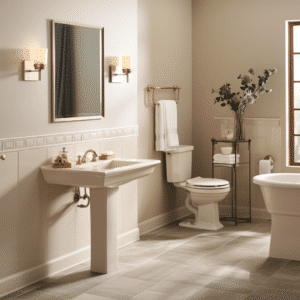 Some people just don't want the added hassle of caring for white porcelain. If this is the case for you, both bone and linen render themselves well to cleaning and barely stain.
If anything this must have been the main reason they were developed. White can be a problematic color, especially in homes where kids will not respect your efforts to keep ablution spaces clean and fresh. 
At times the problem is other grown-ups who care little for such matters and will not care for toilets and fixtures. To avoid the eye-sore that is stained white porcelain, simply go for the duller versions of white. Either bone or linen is good.
The color palette of the room
As much as possible, match fixture colors. Blending toilet and bathroom colors can make a bathroom look cluttered. If the toilet is bone and the wash sink is linen, this may look like long-term discoloration.
White tiles on walls against bone or linen bathtubs will create the same appearance of grime on bathroom fixtures against spotless walls, implying neglect.
If you want a blended bathroom palette, consult an expert as some colors, like gray, are drab yet don't conjure grime.