If you are considering purchasing a carpet cleaner for your home, you may be wondering which is the best one for your needs between the Bissell BG10 vs. 86T3. When you are trying to decide what to buy, it's important to have all the information. That's why we compared these two top-rated carpet cleaners.
Bissell BG10 vs. Bissell 86T3 Cleaners Overview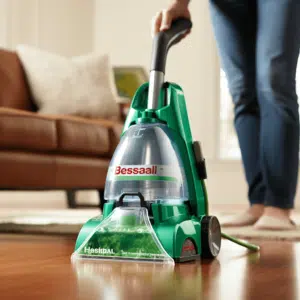 Both carpet cleaners from Bissell are upright, deep cleaning machines with powerful motors that deliver suction and scrubbing action to lift embedded dirt from the carpet.
The two models have the following features:
Dual tanks

– separate tanks for clean and dirty water so you can easily fill, empty, and rinse.
Dual motors

– one motor drives the rotating brush while a second motor powers the suction. This dual motor system provides maximum power to get carpets really clean.
Dirt lifting brushes

– three rows of rotating dual brushes work together to lift dirt and stains from deep within carpet fibers.
A flow indicator

– monitors the water and solution level with easy-to-see levels so you know when to refill the tank.
Adjustable handles

– makes it easy to maneuver around your home.
Forward and backward movement

– makes it easy to push and pull the machine across your carpeting for optimal cleaning.
Edge-to-edge suction

– allows for efficient cleaning all the way to the baseboard.
What is the difference between these two models?
These two carpet cleaners share a lot of similarities, but there are some key differences that set them apart.
Bissell BG10 vs. 86T3: Weight
The Bissell Big Green Deep Cleaning Machine is heavier and bulkier. It weighs about 60 lbs, and the dimensions are 23 x 11 x 42 inches, whereas the Bissell 86T3 weighs about 49 lbs with about the same dimensions.
So, if you have small storage space in your home, you can opt for Bissell 86T3 instead of Bissel Big Green BG10.
Bissell BG10 vs. 86T3: Design
The designs of both Bissell BG10 and 86T3 are more or less the same. They both have the same body style and size, and they are available in different color options.
They both have a large main body as well as a detachable tank. The use of plastic is quite plentiful in the construction, but it is thankfully strong enough for carrying around without breaking or cracking.
Both Bissell BG10 and 86T3 come with an ergonomic handle that allows you to hold them comfortably.
They also come with a long power cord so that you can clean a large room without having to change the outlet constantly.
Bissell BG10 vs. 86T3: Cleaning Design
The Bissell BG10 and the Bissell 86T3 are both upright cleaners. They are quite similar in their cleaning designs.
The best thing about both of these cleaners is that they use two motors to power them. These cleaners have one motor for the brush roll and another for the suction. This means that you will always have great suction no matter what type of surface you are cleaning.
Another thing that makes these two cleaners so good is the edge-to-edge suction. This means that nothing is getting sucked up from the sides of your path as you go along because there is nothing blocking your suction from the edge of your cleaner's path.
Also, they both move forward as well as backward while you are cleaning. This makes them very easy to maneuver around tight corners or other obstacles in your way because you can just back right up to them without having to turn around and go around them instead.
Cleaning Performance:
Both carpet cleaners have impressive cleaning power, but the Bissell BG10 has an edge in this case. The BG10 is a commercial-grade machine that can clean better than any other carpet cleaner on the market.
The Bissell 86T3, on the other hand, is designed for residential use, but it still does an amazing job of removing all types of dirt from carpets and upholstery.
Water Tank Capacity:
The Bissell 86T3 has a lower water tank capacity compared to the Bissell BG10, which makes it more suitable for small areas or homes with fewer people living in them.
The BG10, on the other hand, possesses a 2-gallon water tank capacity which gives it an edge over other carpet cleaners when it comes to cleaning larger areas.
Brushes
Bissell BG10:
It has two rows of rotating brushes, each 12″ long, so they can easily clean large areas. It has a brush speed of 3,500 RPM, so it can deep-clean carpets. It has edge brushes on both sides to clean up against baseboards and reach deep into the corners of rooms.
Bissell 86T3:
This cleaner has an extra-large DirtLifter PowerBrush, 12″ long like the BG10's brushes. But unlike the BG10, this brush roll is designed for deep scrubbing and easy removal of pet hair from carpets. The brush speed is 3,400 RPM with this cleaner, so it can deep-clean even more effectively than most models.
Floor Types
Both Bissell Big Green Carpet Cleaners are suitable for cleaning carpets, rugs, upholstery, and stairs. However, they are not great choices for cleaning hardwood floors or tile floors because they do not have a brush roll shutoff switch that allows you to turn off the brush roll when using the machines on hard surfaces and reduce the risk of scratch marks on hardwood floors from occurring.
Bissell BG10 vs. 86T3: Warranty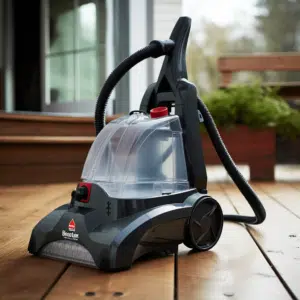 The Bg10 features a 1-year warranty, while the 86t3 features a 5-year warranty. Both warranties cover labor and parts during the first year, but rental units and commercial usage are not covered under the Bg10's warranty.
Accessories
Both models come with similar accessories. They both come with a 2 in 1 crevice tool + dusting brush and an upholstery tool which are very useful for cleaning various furniture items in your home, such as chairs, mattresses, and sofas.
What are some common issues with these models?
There are no major issues with either model. They both clean well and leave carpets looking fresh and new. They both do a good job at removing stains and pet hair as well as dirt and grime from carpets.
Should you choose the Bissell BG10 or 86T3?
Both are excellent machines with 5-star ratings.
Consider choosing the Bg10 if you plan on using your machine for commercial use. If you plan on using your machine at home, we recommend the 86t3.