Toto Ultimate vs. UltraMax Toilets, Are you on the lookout for the best Toto toilet? You typically have many options when it comes to choosing the ideal toilet brand that you can use on your property.
When comparing the major brands like Kohler vs. American Standard vs. Toto; Toto is considered the best because of its durability and high-quality flushing system, which leaves no water or particles in the bowl.
It's never easy determining the best toilet for your case. Still, it's no secret that the Toto brand is recognized for providing some of the most excellent toilet designs with remarkable specifications. Therefore, Toto UltraMax and Toto ultimate toilets are not exceptions.
If you seek a vintage aesthetic with a modern twist, look no further. In terms of appearance, Toto Ultimate and Toto UltraMax combine the best of both worlds while also offering an astounding variety of modern era features.
The Toto Ultimate and UltraMax are all the same pottery, but the interiors are different. The UltraMax has a greater water level for higher head pressure. UltraMax has a higher overflow. Therefore, the significant difference between Toto Ultimate and Toto UltraMax is the flush valve.
The flapper of the Toto UltraMax toilet is engineered to close sooner, allowing the water to exit the tank more rapidly. According to the most recent MaP report, such qualities significantly impact performance. The UltraMax extended flush weighs 700 grams, while the Ultimate prolonged flush measures 325 grams.
Toto Ultimate vs Toto UltraMax Comparison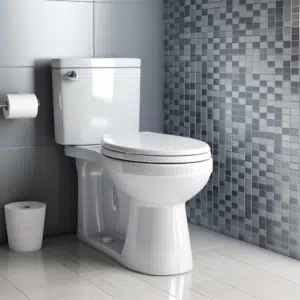 | | | |
| --- | --- | --- |
| Features | Ultimate | UltraMax |
| Bowl | Elongated | Elongated |
| Color | Beige | Cotton white |
| Dimensions | 29 x 17 x 28″ | 28.3 x 16.6 x 28.8″ |
| Flush | Gravity | Double cyclone |
| GPF | 1.6 | 1.28 |
| Rating | 83% | 89% |
| Weight | 89 lbs | 99 lbs |
Toto Ultimate Review
Toto Ultimate vs. UltraMax Toilets decided to switch to a quality-over-quantity lifestyle, Toto Ultimate toilets are for you. The ultimate toilet is incredibly well-constructed and flushes all that it's supposed to be flushed quickly and effectively.
Toto Ultimate vs. UltraMax Toilets has excellent clean lines and a superb gloss finish. There are no clogs with the Toto Ultimate toilet. Therefore, it's the perfect example of Toto comfort height – it'll feel exactly right. You'll also appreciate the friendly piece design, making lifting and installing the toilet much easier.
So, if you're looking for an excellent and affordable Toto toilet, Ultimate can be just what you're looking for.
Features of Toto Ultimate Toilet
Flush mechanism – Uses a power gravity method to operate. However, based on the MaP flush scores, the Toto Ultimate model doesn't have the best performance in flushing. It received a total score of 325, which is good, but there are lots of more economical alternatives available from 600g onwards.

Bowl form – The Ultimate toilet bowl is extended and comfortable. It's believed that elongated bowls are superior to round bowls because they allow the user to sit in a more natural position with more legroom. Furthermore, they are more accommodating to male users.

Water spots – Toto Ultimate has a big water surface area, which helps you to keep smells at bay.
Toto UltraMax Review
The Toto UltraMax toilet is for any homeowner looking for a compact one-piece toilet with a modern design. It's one of the most environment-friendly designs, consuming only 1.28 gallons of water for every flush.
With such low water use, the Toto UltraMax will pay for itself in water savings over other models. The one-piece structure eliminates the likelihood of leaks and is easy to clean.
UltraMax is a 12″ rough-in, making it suitable for the plumbing systems of most homes. The elongated design of the UltraMax toilet fits smaller bathrooms. Taller design is available for larger places.
Since the Toto UltraMax toilet is a one-piece component, cleaning it is relatively simple. Thanks to Toto's patented CeFiONect technology that helps in preventing bacterial growth. The UltraMax toilet is fairly basic, though it uses a small quantity of water with each flush, as you'd expect from Toto.
Toto UltraMax toilet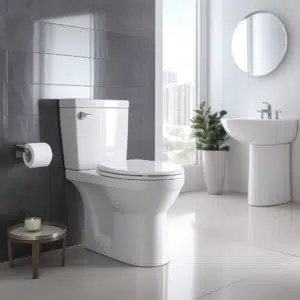 Toto UltraMax toilet has the Toto Tornado flush. The flushing system aids in pulling waste into the bowl when flushing it, which creates cyclonic action that captures the waste and makes them exit the bowl with a powerful force.
The Toto Tornado flush system is important because it helps clean the bowl before you intervene with cleaning detergent and a brush. It's simply a clearing mechanism that every toilet should have.
When it comes to the design of Toto UltraMax, it has the CEFiONTECT glaze coating that creates a smooth bowl surface, preventing materials from sticking. CEFiONTECT glaze also reduces friction between waste and the toilet, resulting in a stronger flush and a cleaner toilet.
In the United States, there are three different toilet heights. To the seat, the usual height ranges from 13 to 15 inches. Height ranging from 15 to 17 inches from floor to seat is the universal height.
Therefore, Toto UltraMax is a universal toilet. Before installing a soft shut lid, the UltraMax toilet measures 16.8 inches from floor to seat and 17.25 inches when finished. Seats 17 to 19″ above the floor are called comfort height seats.
Toto UltraMax toilets are higher chairs made significantly simpler to get into and out of, especially for taller people or individuals with leg issues. Health experts recommend utilizing a step stool after sitting down to help you get into a healthier position. Step stool doesn't need to be enormous or expensive to be useful. It also helps prevent hemorrhoids and constipation.
Features of Toto UltraMax Toilet
1.28 gallons per flush

12″ rough-in

ADA compliant

CeFiONtect glaze

Chrome trip lever

Computer designed, fully glazed trapway

Elongated bowl with SoftClose seat

One-piece toilet

Tornado Flush flushing system

Universal height
Winner: Toto UltraMax Toilet
Toto Ultimate and UltraMax are aesthetically appealing toilets. Both perform excellently to make your bathroom usage a breeze. In addition, they are environmentally friendly since the flushing system prevents excessive water usage.
However, the Toto UltraMax is superior to the Toto Ultimate because they are easy to install and have a smooth coating that prevents particles from sticking to them.
In addition, Toto UltraMax are water sense certified, have a soft close seat, have Tornado flush system, give value for your money, and use only 1.28 gallons of water on flushing.