Bissell BG10 vs. 86T3, Having a carpet is one of the top things that make your home feel like home. It's warm, inviting, and quite comfortable to wander around barefoot. On the other hand, it can be impractical to have a carpet if your home or workplace is busy. That is why you need a carpet cleaner.
However, the task of selecting the best carpet cleaner is not an easy one. This article will walk you through two professional carpet cleaners from Bissell, Bissell BG10 vs. 86T3, to make your work easy. It will take you through a review of the specifics side by side, followed by the pros and cons of each.
BG10 vs 86T3: Overview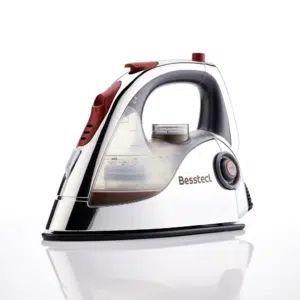 BG10 vs. 86T3: Similarities
Below are some of the similarities between BG10 and 86T3:
Appearance and Size
Both cleaners have a similar appearance. They are gray in color with a green front. They also have identical sizes. Their dimensions are thus 20.5 x 11 x 42.25 inches.
Types of Surface
All carpet types may be cleaned with the Bissell BG10 and the Bissell 86T3. When using either machine, the carpets dry rapidly because the Bissell BG10 utilizes the least amount of water possible, and the Bissell 86T3 has powerful suction. Additionally, you can use them for vehicle seats, stairs, and upholstery.
Path Cleaning
The Bissell BG10 and Bissell 86T3 will clean with each forward and backward movement. The time it takes to clean the carpet is shortened as a result. They are both edge-to-edge carpet cleaners.
The cleaning paths of the Bissell BG10 and 86T3 are also slightly wider at 10-inches and 10.5 inches, respectively.
Easy Storage
Both cleaners have adjustable handles and can be folded, making storage significantly more convenient. The power cord for the Bissell BG10 and the Bissell 86T3 is 25 feet long and is stored on the cord storage found on the handle.
The Bissell BG10 and the Bissell 86T3 only share these characteristics. We will now examine what distinguishes them.
BG10 vs. 86T3: Differences
Weight
Though the BG10 and the 86T3 are similar in size, their weight differs. The 86T3 is heavier than the BG10 at 48 pounds. The BG10 weighs 42 pounds
Brushes
The brushes will impact the two Bissell carpet cleaners' cleaning capabilities. With the BG10, two rows of revolving brushes are used for cleaning.
On the other hand, the 86T3 features an extra-large DirtLifter PowerBrush, which allows for powerful scrubbing.
Water Tanks
Both cleaners have two water tanks. One tank is for clean water, while the other is for unclean water. The difference comes in the capacity of these tanks.
The BG10 has a clean water tank with a capacity of 1.75 gallons and a dirty water tank with a capacity of two gallons.
On the other hand, 86T3 tanks' exact capacities aren't specified, but they both carry more than a gallon.
What is Included
You will want some accessories to clean the upholstery and stairs. It's a shame that the BG10 carpet cleaner doesn't come with any extras.
86T3,  on the other hand, includes a ton of extras. A 9-foot hose, a bag to store the equipment, a 6-inch stair/tough stain tool, and three trial-size Bissell formulas are the extras that come with this cleaner.
Value for Money
There is a significant difference in value for money, just like with the instruments. With the BG10, you will receive a 1-year warranty, making it an excellent value for a professional carpet cleaner.
On the other hand, using the 86T3 carpet cleaner should save you about $100. In addition, the cleaner comes with a limited warranty valid for five years.
BG10 vs. 86T3: Pros and Cons
BG10
Pros
It utilizes the V-rated plastics
It has brushes that can be removed and cleaned
Its tanks are well positioned and are easy to fill
Cons
Buying the accessory kit will cost you $50
86T3
Pros
Despite its weight, it is easy to roll this cleaner
The cleaner is suitable for homes with pets
It offers an excellent value for money
Cons
The tough stain tool leaves the surface damper than the actual machine
BG10 vs. 86T3: Which One Should You Buy?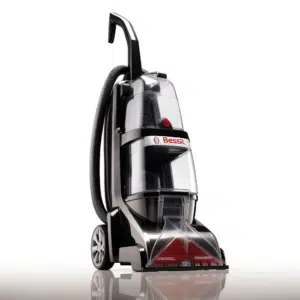 There is no denying how excellent a job these two carpet cleaners do. You can determine the color of the carpets when they have been cleaned and the color of the contaminated water. The best results come from vacuuming the carpets first.
The Bissell 86T3 is unquestionably the winner. You still have to pay for the hose and tool brush even if you locate the Bissell BG10 on sale. Actually, you won't be able to clean anything other than carpets without this. The 5-year limited warranty is also much more tempting than a 1-year. These factors led us to conclude that the Bissell 86T3 was the preferable choice.
Frequently Asked Questions
Is it Worthwhile Getting a Carpet Cleaner?
A small cleaner could be a worthwhile investment to keep on hand if your home frequently experiences spills or accidents that are challenging to clean up. However, it's strongly advised to call in a professional to clean your carpet more comprehensively.
Is it Better to  Steam or Shampoo Clean Carpets?
When selecting between steam cleaning and shampooing your carpet, you can't go wrong with either option, but steam cleaning would be the superior choice. It can manage heavy-duty cleaning without making you wait a long time for drying and removes more invisible pests and grime.
How Frequently Should a Carpet be Cleaned?
The Carpet and Rug Institute advises having your carpet professionally deep cleaned every 12 to 18 months to keep it looking and operating at its best. Remember that this suggested frequency should only be used as a general guideline and may change depending on your unique situation.
Which Carpet Cleaning Method is Superior, Wet or Dry?
The wet method is the best option for extremely filthy and heavily used areas. The dry cleaning approach may be preferable if drying time is critical, particularly in an office setting.
Do You Have to Vacuum Before You Clean Your Carpet?
In essence: Yes, vacuuming comes first. Before cleaning the carpet with a steam carpet washer or cleaner, the carpet should be properly vacuumed with a standard household vacuum cleaner. This will eliminate any loose dirt and gravel or sand that has tracked into the house.