Bosch vs. LG Refrigerator Comparison, The primary purpose of home appliances is to make life better and easier. Refrigerator is an essential and integral item of every modern home.
Everyone accustomed to a refrigerator finds it a useful and convenient home assistant that helps in keeping a wide range of products in their fresh state for a prolonged period.
It's a challenging task to choose a reputable refrigerator that meets all criteria: affordability, high-end quality, and size. In most cases, the consumers are more concerned with the manufacturer's reputation when buying the household appliances.
Several companies selling similar home appliances are now dominating the market. They're all well-known and have a quality assurance label. That puts the customer in a dilemma when deciding on the specific store to buy what they need.
For example, LG and Bosch are well-known companies whose products have won the trust of a significant portion of customers in the global market. Therefore, which company's refrigerator is superior to the other? Will you go for a Bosch or an LG refrigerator?
Are you ready to buy a new refrigerator? Before you set your foot into the shopping stores, let's explore some of the crucial features that will help you decide on whether to buy a refrigerator from Bosch or LG. This Bosch refrigerator vs. LG refrigerator comparison guide will cover the following parameters;
Overview

Appearance

Freshness Zone

Energy Efficiency

Reliability.

Conclusion
Bosch Vs LG Refrigerator: Overview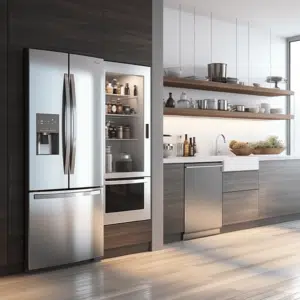 Bosch Refrigerators
Bosch is one of the top 10 manufacturers of dependable and high-quality home appliances with improved energy efficiency and functionality.
All Bosch refrigerators are put through a rigorous test of safety and durability. Therefore, when you buy a Bosch refrigerator, stay assured that it will be the safest appliance in your home to serve you for a significant number of years.
When a conventional refrigerator is opened, warm air can enter the fridge, spoiling the food stored inside. You may use the SuperCool function on the Bosch Refrigerators to lower the temperatures and insulate the food quickly.
The SuperCool function of the Bosch refrigerator also ensures that any product that was recently put in the refrigerator is cooled to optimal temperatures more rapidly. After roughly six hours, the feature automatically goes off to save wasteful power use.
Bosch refrigerators have a BigBox frozen food drawer that offers additional space for the XXL frozen goods. The extra-deep drawer can stack larger items like frozen pizzas, birthday or food containers.
The MultiAirFlow system helps in the circulation of fresh and cool air that helps in maintaining consistent temperatures within the fridge. Therefore, you won't lose the items at the far end where you can't easily see them.
Last but not least, the LED lighting of Bosch refrigerators shines a spotlight on its interiors. It's a modern lighting concept that is very rare in other fridges. The LED lighting of Bosch refrigerators guarantees glare-free illumination of its interior. Led light installed in Bosch refrigerators uses less electricity than the conventional fridge lights. They also last for a lifetime.
LG Refrigerators
When it comes to LG refrigerators, getting an additional room for your groceries is simple. You can keep additional food when you need it, whether it's for holiday feasts, children's lunches, or sports day festivities.
LG refrigerators enhance storage and ice creation with twin ice generators. The Slim SpacePlus Ice System adds shelf and door bin space. Ice is brought from the door and stored in the freezer, so you never run out on hot summer days or family gatherings.
LG refrigerators include PrintProof fingerprint and stain-resistant coating that is easy to wipe with a soft, dry cloth for a unique look that lasts.
The LG SmartThinQ app controls core functions and provides critical fridge updates and maintenance tips from anywhere. It integrates with Amazon Alexa and Google Assistant for voice control.
Appearance
LG refrigerator's case is made from plastic. Therefore, the appliance can easily be eaten away by scratches, cracks and chips. In addition, the LG refrigerator lacks a dirt repellent coating that can protect its surface from traces and dirt.
The colors of LG refrigerators range from white, original bright design to multicolored trims.
On the other hand, Bosch refrigerators are made from a metal sheet with a durable coating that makes their surface resistant to various types of damage. The casing of the Bosch refrigerator is coated with a special matte finish that is repellant to traces, dust and dirt.
Bosch refrigerators come in classic colors like gray, black and white. The other color options include the rich red to stylish metallic.
Freshness Zone
The freshness zone is a special compartment in modern refrigerators that helps in keeping any product in its natural state of freshness for a long time without losing its useful value.
LG refrigerator has a single compartment of freshness zone, but the single compartment is voluminous and spacious enough to store greens.
Bosch refrigerators have a more developed freshness zone, adjustable and spacious. The separated storage compartments within Bosch's freshness zone are convenient to store large items.
Generally, the freshness zone of the Bosch refrigerator is better than that of the LG refrigerator.
Energy Efficiency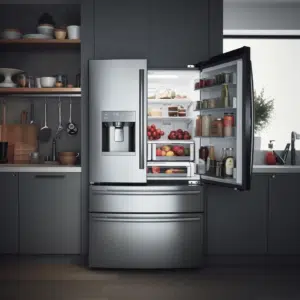 LG refrigerators are classified under class A when it comes to energy-saving mode. That means that they are more energy-efficient, noise-free and again highly efficient.
The cooling units of Bosch refrigerators demonstrate excellence in energy efficiency. The standard control of the refrigerator is also similar to that found in LG brands.
Therefore, under the energy efficiency parameter, there is little to no difference between the Bosch refrigerators and the Bosch refrigerators.
Reliability
The refrigerator should be able to maintain the cooling and freezing temperature modes to preserve food quality and freshness.
The Bosch refrigerator is the most reliable since the manufacturer considers the parameter of reliability most significant.
Bosch refrigerators undergo extensive testing and inspections in different climatic and temperature settings, and the drawbacks are corrected as they occur.
Bottom Line
In conclusion, the advantages of LG refrigerators over the Bosch refrigerators include;
Affordability

Bright and unique design

Cheap consumables
Disadvantages
Unreliable

Reduced functionalities;

Short service life.