Bosch and Wolf Induction Cooktops, Looking to buy either a Bosch or Wolf induction cooktops? What's so special about them? From precision flame control to customizable cooking zones, both brands seem to understand how to fire up the kitchen with their versatile range of gas, ceramic, and induction cooktops.
Bosch, in particular, has been a kitchen equipment innovator for decades. Most people suggest this company because of its extensive history.
Bosch has been in business for 150 years and takes pride in its design, innovation, and products.
Wolf, on the other hand, with their signature red knobs is the gold standard for DIY chefs who want to cook at a professional level. It is one of the most popular options when it comes to precision, power, durability, and performance for cooking purposes.
Bosch Vs Wolf Induction Cooktop: What the Best Choice?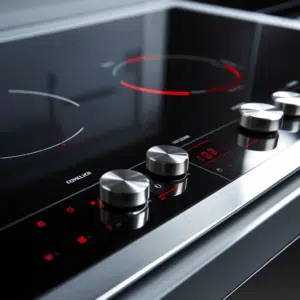 How do you determine the right brand between Bosch vs Wolf induction cooktops? Well, as you probably already know, we can't just give you a mere suggestion- to analyze this- we really have to kind of explore both companies and see how each compares against another.
However, in case you're in a hurry and hard-pressed for time, what we can say right off the bat is that Wolf is known to provide some of the most expensive kitchen appliances in the market.
While the Bosch isn't the most affordable either, both brands boast excellent customer support, making them a major consideration.
We'll take an in-depth look at everything you need to know about both companies' products, what the costs are, and hopefully help figure out why they are just so expensive. But first, here's a quick summary of the pros and cons of both companies:
Bosch: Pros
Similar to other popular companies out there, we've heard great things about Bosch and their customer support. They make some of the most reliable induction cooktops.
In fact, if you're searching for a top-of-the-line kitchen appliance, Bosch is certainly a good place to start looking.
This German company makes a wide variety of appliances for cooking and baking including refrigerators, food processors, dishwashers, and even washers and dryers.
Considerations
Searching online, shoppers stated that the burner controls are slightly complicated. There's very little instruction you can actually find on it. You actually have to select the burner and then select the temperature setting, which might not be super intuitive.
Wolf: Pros
We hear Wolf's customer service is amazing. But if you're going to spend that much on a cooktop, you want to know you can have it fixed if it breaks.
We've also read that this is one of the most reliable induction brands per appliance. Most purchasers liked the brand's build quality and features like 4 touch control regions per burner for 1 touch temperature control.
Considerations
Despite being a premium brand, Wolf has its share of drawbacks as well. Shoppers stated that it's slightly harder to find a Wolf retailer. This is because most online locations require you to call to order and so forth.
Moreover, although this is a higher-end product, there are not many reviews about it- even though it generally pops up as being one of the best induction cooktops when researching online.
Product Quality
Bosch: Quality is one of the major aspects where Bosch excels. In fact, if you're aspiring to take a modern approach to cook, be sure to consider one of their induction cooktops. Contrary to other types of appliances such as gas cooktops, Bosch models are known for creating heat in the pan, while keeping the rest of the surface cool.
This helps to make the cooking much safer, even with low temperatures because you'll be able to minimize the risk of accidents. Reading on the company's website, these induction cooktops can boil water twice as fast as glass-ceramic cooktops, saving you time and energy in the kitchen.
The Bosch PIJ611BB1E, for instance, comes with PowerBoost channels that can boil 2L of water almost three times faster than a traditional glass-ceramic cooktop. This function is said to turbo-charge the cooking process, allowing you to increase the power of any zone you wish up to 50%.
Wolf Induction Cooktop
Fundamentally speaking, Wolf ranges have admirable build quality. In fact, they are known for being a real workhorse when it comes to building quality. Even on the brand's smallest 30" range, a large oven capacity is a standard feature.
Wolf models come with independent temperature sensors which enable the motor to kick on whenever needed. That means you'll be able to regulate the temperature for much better cooking. It is great especially when you are working with a super hot oven.
Another important factor that makes Wolf products an excellent choice is that they are built to last. A wolf range can cook at maximum heat all day long and continue doing so for years without serious problems. They developed with professional quality in mind for long-lasting performance.
 Price
Bosch Induction Cooktop: Regarded as Europe's number one home appliance brand, Bosch offers a wide selection of kitchen and other home essentials to various types of households around the world. The company caters to a variety of home cooks by providing a number of functions designed to deliver greater control over baking or cooking.
Compared to other cooktops out there, the Bosch collection features more expensive models. Prices start from $469 and can cost up to $1,999. Ceramic cooktops likewise range between $749 and $2,099. However, induction cooktops normally come at a higher price tag of around $1,699 to $3,999.
If you would like to spend more on an appliance that promises long-term savings, Bosch claims that its induction cooktops heat up faster and consume less energy compared to other cooktops.
The brand might also be ideal, especially if you're concerned about a hot-to-touch cooktop causing accidents. Otherwise, the Bosch induction collection has a number of options available at different price points.
Wolf Induction Cooktop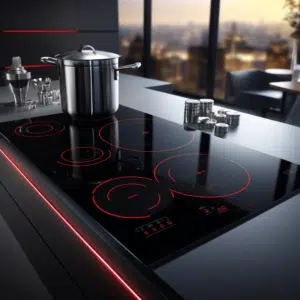 Wolf induction countertops are pricey due to their high build quality and engineering. Every $5,000+ model is well-designed, insulated, and powerful.
Not every cooktop has the little touches that make it excellent. Functionality depends on model precision and engineering. This is the main reason Wolf appliances cost more.
Strong doors are also built nicely. You can rest a 20-pound turkey on the open door without the hinges bending.