Bosch vs. Miele Washers, Everybody loves washing machines, and since their inception, human productivity has surged.
Manual laundry, still the norm in many nations, is an outdated way to do a demanding work properly.
A washing machine is a critical instrument for exponentially increasing women's productivity because it can cut a three-hour task down to minutes without human participation.
Over the past 50 years, washing machines have changed in function and style due to a demanding market. Consumers benefit from the latest innovation and engineering capabilities.
The essential need in 1950s middle-class homes was a washing machine to wash clothes and shoes.
Today, that fails. Today, consumers want machines to wash clothing and shoes quietly and gently to avoid bruising delicates.
Washing machine manufacturers have no option but to shell out machines that not only meet demands but exceed expectations.
Bosch and Miele are two brands that rise to the occasion and continually level the competition when it comes to performance and innovation.
Bosch vs Miele washing machine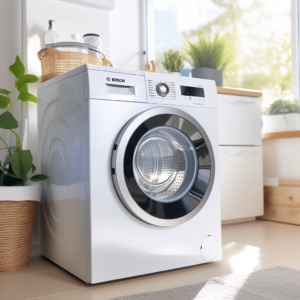 If you are choosing either one of these brands, you are not looking for some assistance cleaning your clothes you are in the market for a status symbol. 
The best possible laundry experience is with either of these brands so which one edges out the other?

Durability and longevity
Both Bosch and Miele are German makes and consistently rank superior to the competition for this reason. German engineering has positioned itself as the ultimate best in engineering and technology as far as these kinds of appliances are concerned. 
Both of these washing machines will stand the test of time with indiscernible wear and minimal repair work needed if any. 
Miele slightly edges out Bosch and their washing machines have been known to last well over ten years easily making it to twenty years exceeding their guarantees.
That said, either brand is sure to last a decent decade in stellar condition.
Compact design
In the city, homes are getting smaller and space is getting tighter. Most lofts and flats aren't big enough to fit a standard-sized machine. Bosch and Miele make models for this market that are just as good but have smaller slots. Even though these machines are small, Bosch and Miele have made them so that they don't shake.
Most places where these machines need to be put can't handle the appliance's vibrations and movements. As expected, the best vibration resistance comes from the two names. Their small versions barely shake when they work, so they don't hurt the small spaces they fit into.
Many homes with a lot of space are getting small models because they are quiet and make good use of space. Most people today like small models because they are curved and smooth on the outside, which makes them less noisy and more beautiful.
Performance and efficiency
Bosch and Miele have long had great washing performance. The actual issue is how successfully you save energy and water, and most governments have strict criteria for product certification.
All Bosch and Miele front load washers feature the Energy Star logo, meaning they meet the current energy efficiency standards.
Bosch and Miele have sensors that modify water consumption per wash based on the laundry.
This method, water is determined by wash intensity as well as laundry weight.
Office clothing seldom need a vigorous cycle, but sportswear need more water and detergent. You should see the label ActiveWater on Bosch which is the Miele equivalent of its Automatic Water Level Adjustment.
Additional features
This is where Miele leaves all others in the dust consistently. Miele continuously pushes the envelope by offering the consumer more than is expected and consumers are always more than glad to experience the next feature in Miele engineering.
This system holds automatic detergent dispensers. The fact that detergent and non-chlorinated bleach are delivered for three months without replenishing is wonderful.
Miele washers use AuoSense to decide how much detergent and bleach to use. If Bosch vs Miele Washing Machines don't want this feature, you can use any detergent.
This is another proprietary feature in Miele washers only that provides six different proofing agent formulas for different kinds of fabric, three different fabric softeners; Nature, Aqua, and Cocoon, as well as a Booster that attends to stubborn stains when such is detected.
Again, this feature is optional and you are free to use any other products that you choose without compromising the quality of the cleaning process.
Both Bosch and Miele are industry leaders in appliance manufacture and you cannot go wrong with either. If you have wiggle room in your checkbook, however, get yourself a Miele washing machine.