Rheem Performance vs Performance Plus, Founded in 1925, Rheem company is one of the well-known manufacturers of both air and water appliances. The company puts emphasis on dependable quality and customer care and has produced numerous many innovative designs during its first century in business.
Fast-forward to the late 1940s, the company had contributed heavily to consumer goods with plants across the US and overseas branches in both Australia and Brazil. Rheem would continue to grow rapidly, ending in 1960 with at least 42 plants in 19 countries.
Today, the Rheem Water Heater Division features several lines for both residential and commercial use that falls on the cutting edge of efficiency and technology. The Rheem Performance and performance Plus are some of the popular models that the company has to offer.
Rheem Performance Vs Performance Plus: Overview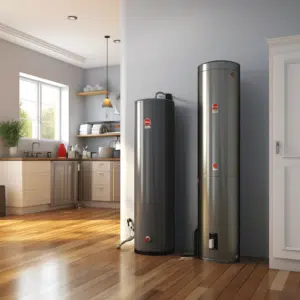 Rheem Performance is the lowest rung of the company's gas heater family. These water heaters start at a UEF of 54 and max out at 81 for the most efficient models. Tank sizes range from 29-to 98 gallons to allow for the much-needed perfect fit.
Generally, performance lines are quieter and lower-maintenance in comparison to other options in the same line. They are considered a great choice for single-family homes.
Meanwhile, the Performance Plus lines rest in the middle of the standard and platinum series. These options range from 58 to 65 UEF, with the atmospheric line being Low NOx, and the Ultra-Low NOx models taking air quality a step further.
All models featured in this category include diagnostic control systems with troubleshooting codes and are eco-friendly.
While this water heater is available in gas and electric models, the two gas units both come on 4 and 50-gallon capacities with an energy factor of 62. The one electric model is available on 40 and 50-gallon capacities offering a 95 energy factor.
Rheem Performance Vs Performance Plus: Quality and Efficiency
Both Rheem Performance and Performance Plus water heaters offer superior efficiency with some featuring a UEF rating of up to 98%.
Rheem Performance Plus water heaters are believed to be more durable than Performance due to enhanced gas control valves and copper heating elements.
Rheem Performance Vs Performance Plus: Built Quality
Series water heaters have two heating elements, however Performance plus series have a stainless steel base element and copper top element. The corrosion-resistant stainless steel is more durable.
The Performance series water heaters have a plastic drain valve with Honeywell gas control. Performance Plus units have brass metal drain valves and RobertShaw gas controls in metal cases.
Rheem Performance Vs Performance Plus: Product Price
The fact that Rheem is a good, mid-level water heater brand means that their products are not too expensive. The company is widely known for manufacturing durable, reliable water heaters, which make a good choice for most homes.
In addition to Rheem Performance and Performance Plus, the company offers water heater models in gas, electric, solar, tankless, and hybrid.
Rheem Performance Vs Performance Plus: Warranty
Despite being made by the same company, the average warranty period for water heaters from both series varies from one model to another, ranging from between 5-12 years. Maximum GMP also differs from one model to another, generally between 0.9-11.
Things to Consider When Choosing a Water Heater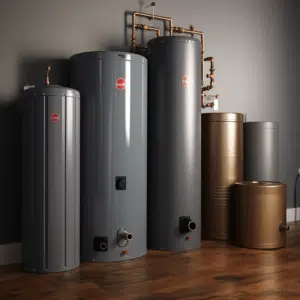 Whether you are looking for a gas tank-type heater or an electric tank-less water heater, the good news is that Rheem offers water heaters for all purposes. It's a well-known provider of water heaters with a variety of categories that are of great quality and efficiency.
Reading on the company's website, their products are carefully developed and tested for functionality so users can feel confident that their purchases are top-of-the-line models.
However, water heaters have come a long way with improved features and a range of advanced options for anyone looking to switch their old system to a new model with customizable preferences.
Therefore, if you're looking for a new water heater, you need to consider certain factors to make sure that you get what works best for you.
Rhee, water heaters do have smart features that allow you to keep a watchful eye on your temperature from your phone. Design-wise, however, one of the main things you should focus on when selecting the best gas water heater or electric water heater is capacity.
A great warranty and an energy star certification could be an added benefit. Note that even though gas heaters are typically cheaper than electric heaters, they are also less energy-efficient and are associated with a fast recovery time.
Another important issue to think through when deciding which water heater to go along with is your initial heater. It may be more costly to switch a gas heater to an electric and vice versa to additional installations. As such, many people prefer to keep the same heater model by simply updating their heater.
Conclusion
To sum up, Rheem is well-known for excellent home appliances and their Performance and Performance Plus are no exception. On one hand, the Rheem Performance series is generally the lowest class of the company's heater collection.
However, they are considered an excellent choice, especially for single-family homes, as they are quieter and low-maintenance compared to other brands in the same class.
The Performance Plus, on the other hand, is self-cleaning, which helps to combat sediment build-up while saving energy and gas units.
It utilizes a premium-grade anode rod for sustainable protection against corrosion and incorporates both pressure and temperature relief valve and an improved flow brass drain valve.
Also, as stated before, all models of the Rheem Performance Plus come with a self-powered diagnostic control system with troubleshooting codes.