Budget Blinds and Home Depot, While there are many items that are optional in a household, blinds are a must-have for the simple reason that windows and in some cases doors, must have some form of covering.
They, therefore, tend to be a prominent fixture in the home whether functionally, aesthetically, or both.
Blinds are one of the home décor items that can be very tiresome to select due to the abundance of options available and the many styles to choose from.
Of the many stores from which you can get your blinds, Budget blinds and Home Depot are certain to be on your list but you can only buy from either.
So what do you need to know?
Budget Blinds Vs Home Depot: Overview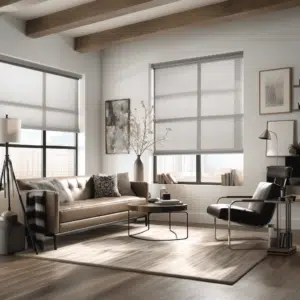 Quality
Top shelf quality is essential for every customer and every provider is acutely aware of how important this is for their bottom line.
Both Budget Blinds and Home Depot sell excellent quality products and between the two it is really a coin toss, which brand is better.
Home Depot procures blinds from several manufacturers while Budget Blinds sells exclusively for one producer, Hunter Douglas.
A larger assortment may give Home Depot a competitive advantage in the quality department but Hunter Douglas has the advantage of specialization.
Either way, you are guaranteed quality blinds.
Variety of Designs
Blinds today come in many designs and styles. Both Home Depot and Budget Blinds feature an array of blinds.
Depending on what you want from your blinds, you can choose from horizontal or vertical blinds, vinyl, faux wood, real wood, aluminum, composite blinds, motorized blinds, corded or cordless blinds.
The extensive variety also allows you the options to go for several designs depending on what each room needs and the options for décor here are vast.
Variety of Colors
A decade or two ago, blinds almost exclusively came in singular bland shades of classic beige, white and grey.
Blinds were also largely functional and served little other purposes. That has changed dramatically and blinds today are artwork for your home.
The color and patterns of your blinds are as much a part of the home aesthetic as the mural on your wall and with this in mind, it has become increasingly important to select blinds based on how well the colors gel with the interior of your house.
The fact that they go on your windows means they also affect the beauty of your home from the outside. This was hardly a concern before. If color is especially key for you, it may be more beneficial to visit Home Depot.
The extensive selection of brands means more variety since different brands produce different and custom colors and patterns in their blinds. Hunter Douglas, the brand sold by Budget Blinds still makes standard color tones of grey, beige, and tan.
Installation
Budget Blinds specializes in blinds only. They have therefore streamlined the installation procedures to make it as easy as possible to install their blinds.
It is nearly impossible to go wrong installing Budget Blinds which means there will be no added installation costs incurred to hire help.
Home Depot carries several brands and different brands come with different installation mechanisms.
In some cases, where installation is not straightforward, you may be stuck with extra charges for installation to be done either by a Home Depot employee or an independent contractor you hire.
Durability
Durability is entirely dependent on materials used to make your blinds and the construction or craftsmanship.
Due to stiff competition and the sophisticated trends of buyers today, both Budget Blinds and Home Depot blinds will definitely endure the test of time.
Home Depot again may have the advantage by selling products from several manufacturers and with that stiff completion, manufacturers will scramble to provide durable blinds which benefits the consumers.
Budget Blinds most commonly bought blinds that are faux wood, have an extensive shelf life, and can last up to eight years without fading, cracking, or sagging.
Many homeowners replace their blinds in half that time despite the blinds being completely functional.
Designs made from metal and wood can last even longer, spanning decades.
Maintenance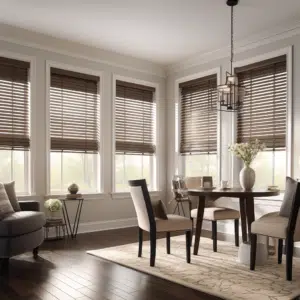 For your blinds to last and retain both lustre and function, they need constant maintenance and mostly cleaning and dusting.
Blinds collect an inordinate amount of dust and without proper maintenance, they may begin to appear old and haggard, ruining the look of your home.
Maintenance is generally easier with Budget Blinds products than with Home Depot blinds.
This may be attributed to the fact that Budget Blinds exclusively deal in blinds and other window paraphernalia while Home Depot carries a variety of other products.
It is also important to note that the kind of blinds you choose will also determine the care they demand.
Wooden blinds, for instance, are characteristically beautiful and decadent. Real wood, however, needs specific care as it deteriorates without proper handling.
Aluminum blinds, one of the most common blinds bought for their pocket-friendly cost, need little care apart from the occasional wipe down and some dusting.
If maintenance is not your forte, simply shop from Budget Blinds.
Cost
As the name suggests, Budget Blinds have blinds that will likely fit a tight budget.
Home Depot offers a range of blinds and with this comes a range of prices to match. Buying your blinds from Home Depot will likely cost you more than shopping at Budget Blinds.
The kind of blinds you want also determine how much you must spend. Motorized blinds are quite pricey and must also be installed by an expert in order for them to be properly integrated into your home automation system.
If the cost is not a consideration for you then by all means shop at Home Depot for the large selection they offer.
Which is Better? Budget Blinds Vs Home Depot
Home Depot is the better place to find a variety of colors and more durable blinds while Budget Blinds takes the lead in cost considerations, easy maintenance, and installation.
Both have excellent quality and a variety of designs. Based on which of these factors rank top on your list, both these stores will give you an ideal product. Break a leg!