Champion vs Pella Windows is always a good idea to do your research before making a big investment. While choosing windows can be a real challenge to homeowners and builders, this comparison between Champion and Pella Windows could help you make a more informed decision.
Reviews show that both Champion and Pella windows are some of the high-performing, durable, and energy-efficient windows on the market.
In case you're wondering which of the two- Pella vs Champion windows- is better, this article will provide you with a breakdown of various crucial aspects including durability, energy efficiency, warranty, and cost.
Champion Vs Pella Windows: Overview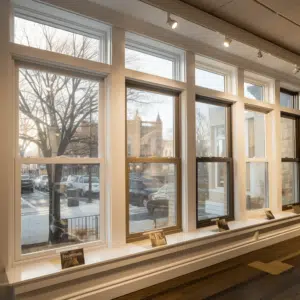 Champion Windows Overview
Based in Cincinnati, Ohio, Champion Windows and Home Exteriors was established in 1953 and started off as an aluminum storm window and awnings. Currently, the company produces custom-designed home improvement products such as entry doors, sunrooms, vinyl siding, and replacement windows.
In terms of energy efficiency, all window models from Champion are based on the same approach. They start with the use of the company's own Comfort 365 glass, which prevents most heat exchange between the interior and exterior of the home to lower heating and cooling bills.
The glass is also built to block damaging UV rays that could fade interior fabrics such as drapes, carpets, and furnishings. Sources suggest that the increase in energy efficiency from the use of Comfort 365 glass over standard dual-pane glass is up to 35% during cooler seasons and up to 41% during warmer seasons.
Another great thing about Champion windows is that shoppers can concentrate on a particular desired style rather than the efficiency of a specific window model.
Pella Windows Overview
Pella Corporation saw its first outset in 1925 with the main aim of producing roll screen window models. Founded by Pete Kuyper, the company offers manufactured windows and custom-designed windows and doors ideal for commercial and residential applications.
Pella's line of products features modern construction and replacement windows, storm doors, patio doors, and front entry doors.
The company offers nine window types including double-hung, casement, single-hung, awning, siding, picture, bay & bow, specialty, and custom windows. Pella windows are mostly made from three main materials including wood, vinyl, and fiberglass.
Champion vs Pella Windows: Energy Efficiency
Champion windows are Energy Star and AAMA-certified. These windows have unique Low-Emissivity coatings embedded into the glass between panes and fused with argon gas.
Their Low-E glass windows block 94% of UV radiation and let natural light in.
It also keeps the house warm in winter and cool in summer by reflecting heat back to the source. Champion Windows provide family comfort and protection while lowering utility costs and carbon footprint.
On the other hand, Pella windows are also Energy Star rated. They come with Low-E glass that helps to improve the energy efficiency and comfort of your home thereby reducing your utility costs.
Similar to the Champion windows, the low-E glass in Pella windows functions by reflecting the heat into the room in the winter so that the inside stays warmer. When the summer comes, this feature reflects the heat away to keep the place cooler.
Moreover, Pella windows incorporate two panes of glass with insulating argon glass in between that blocks the sun's UV rays, slows down the conduction effects, and safeguards the furniture and other fittings from fading. The glass is well insulated to maintain a consistent temperature inside the house.
Champion vs Pella Windows Durability
Most Champion windows have 20 protective levels. These 19 layers are built into the glass surface and are metallic and non-metallic. This strengthens glass windows and improves visibility.
Champion windows' high-quality frame makes them durable and efficient. Water and damp cannot damage the window with its weatherproof plastic lock.
Airtight meeting rails with heated pockets make these windows more pleasant, prevent air leaks, and block drafts.
Also, Champion windows use TIMBERBOND technology, which embeds the finish into the frame to protect it from burning, peeling, and chipping. ColorBond technology is also used by the company to help stop energy loss, fading, and warping.
Pella Windows, on the other hand, use a water sealant and metal to protect their wood windows from mildew, mold, rot, stains, and general wear and tear.
The company also uses a method called welding to make the windows more resistant to warping and twisting. The windows have a weather-repelling system with three weather strips and several places where drafts can't get in. These things keep water and wetness out of the house that doesn't belong there.
Champion Vs Pella Windows: Warranty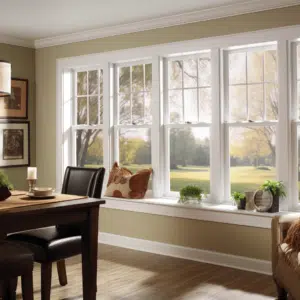 Champion windows have a limited lifetime warranty on installation, repair, parts, labor, and materials. The warranty covers screen repair, shattered glass, waste removal, and seal failure.
Pella windows also have a limited lifetime warranty for the original buyer and subsequent owners. The warranty covers single-family residential and commercial applications.
The limited lifetime warranty does not cover damages, loss, or product failure caused by improper window storage, installation, use, or handling. Damage from normal fading and wearing and repairs by unauthorized Pella specialists are not covered.
Champion vs Pella: Cost
The average price of champion windows ranges from $460 to $3,400 and it includes installation costs. The most accurate estimate of these windows can be obtained by working contacting Champion expert technicians. However, you can always get a rough estimate subject to the selected style, interior, and exterior finish options.
On the other hand, Pella windows' price ranges from $330 to $620 for the windows only and from $625 to $3000 with installation fees included. Just like Champions windows, Pella windows can vary depending on the selected window type, style option, and product line.