There are tons of new and emerging door and window brands, making it hard for homeowners, contractors, designers, and engineers to pick the right option for their deals.In addition, there are tempting offers in the current competitive market that can make one slide to the wrong side since each company is trying to leave a mark.
On the other hand, there are old and famous brands known to offer high-quality products and good customer service at a relatively higher price. Are you among the people who get confused when choosing doors or windows from popular brands like Andersen, Pella, and Marvin? Well, you are not alone.
Read through this article to clear every doubt you have about the three brands. Finally, you will get to know the brand that offers the right features for your project and how you can fully utilize it to your advantage. With that said, let's get started.
This Marvin vs. Pella vs. Andersen comparison covers the following parameters:
Brand history and reputation

Pricing, quality, and durability

Types of materials used

Product lines

Ordering process

Warranty
Brand History and Reputation
Marvin brand was established in 1904, one year after Andersen was started. In the initial phases, Marvin Company faced a lot of ups and downs that made it conform to the character of flexibility and adaptability. Currently, it's among the successful brands in the field of window and door manufacturing.
Pella was founded in 1925. It's the newest brand among the three. Pella is well known and respected worldwide because of its research and innovative strategies in the door and window manufacturing field. They are the source of award-winning designs and concepts in the marketplace.
Marvin Vs Pella Vs Andersen
Finally, the Andersen brand is the oldest multinational brand, established in 1903. Its product line is within doors and windows manufacturing.
Is Marvin A Reliable Brand?
Yes. Marvin Company was selected to manufacture food containers and ammunition boxes for the soldiers during World War 2. Currently, it's the leading manufacturer and supplier of architectural doors.
Is Pella A Reliable Brand?
Pella Company has futuristic and innovative thinking. It's a good brand that makes life easier and full of fun. Since its establishment, Pella has patented over 150 products and designs. In 2021, Pella received Azure Magazine's People's Choice AZ Award because of its Easy-Slide Operator Awning and Casement window.
Is Andersen A Reliable Brand?
The Andersen storm doors of Andersen are people's favorite. Especially the Andersen 4000 series, E series, and 10 series. Andersen is a good brand if you want a customized window or door for your home or office.
Pricing
Now, which is the cost-effective brand between Marvin, Pella, or Andersen?
If you're looking for a budget-friendly option, the Marvin brand is the way to go. It's cheaper than Pella and Andersen.
Andersen products are expensive because the company uses high-quality materials and top-notch designs for product customization. The Pella brand, on the other, is also known for offering cheaper products.
The Pella doors and windows are made from inexpensive materials that are easy to install and maintain. Therefore, they are also cheaper than the Andersen products.
Warranty
In terms of warranty, Pella offers longer and the best warranty service. Andersen and Marvin's warranty terms are almost the same, but the Marvin brand's option goes for a slightly more extended period.
Therefore, in Marvin vs. Pella vs. Andersen comparison, the clear winner in the aspect of warranty is Pella.
Materials
Marvin, Pella, and Andersen commonly use Vinyl, fiberglass, and wood material for their product construction. That's a similarity worth your attention.
However, apart from the materials stated above, the three brands, Andersen, Marvin, and Pella, can still use aluminum and steel in some windows and doors. Products made from aluminum and steel are likely to cost higher than Vinyl or wood-based products.
There is a probability that Marvin could rarely be using Vinyl in their production since the Marvin vinyl-based windows and doors are very limited.
Andersen uses their own composite FIBERS for exterior windows and doors. Composite FIBERS from Andersen is two times stronger than the Vinyl. Therefore, it can perfectly withstand extreme weather conditions.
Product Line-Up
Marvin, Pella, and Andersen offer pre-built and custom-made doors and windows to its customers.
Andersen offers eight types of windows, Pella has nine, and Marvin offers the highest number of all, which is 10. Therefore, Marvin has more window varieties than Andersen and Pella.
All brands have a vast collection of doors for the corner or nook of your home. However, which company has a better texture, design, and collection in the doors segment?
Marvin vs. Pella vs. Andersen vs. Patio Doors
Pella has a huge collection of patio doors which comprises five different styles. The Collection of Pella patio doors is better than what you will find from Marvin and Andersen.
The Pella website's user interface is friendly and straightforward to help you under the categories of front doors and patio doors. It also makes it easy to pick the right patio door for your house.
Andersen comes second after Pella indoors segment. There are three types of patio doors from the Andersen brand. It's quite easy to choose a single option from their site.
The Marvin brands don't highlight the patio doors subdivision on their website.
Ordering Procedure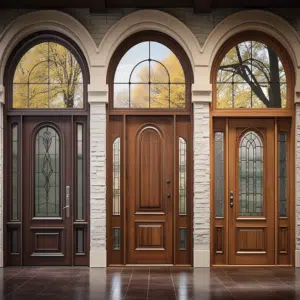 Easy and fast ordering processes determine whether the brand can be trusted or not. It also shows how the company is dedicated to ensuring that the customers have a better experience.
Andersen makes it easy and quick for their customers to order windows and doors. You can find Andersen products from your local stores. However, you might need to buy some Andersen items online.
Pella offers free consultancy services from nearby dealers. Still, you can choose to have a virtual consultation if no agent is closer to your doorstep.
Marvin doesn't offer online ordering services. Therefore, when you need any of their products, you will be given suggestions of where you can go and consult experts who will help you in all the ordering procedures.
Conclusion
If you want to explore the exotic windows and doors collection, choose the Andersen E series. It's expensive but worth it. However, if you are budget-centric and need the finest door and window made from wood, check Pella Reverse Windows.
Pella is a clear winner in warranty terms. Marvin and Andersen's door and window segments run for almost the same period.
Finally, all brands are reliable and excellent for a new or replacement project in your home or office.