Lots of excavating must be filled during construction. Backfill strengthens foundations, fills excavations, and improves drainage. Stone is ideal for backfill since it is robust and drains well, but some stones perform better. Backfill stones like Ca6 and Ca7 are best.
Ca6 is mainly used along the roadway shoulder or to make a road base. That is why it's also known as subbase granular backfill. Despite its significant role in the road construction process, Ca6 is also excellent for backfilling tasks.
CA7, also known as 1″ limestone or 34″ limestone, is a bedding stone. Physically, you will find that Ca7 is an angular white to gray stone that can compact itself. It's ideal for use in drainage projects, pipe bedding, subbase, and backfill applications. Notably, Ca7  is one of the most commonly specified backfill materials for underground construction projects.
Ca6 Vs. Ca7 Overview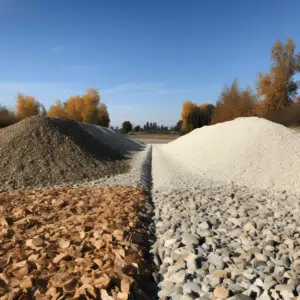 | | | |
| --- | --- | --- |
| Product Specifications | Ca6 | Ca7 |
| Uses | Ca6 is used as a base material in pavements, parking lots, permanent & temporary roads, driveways, walking paths, rural roads, bike trails, and fill material. | Water pipe bedding, sewer bedding, wall backfill, and foundation drainage employ Ca7 coarse aggregate. The Asphalt Binder Coat uses Ca7 because of its water-draining properties. |
| Size | Crushed limestone varies in a mixture ranging from ¾" particles to fines. | Crushed limestone, they are coarse without fines. Sizes range from ¾" to 1 ¼" and are irregularly shaped. |
| The common names | CA-6, Grade 8, Compactable #14, and Road Mix. | CA-7, CA-11, Sewer Stone, ¾ Inch, and Binder. |
Generally, CA is the short-form for the term "coarse aggregates", and the number is used for grading. For example, Ca6 is the coarse aggregate ideal for bridges and roads. Ca6 is less coarse than CA7 because the Ca7 option has more coarse aggregates.
Frequently Asked Questions
Q: What is Ca7 Gravel?
A: CA7, also known as 34″ limestone or 1″ limestone, is an angular bedding stone, appearing white to gray. Ca7 gravel can undergo self-compaction. It is mainly used in the backfill, pipe bedding, subbase, and drainage applications.
Q: What is Ca6 Gravel?
A: CA6 is a common construction aggregate for paver foundations, driveways, trench backfill, patios, walkways, retaining walls, highways, and parking lots.
CA6-A, produced entirely of recycled concrete, comes in 3/4- to 1-inch batches and contains particles.
Q: What is the ideal material for backfill?
A: The simplest material to utilize for adequate support of your structure is stone or gravel. Remember that with a connected garage, you'll need around eight to nine feet of gravel to fill up the house foundation in a home with a basement.
Without the use of stone or gravel, the foundation of your project will lack the proper compaction. In this case, go for Ca7 gravel.
Q: Which type of gravel has the best drainage?
A: Ca7 has good drainage properties because it's made of coarse aggregates and lacks fine particles. In simple terms, Ca7 is coarser than Ca6.
The coarse washed gravel has a stone size of between 1/2 and 3/4 inches for optimum drainage. Smaller stones with tiny particles may block the drain pipe's openings.
Smooth pea stone works, but it doesn't move more water than coarse rock since the smooth stones clump together.
Q: Can gravel self-compact?
A: Self-compacting gravels and rocks are clean. Dumping them near a pipe will create a dense material. Engineers, contractors, and house inspectors realize self-compacting material is important.
Q: How Much Does Gravel Cost?
A: For gravel, delivery, and spreading, rates range from $60 to $75 per yard or $1 to $3 per square foot. A 420 gravel for pathway foundation costs $250, a 1020 gravel for patio or landscaping costs $450, and gravel for driveway construction costs around $600 to $1,800.
Q:  What is the weight of a cubic yard of Ca7?
A: A cubic yard of Ca7 weighs between 2,400 to 2,900 lbs. A cubic yard of gravel is enough to cover an area measuring 100-square-foot with 3 inches of gravel.
Q: Can the yard gravel fit in a pick-up?
A: In most cases, full-size Pick-ups can transport one cubic yard of gravel, two cubic yards of soil, and 2 to 3 cubic yards of mulch. Small Pick-ups can only handle 1½ cubic yards of mulch and one cubic yard of soil.
Q: What is the rock size for Ca6 gravel?
A: 3/4″. Ca6 is a mixture of limestone particles and 3/4″ coarse pieces. The majority of Ca6 gravel is used to base paver patios, walkways, and roads.
Q: How much Ca6 gravel do I need for my project?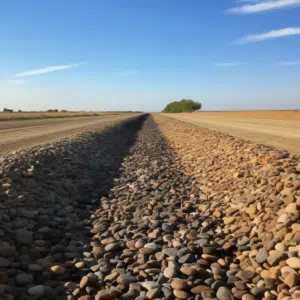 A: To know the amount of Ca6 gravel you need for your project, start by multiplying Depth in feet by Length in Feet by width in feet. When you find the total amount, divide it by 21.6. The final figure is the estimated number of Ca6 tons that you need for the project.
Conclusion
Generally, Ca6 and Ca7 are useful in various construction works ranging from backfill to pavement foundation. Both have coarse fragments, whereas Ca6 has fine limestone particles, making it unsuitable for drainage projects.

Ca6 and Ca7 have different costs that vary from one state to another when it comes to pricing. In addition, to know the number of tons that your project will consume, you need to consult the experts.
Therefore, in every task that you plan to execute, know whether Ca6 or Ca7 works best for the intended purposes. You can consult the engineers and even miners to help you know the number of tons you need to actualize the project.