Dometic is a famous manufacturer of excellent plumbing items designed with the utmost craftsmanship to maximize comfort and durability. Despite the top-notch elegance of Dometic branded goods, the products are wholly economic.
Dometic is popular among travelers and camping enthusiasts since it produces high-quality RV toilets. Dometic RV toilets have a compact design and exceptional water-saving capabilities. The best-selling models of RV toilets include the Dometic 310 and 320.
Now, which option is better between Dometic 310 and Dometic 320? Which model should you go for, and for what reasons? You're in the right place if you always find it hard to choose between Dometic 310 and Dometic 320.
This article will guide you from the top to the end in deciding on the better option between Dometic 310 and Dometic 320. Are you ready for a comprehensive Dometic 310 and Dometic 320 comparison? Let's get started with a comparison table.
Dometic 310 vs 320: Comparison Table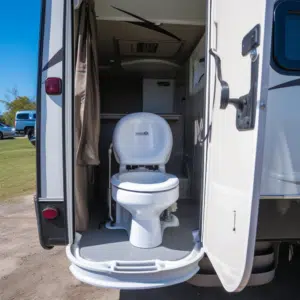 | | | |
| --- | --- | --- |
| Specifications | Dometic 310 | Dometic 320 |
| Price Range | $160-$210 | $210-$270 |
| Additional Accessories | Upgraded seat and Hand sprayer. You will pay extra money. | None – all included |
| Weight | 23.2 pounds | 37.5 pounds |
| Maximum height | 33 inches | 35 inches |
| Longest point | 19 inches | 22 inches |
| Wall – Flange | 10 inches | 11 inches |
| Material | Ceramic and Polypropylene | Ceramic and Polypropylene |
| Bowl Shape | Round | Elongated |
| Rim | Absent | Present |
| Water Per Flush | One pint | One pint |
| Flushing | Foot-pedal flushing | Foot-pedal flushing |
For almost every feature, the Dometic 320 is a far better option. The comfort superiority, elongated seat, and the deeper bowl are significant selling advantages.
The two versions appear to flush similarly. However, when comparing user feedback and overall customer satisfaction, Dometic 310 has a slight lead. Since the 320 includes a hand sprayer, that effectively makes up for any limitations in flushing performance.
The difference in pricing between Dometic 310 and 320 is around $50–$60, but if you decide to add any improvements or extras, those savings soon evaporate. Therefore, it's argued that the Dometic 320 offers greater value for your money than the Dometic 310.
Dometic 310 vs 320: Main Differences
Since the 320 series is an upgraded version of the Dometic 310 model, the two RV toilets are similar in design and functionality. However, the following significant variations have been identified:
The style of the seat in the RV toilet affects comfort. The seat is an essential component that helps Dometic 320 achieve its goal of giving an RV toilet a domestic feel. The 320's enameled hardwood seat is strong and long-lasting.
A thin plastic seat is included with every Dometic 310 toilet. Although it's relatively thin and light, the seat of Dometic 310 is not very supportive. Additionally, constant usage exposes it to abrasion and other aesthetic harm.
Although the Dometic 310's seat is of low quality, improved chairs equal to the Dometic 320's basic seats in terms of comfort and longevity are available separately for a price range of between $30 and $50.
Flush Design and Water Consumption
The flushing system and amount of water used by the Dometic 310 and Dometic 320 are other characteristics that differentiate between the two RV toilets.
Both toilets include a gravity flush design and a sanitary foot pedal that enables you to add extra water when needed. The Dometic 320 features a full-rim flush that is pressured to produce a powerful flush with less water, whereas the 310 employs a vortex flush design for a rimless, 360° flush.
There are benefits and drawbacks to each. The rimless bowl of the 310 is simple to clean, and the vortex flush style is highly efficient. The 320's large rim reduces splashing but is more difficult to maintain clean.
The difference in water consumption and flush design won't be apparent during routine use at a campsite with complete connections. People who frequently go for dry camp are particularly focused on preserving freshwater and making the most of available black tank capacity. The 320 is better if your top priority is to save water.
Due to the additional features, Dometic 320 is significantly larger and heavier than Dometic 310. From a different angle, the 310 model appears to forgo comfort and quality in certain areas, resulting in considerable weight and space savings. These distinctions are significant given that most RV restrooms are about the size of a closet.
The difference in weight between the 320s 37 pounds and the 310s significantly lighter 23 pounds may not appear to be much, but if you are already working with tight margins, the 14 pounds difference matters.
However, the final decision may depend on the overall dimensions. The Dometic 310 requires 10 inches of clearance, but the 320 requires 11 inches. The difference even one inch can make is astounding. To ensure that the toilet you purchase will fit in the bathroom of your RV, check all other dimensions.
When you buy Dometic 320, all accessories are available. The toilet is sold with a hand sprayer and a top-of-the-line seat. Therefore the manufacturer doesn't specify any extra accessories for you to buy.
If you buy Dometic 310, you can upgrade the additional product, like the seat. With the 310 versions, you also need to buy the hand sprayer separately.
The hand sprayer is used to clean the toilet bowl and is kept on the toilet wall. Due to the 320 model's water-saving flush mechanism, users report using the sprayer more frequently.
Final Verdict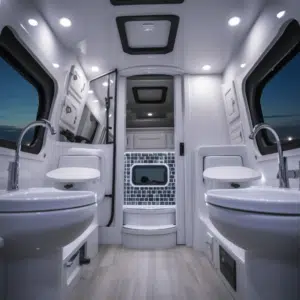 If you prefer comfortable travel or you're just looking for a small, space-saving toilet, the Dometic 310 and 320 flush versions will meet your needs.
Pick Dometic 310 as the best product overall in terms of cost and the availability of the additional accessories separately.
The 320 series seems overpriced despite having benefits like better rim construction and a superior seat. However, if you're at some point fortunate to discover the Dometic 320 toilet at a discounted price, please don't hesitate to buy it.