Kohler LuxStone and Choreograph Shower, When you're shopping for a new shower wall, you have a lot to consider. From style to function and budget, there are many factors that go into choosing the right product.
One of the biggest questions is whether you should choose Kohler LuxStone or Choreograph, two of Kohler's most popular shower wall options.
We've got the details on these two products so you can learn more about what they offer and decide which one is right for your home.
Overview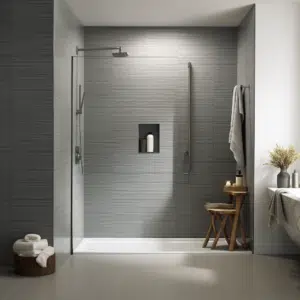 Kohler Luxstone and Choreograph are both shower walls made by Kohler.
Kohler LuxStone is one of the most popular shower wall products on the market today. It has a high-end look that many homeowners desire for their bathroom remodel projects, especially since it's made from real crushed stone.
Kohler Choreograph is a shower wall that gives you a look of stone without the maintenance and costs. It's available in various different colors and textures.
Both Kohler LuxStone and Choreograph come in a variety of colors and finishes that can be customized to match your bathroom's decor or design style.
They are both made from high-quality material and offer long-lasting performance.
The two products are similar in many ways, but there are also some differences between them.
Kohler LuxStone Vs Choreograph: What's The Difference?
Here we'll look at the key differences between these two products and help you decide which is best for your needs:
Materials Used:
Kohler Choreograph shower wall is a blend of Sylacauga marble and very strong fiber strands. While Kohler LuxStone, the more expensive option, is made of real crushed stone.
Style
Kohler LuxStone is a newer addition to the market, but it has already become popular among homeowners. It was created by combining natural crushed stone with acrylic resin to create an incredibly durable material that looks like natural stone without the high price tag. It also resists damage from moisture, making it ideal for any bathroom.
Choreograph is an older product that has been around for years. This type of shower wall is made from a mix of Sylacauga marble and really strong fiber strands and features a smooth surface that feels great against your skin while retaining its shine over time. It also comes in many different colors, so you can create your dream bathroom design without having to compromise on style or function.
Durability:
Kohler LuxStone is a solid surface material that is made of real crushed stone. It is extremely durable, hard, and scratch-resistant. It can withstand temperature variations and moisture without problems. You can use it in your bathroom or kitchen as it is resistant to hot water and a steamy environment.
Choreograph's durability depends on how you maintain it. If you maintain it properly, then it will last for years. However, if you don't take care of your Choreograph shower wall panels, then they will get scratches and stains easily. So, if you want to preserve their beautiful look for many years, then make sure that you clean them regularly and keep them dry after each use.
Appearance:
Choreograph's look is aesthetic and clean. It will not look out of place in a modern-style bathroom. The natural stone material gives the impression of warmth, durability, and luxury. The material also has a low water absorption rate which means it is extremely easy to clean.
The Choreograph has a more traditional look that works well in traditional bathrooms. When compared to Kohler LuxStone, there's less focus on luxury and more emphasis on functionality and durability.
Both Kohler LuxStone and Choreograph look beautiful once they are installed on your shower walls. The tiles have different patterns that can be combined to create unique looks depending on your tastes and preferences. The colors are also vibrant and pleasing to the eye so that even if you don't like one particular pattern, there will likely be another one that suits your style better than the others available.
Maintenance:
Maintenance plays an important role when choosing bathroom tiles for your home or office. If you have pets or kids at home, then you'll want something that's easy to clean so you can keep them safe from harmful germs that could build up over time if not properly cleaned regularly by yourself or someone else who knows what they're doing when cleaning bathrooms or kitchens!
Kohler LuxStone requires less maintenance than Choreograph. This means that it will not chip or crack as easily as Choreograph and will not require any special care like sealing. You can simply wipe it clean with a damp cloth after every use or clean it with warm water and mild soap if you wish to wash away dirt or soap scum buildup.
Installation: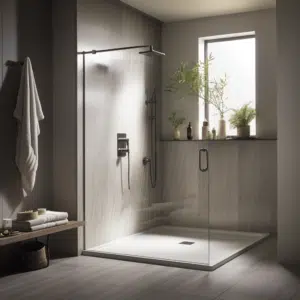 The installation process of both these shower walls is similar, but there is one difference between them. It is in the installation process that you need to pay attention to. The Kohler LuxStone needs some special tools for its installation, and it may not be possible for you to install this on your own without these tools. However, if you have any professional help, then this shouldn't be an issue at all.
Price Comparison:
The price of the Kohler LuxStone is higher than the Kohler Choreograph by a few hundred dollars. This is due to the fact that they have more features and they look better than the Choreograph.
The cost of installing Choreograph or Kohler LuxStone would depend on the amount of square footage needed to cover your shower wall space as well as any additional plumbing work needed for installation, such as removing existing shower panels or installing new ones prior to installing your new shower wall panels.
Kohler LuxStone vs Choreograph: Which One Is Better?
When it comes to making the right choice for your bathroom, there are many things that you need to consider. While some may say that it's all about the look, others will say that it should be about the functionality of your bathroom. To help you decide which one is better, we have compared two shower wall options from Kohler and Choreograph. Hope this helps;)