When painting a room, it is important to consider the color of furniture and artwork inside that space. Often people have a hard time choosing a paint color that goes with their Uba Tuba granite.
Uba Tuba granite is one of the most neutral color materials available. The granite is known for its subtle sparkle from the dark specks of minerals throughout the stone, making it unique. It works well with many shades and hues of color, lending to an eclectic look.
What is Uba Tuba Granite?
You can't afford to pass up this splendid granite from Brazil. Boasting a finely textured facade that features black, gold, gray, and green speckles, this exquisite granite is one-of-a-kind.
What Separates Uba Tuba Granite from the Rest?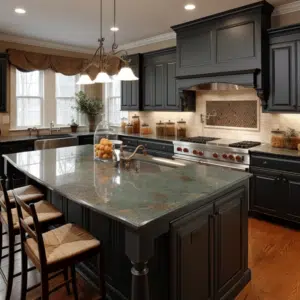 Uba Tuba has a simple yet luxurious aesthetic. Its earthy features complement any kitchen. You can create your vintage look with Uba Tuba granite countertops paired with dark cabinets. You could also try white cabinets if you are going for a more modern feel, but it all depends on your taste.
When it comes to granite, most are veiny or grainy. However, Uba Tuba granite stands out because it has a more compacted crystal pattern. This adds an extra dimension to the artistry of the slabs.
If you're a fan of sleek granite, then Uba Tuba will also not disappoint. Though rare, you can find intricate black or white networks breaking the crystalline appearance's monotony. Sanding and polishing bring this out perfectly, as you can see it throughout the shiny, clear, and smooth surface.
Uba Tuba is an innovative countertop material that can be found in other areas as well. Its durability and aesthetically pleasing design make it perfect for virtually any setting. You can also use it for flooring.
Countertops made from granite are some of the strongest available. Uba Tuba contributes significantly to this strength with its one-of-a-kind properties. You are guaranteed toughness against scratches, hits, and the application of heat.
This versatile surface allows you to use it for many things. If you do not have a cutting board, you can clean your counter and still have a clean surface. Also, pots and pans can be placed without damage if you need somewhere to serve your food.
Uba Countertops offer something more unique than most – they come in dark green, brown, or black shades. The color combinations featured in the marble pieces may include specks of crystalline light green, gold, white, or even turquoise blue. These combinations make the pieces so unique.
Which cabinet color would be best to match my Tuba Granite?
The white cabinets and Uba Tuba granite countertop create a stunning and elegant arrangement. The contrast between the dark and the white is just perfect. It brightens up the white and complements the dark.
However, the appearance of many bright white cabinets can be too much for some people. Try adding the slightest hint of metal tones to the white and black of the countertops to tone down the harsh contrast and unify the colors.
With wood-stained cabinets, the kitchen takes on an entirely new look. In contrast to the natural color of the stained wood, the Uba Tuba has a much more polished appearance. Your kitchen will feel very homely with this combination, kind of like a log cabin. It's a lovely combination.
Go with natural warm colors such as cream, brown, and rust for a more sophisticated and cozy feel. Uba Tuba granite looks good with these colors.
It is perfect for those who prefer a more subtle yet beautiful effect to their kitchen instead of contrasting white cabinets. As a result, the Uba Tuba granite stands out in this kitchen, and the entire space feels warm and inviting.
Tile colors to pair Uba tuba granite
Pairing your Uba Tuba countertop with the perfect backsplash is not easy. However, you can choose from several options, depending on whether you want to rock a subtler or bolder look.
 If you like the natural earth tones, travertine tile backsplashes are a great option. Travertine is a variety of limestone, and it is most widely available in a wide range of neutral shades, such as beige, ivory, tan, gold, and walnut. These shades can easily complement the dark colors of the Uba Tuba granite counters.
Although Uba Tuba is a dark color, light colors can work as well for your backsplash. You can use white tile to contrast the granite for a clean, bright look. If you want the contrast to be even more striking, use dove-gray ceramic tile to get complementary tones in the granite.
To unify the look in your kitchen, try a light green tile for the backsplash that will complement the green-leaning Uba Tuba counters.
To achieve a clean, sleek look, use the Uba Tuba granite countertop with a granite backsplash to complete the look.
When your countertop and backsplash are made from the same material, you can design a simple, modern color palette for your kitchen using just a few shades. However, if it is a small kitchen, you may want to avoid using dark granite, like Uba Tuba, on your walls and countertops.
The granite should be balanced with light cabinets and proper overhead lighting if you intend to use it for both surfaces. 
An excellent way to make your kitchen stand out is to use a darker color like Uba Tuba granite for your countertops and then contrasting colors for your backsplash. The Rajah Slate tile provides a contrasting color and a contrasting texture, which adds to the flair of this type of design. 
Rajah slate is a multicolored slate that comes from India. You can find a tile with a neutral base, like a light brown or gray, contrasting with a rich black or green granite.
However, the slate may also include unique striations and shades of gray and green, which complement the countertop. Also, the texture of Rajah slate contrasts with the smooth surface of Uba Tuba granite, adding dimension to your kitchen.
Uba Tuba Granite is an earthy, neutral material found in many kitchens, making it a popular selection with homeowners.
There are a variety of colors that could go well with Uba Tuba granite, but a lighter neutral color that compliments the grays of the granite is a good choice. Also, Pairing Uba Tuba granite with a light brown-toned wood cabinet can create a warm and welcoming space.