Lyons Linear Reviews, Most of us don't have much time to relax in the tub because we're always in a rush to work, and by evening we're too exhausted. Nevertheless, some consider bathtubs unique and buying the right tub is crucial.
A good bathtub makes a big statement about your bathroom's design. Therefore, fixtures are very crucial choices to make during bathroom remodelling. You would want it elegant, comfortable, and cost-effective, making it entirely rejuvenating.
How can you be sure of purchasing the best bathtub? Welcome as we take you into the details of Lyons Linear Bathtub Reviews to give you a glimpse of what you should look at before making a purchase.
Lyons Linear Key Features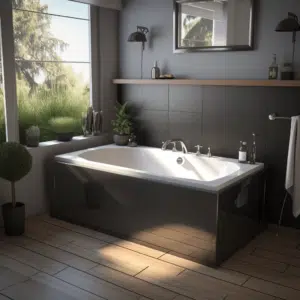 It is one of the products from Lyons Industries, Inc., which operates as a family business. All their bathtubs are from American-made materials. The acrylic drop-in bathtub offers a sleek contemporary style with a generous bathing area.
Most people get thrilled by Lyon Linear Bathtub because of its features
It has a 30-degree lumbar support
It has a metallic finish
Wall-mount faucet
Its bottom is slip-resistant for showering
It has a built-in flange with a depth of 36-inches, and a width of 60-inches once assembled.
It has a rectangular shape.
The bathtub is ideal for an island installation or mounted into an existing alcove.
The fibreglass spray reinforces its acrylic surface, giving it strength.
Lyons Linear Bathtub Specifications
Material

Shape

Size

Number of shelves

Acrylic

Rectangle

60- inch

32- inch

59- inch

2

Colour

Product Type

Beige

Bathtub Wall Surrounds
Pros
Easy to Install

Its design fits most standard bathtub/ whirlpool bathtubs

Its glossy acrylic surface makes it easy to clean

It has a warranty of 10 years for residential and 3 years for commercial use.

Its surface is backed by fibreglass, giving it reliable strength and elegance for years to come.
Cons
It is not durable as you will experience new cracks in the tub floor within 2years, and it can be less considering other factors such as your weight. From the users' reviews on the product, the company repairs for free if the warranty is still valid, only for them to reappear again!
They have poor customer service.
Nothing sacks when no one responds to your complaints as if having a cracked bathtub isn't enough. The customer desk doesn't respond on time; instead, they talk as if they are new to the issues you raise.
Difficult to get a refund
Get ready for a long time before receiving a response to your filed complaint. Following up for a refund is hugely arduous to the extent it may lead to a lawsuit, yet your claim is within the warranty period.
Lyons Linear D Biscuit Seated Shower Base with Left Drain
Features:
It has a backup of a one-piece 18″ tall seat

Integral nail flange for an effortless direct installation

It has lumbar support and armrests for a comfortable bathing experience.

Essential nail flange prevents water from leaning behind the wall.

Perfect for tile applications

The bathtub surrounds are available separately

Contain standard plumbing outlet

Easy access 2-1/2" threshold
Pros
It is easy to clean due to its ultra-gloss acrylic surface.

Easy to install

It is a spacious textured and slip-resistant area for safety purposes.
Lyons Linear D Biscuit Seated Shower Base with a Right drain
This type of shower base is easy to maintain. Its features resemble the left drain with a modern square design and a finish on all sides. It also has water drainage channels.
Lyons Linear H Biscuit Bathtub with Left Drain
It has a spacious bathing well with a contemporary design. Its features are the same as the preceding Lyons Linear bathtubs. The only difference is that it is more expensive compared to the others.
Tips To Consider When Selecting the Best Bathtub
Tubs come in various sizes and capacities to fit your particular bathroom preferences. A tub that matches its purpose and your bathroom style matches the functional and aesthetic factors of the fixture. Here are the factors that you should look at are:
Style
Many design styles include modern and contemporary, mid-century aesthetics, industrial design, farm-house bathrooms, and traditional designs.
Size
Bathtubs come in various sizes, with freestanding tubs having the most incredible flexibility. They come in various lengths and widths. Size is a significant consideration; therefore, measuring your current tub before ordering a new one is good.
Capacity
Different types have different capacities, and how you purposefully use them will enable you to narrow your choice. For instance, 50 gallons should suffice for kid's bath nights or most standard tubs, and walk-in tubs contain a capacity below 70 gallons.
For a perfect soak experience, at least 60 gallons of bathtub capacity.
Material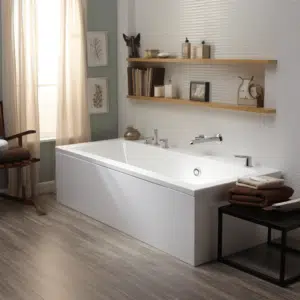 This factor determines the bathtub's durability, price and other elements. Acrylic and fibreglass are the commonly used tub materials. They are lightweight, cost-effective, and cheap to maintain and install, making them ideal for DIY renovations.
Fibreglass tubs are long-lasting, unlike acrylic, even though they aren't durable compared to others such as steel and cast iron.
Other less common materials like copper, stone, and marble offer a distinct appeal because of their scarcity in most bathroom spaces, making them more expensive.
Type
The bathtubs come in various categories, such as standard bathtubs, which are very common, freestanding tubs which act as the centrepiece for your space décor, and clawfoot tubs with four feet to support the basin.
Soaking tubs entail other designs like clawfoot and freestanding designs. They allow you to submerge your body in a long relaxing bath. Then the more advanced whirlpool tubs offer water jets that cycle the bathwater while giving you a massage effect that relaxes the tense muscles.
Finally, walk-in tubs contain a watertight door and low threshold, offering you a safe shower.
Following the above main factors is recommended to enable you to make the noble choice regarding bathroom fixtures.
In a nutshell, your bathtub selection can either make or break the entire look of your bathroom. Choosing the right design, shape, size, and style is paramount per your personal preferences.
In our review of Lyons Linear Bathtub reviews, we can say that they all share several features with minimal noticeable differences. They are perfect in terms of aesthetic appeal and functionality.
However, it has its share of shortcomings, such as not being durable for many years, and its customer service is abysmal based on the customer's online reviews. Nonetheless, you have a better understanding to draw your final verdict on where to invest your money.