TERE-STONE Shower Review, Are you considering upgrading your shower or moving into a new house?
Tere-Stone shower must have crossed your thoughts as you evaluated all the shower options on the market. Therefore, a comprehensive TERE-STONE shower review is helpful to avoid doing much online browsing.
Without further ado, let's learn more about the quality of showers they provide and the views of previous clients.
TERE-STONE Shower Review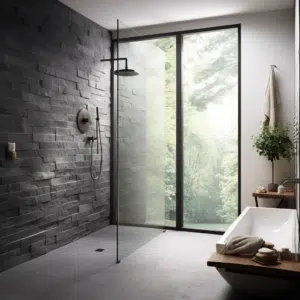 When thinking about buying shower-related items, TERE-STONE Shower is a reputable brand.
Their catalog contains a variety of shower packages from which you can choose the one that's right for you or create your own. The manufacturer will do that for you if it is within their capacity.
Are you concerned that you might slip in the shower?
You won't need to worry after that. All shower bases have self-draining channels to prevent water buildup and a floor with a slip-resistant molded texture.
Decorative silicone sealant and silicone adhesive are included in all standard shower sets, whether they have custom designs or not.
The manufacturer claims that drilling or cutting the material would be simple when installing a shower.
Why Should You Invest In TERE-STONE Shower
Any user of the TERE-STONE shower would undoubtedly appreciate some of its features. People choose to make such a significant investment after learning about all these features.
Below are some of the things you will appreciate about TERE-STONE:
The manufacturers allow the buyer to choose a shower from their assortment of customized designs. Additionally, the buyer gets to customize the showers they want to purchase. However, that must be feasible from a production standpoint for the maker. Picky users will like this choice.

The shower's foundation is quite sturdy and won't flex easily. The shower base must be at least 3/4″ thick. Also, you might not need to install a separate shower niche because some packages include an inside shower product holder.

A straightforward installation method is considered when designing the custom shower bases. Therefore, these shower bases include a threshold system and an incorporated 4′′ fiberglass water seal.

The shower walls come without grout lines and have a typical high-luster surface, making it very difficult for stains to appear on the walls. Furthermore, cleaning it is a breeze.

It is pretty simple to drill and cut through the walls of these showers. As a result, it becomes more straightforward for the installers to complete their work without creating a mess.

With regular upkeep, the TERE-STONE shower will last for years. Because of this, most people think it's a wise long-term investment.

Last but not least, if you base your decision solely on appearance, you may never regret it. Most consumers prefer showers that suit their tastes.
What are Some of the Drawbacks of Investing in TERE-STONE Shower
TERE-Stone, like any other shower option available in the market, has a few issues that can be considered drawbacks. Below are the drawbacks of investing in TERE-Stone:
Finding an experienced contractor to install the TERE-Stone shower can be challenging. People report that because their installers lacked experience, they refused to complete the project. However, others can do the job effectively without encountering many issues simply by adhering to the manufacturer's instructions.

The shower's included stone is very heavy, complicating the installation process, and demands more incredible skill from the installer. Additionally, more people would be required during the installation, increasing the project's cost.

Not all custom showers provide a place to store shower items. It is a fantastic idea, but given its scale, it will undoubtedly fall short. There will always be a requirement for an additional shower niche to store the remaining shower accessories.

Last but not least, those on a tight budget can perceive the cost of the shower as being a little higher. Additionally, people may have to pay extra for selecting the Tere-Stone shower during the installation procedure.
So, is it Advisable to Invest in TERE-STONE Shower
There are advantages and disadvantages to every shower option, so choose wisely. But you must constantly be thinking about whatever product will benefit you the most.
Therefore, you can opt for TERE-Stone if you have a sizable amount of money for your home's shower installation project and are willing to work on it for a while.
Frequently Asked Questions
How Do You Cut TERE-STONE?
For half an inch or more cuts:
 Utilize a circular saw with a masonry cutoff wheel.

Cover the area to be cut on the finished side with painter's tape to avoid scratching or marring the surface and stop the saw from slipping on the high-luster surface.

Next, cut cautiously from the finished side of the lavatory panel or top.

To avoid chipping, support the dropped piece.
For smaller than half an inch cuts:
utilize a belt sander with coarse (36–50 grit) belt.

Mark the top, then sand to the line.
For Curvilinear or Intricate Cuts.
Use a saber saw blade with a tungsten carbide grit edge.

Cover the area to be cut on the finished side with painter's tape to avoid scratching or marring the surface and stop the saw from slipping on the high-luster surface.

Cut cautiously and from the finished side of the lavatory top or panel.

To avoid chipping, support the dropped piece.
What Distinguishes Cultured Marble From TERE-STONE?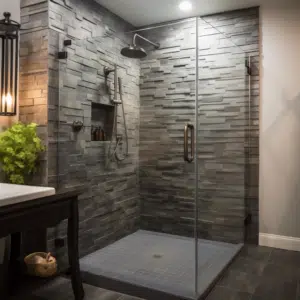 These two differ from one another in a few ways. Terre-Stone employs the Gel-Coat casting method with a resin and dolomite mixture, while cultured marble uses the same method with a resin and calcium carbonate mixture.
How Do You Maintain Your Tiles?
You can maintain your tiles by applying a coat of GelGloss a few times a year. Another method is to use a damp sponge mop and warm water and detergent to clean them.
How Long Can TERE-STONE Shower Continue to Function Without Any Problems?
The Tere-Stone shower can last the user up to 10 to 15 years or more with careful use. It is a fantastic investment for anyone thinking long term.
Final Take
After reading this lengthy review, it is up to you to determine whether or not the Tere-Stone shower is right for you.
You know your spending limit and how long you would like your shower to remain functional. To make a final choice, you can utilize your judgment.
However, spending money on this Tere-Stone shower is not a bad idea.