A 4×12 subway tile pattern is used to create bold and beautiful accent designs within residential properties. Let's take a look at the grout line size for 4×12 subway tiles.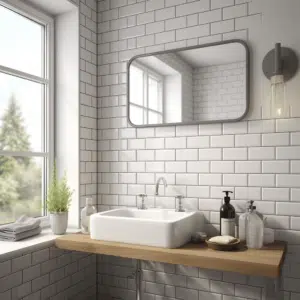 The grout line is the empty space between each tile.
Before you can choose a grout line size, you need to decide what kind of tile you're going to use and the size of that tile.
It's best to decide on the tile first and then decide on what size grout will look best. Grout is also very important for keeping the tile from shifting or cracking.
The size of the grout lines is entirely up to you, but we would recommend you go with the smallest size possible.
It's important to note that the thickness of grout will not only affect the appearance of your tiled surface it can also affect its functionality and integrity. You don't want to have large grout lines filled with dirt and debris. This could potentially cause problems for you long term.
We're confident a tile contractor will be able to help you figure this out if you decide to go with a larger grout line, but it's something to consider.
What is a Subway tile?
 A subway tile is a rectangular tile, usually in a smaller size, that can be laid horizontally or vertically. It's been popular for over 100 years and can be found in many older homes.
The most common type of tile used for subway tile is ceramic or porcelain. You can find it in a wide variety of colors and finishes.
Subway tiles come in various sizes: 2 x 4, 2 x 6, 2 x 8, and 3 x 6 are the most common sizes.
Grout line size for 4×12 subway tile
 Most people wonder what grout line size is right for their tiling project. This is even more true when you're using large format tiles, as the tile's size can make the grout lines look either too big or too small.
Generally speaking, most designers and architects recommend going with a grout line between 1/16 of an inch and 1/8 of an inch when using 4×12 subway tile. This is regardless of whether you're using subway tile on a kitchen backsplash or bathroom walls; however, you can use larger grout lines for flooring.
If you're not sure about which grout line size to go with, rest assured that choosing any option that falls within this range will give you great results!
How do you measure grout?
 Measuring grout is fairly straightforward. The tools you need to measure for grout are:
       

a tape measure,

       

a pencil,

       

a straight edge, and

       

either graph paper or a ruler.
 If you're using graph paper, you can draw the outline of your tile on the paper and then draw a 1/8-inch line around it. This will give you an idea of how 1/8-inch grout looks with your tile choice.
If you want to get an idea of how smaller or larger grout will look on your tiles, just use another piece of graph paper and draw your lines as narrow or as wide as you like until you get the look that works best for your project.
If you don't have any graph paper handy or want to see how your different choices will look together, use a ruler to draw lines 1/16-inch.
 1/16″ or 1/8″ – These grout lines are so small that you can barely see them, giving the tile a seamless appearance. This size is the ideal grout line for large format tiles. We recommend using a non-sanded grout with these small grout lines.
1/4″ – This is the perfect size for 3×6 subway tiles. The larger grout joint will add interest to the tiles without being too distracting. If you're using a subway tile in your bathroom, shower, or kitchen, we suggest using this size as it will be easy to clean and maintain. Use sanded or non-sanded grout in this size.
3/8″ – The 3/8″ grout joint is great if you want to add some dimension to your design. It's also an ideal size for textured tiles such as stone or wood-look porcelain tiles since it allows their unique textures to be fully appreciated. You can use either sanded or non-sanded grout with this width.
What is the standard grout size?
 In most cases, a grout line of 1/8 inch is standard. This is the case with many popular tiles, including subway tiles and mosaic sheets. But some larger tiles may have grout lines that are up to ¼ inch wide. It all depends on the size of the tile.
How to keep grout lines straight?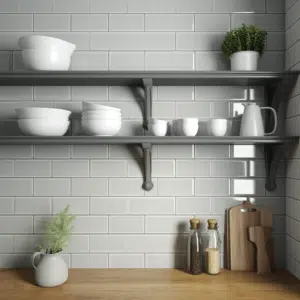 Grout lines can easily become crooked if you're not careful. They happen when the grout is pushed too deep into the joint or pulled out of the joint.
This is most common in the corners of a room because it's hard to maintain a steady hand and keep the grout lines straight.
The best way to prevent crooked grout lines is by moving in one direction and keeping track of where you are on each tile as you grout it. This can be difficult with large tiles, but if you follow these tips, your grout lines should be straight:
Apply a small amount of grout at a time. This will help you control the amount of grout that goes into the joint.
Place a piece of tape on each tile before grouting, and mark where you are on each tile as you go along.
Can you lay tile without a grout line?
 The answer is yes. But it's not a good idea. Grout fills the space between tiles and helps protect the tile from moisture. It also keeps the tiles from shifting over time. Without grout, water can get into the spaces between tiles where it doesn't belong and cause various problems for your floor or wall.
If you don't have grout lines, you have to use perfectly sized tiles that fit together without them. You also have to ensure that the tiles are perfectly straight and even on all sides to keep water from getting behind them. We recommend getting the help of a professional.