If you are like most people, then you have enjoyed wrapping yourself under a cozy, thick, comforter to get through those cold winter and autumn days. There are even all-season comforters designed to serve yea-round.
That said, having the right comforter can be challenging as sizes tend to vary a lot. If you are not careful, you may end u buying a king comforter that's too small for your king bed that it just barely covers the edges of your mattress or end up purchasing something too large that it extends down to the floor.
Normally, a comforter should have leeway in terms of how much it hangs over the edge, given that fills expand more than others, reducing the overall comforter's surface area.
King Comforter Too Small For King Bed: How to Choose the Right Size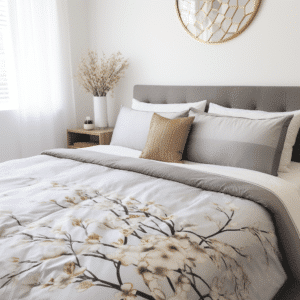 Contrary to mattress sizes, comforter sizes are not standardized. Different brands may have different sizes in terms of length and width. Some may even offer oversized options for thicker mattresses. Below we've provided a size chart that lists a range of possible measurements for each bed size:
| | | | |
| --- | --- | --- | --- |
| Bed Size | Mattress Dimensions | Expected Comforter Length | Expected Comforter Width |
| California King/Western King | 72 Inches by 84 inches | 96 to 98 Inches | 1017  to 110 Inches |
| King/Eastern King | 76 Inches by 80 Inches | 86 to 88 Inches | 102 Inches |
| Queen | 60 inches by 80 Inches | 96 to 100 Inches | 86 to 88 Inches |
| Full/Double | 54 inches by 75 Inches | 86 to 88 Inches | 81 to 84 Inches |
| Twin XL | 38 inches by 80 Inches | 90 Inches | 68 Inches |
| Twin | 38 inches by 75 Inches | 86 to 88 Inches | 66 to 68 Inches |
| Crib | 27.25 inches by 52 Inches | 48 to 52 Inches | 28 to 36 Inches |
It is important to note that although we have included the dimensions of a crib-size comforter, the American Academy of Pediatrics does not recommend giving an infant a comforter. This is because comforters are predominantly soft and can block a baby's mouth or nose.
Comforters are generally a loose piece of bedding, meaning you can simply place one on a different-sized bed. A twin comforter may hang a bit too long over the sides of a California king mattress. Full and queen comforters designed to fit on either size may be somewhat too wide for a full or too narrow on a queen.
The fill and thickness of a comforter can also influence how it lays on your bed. If it is filled with fluffy like down, then it may puff up and cover less of the bed than you expect.
It can be difficult to tell how a comforter will expand once it is wrapped up in the package. You might want to pay close attention to the materials, but take time to see if you can get a photo or read reviews online to understand more about the product.
King Size Comforter Dimensions
Size is a major consideration when buying a comforter for a king-size bed. Other comforter sizes probably won't fit the bed properly. Some king-size comforters won't even hang over the edges of the bed as expected. As such, we recommend that you check the measurements on several different comforter options before making the final move.
Normally, a king-size mattress measures 76 inches wide by 80 inches long. That means the comforter; duvet or quilt intended to top the bed should be at least a few inches longer and wider. King-size comforter dimensions vary from brand to brand and there are no exact measurements considered to be standard.

Although most king comforters measure 96 inches wide, the average length ranges from 106 to 110 inches on average.
King and Queen Comforter Differences
King-size comforters may look perfectly fine on a queen-sized bed, but the opposite is not always true. The actual size difference between a king and a queen comforter can be significant.
Queen-size comforters range in length from 96 to 110 inches, while the width can be anywhere from 92 to 96. In most cases, some comforters labelled for a queen bed are virtually identical to a king-size comforter. Others may be both shorter and narrow. If your comforter measures at least 106 inches long and 96 inches wide, it will fit a king-size bed.
The Californian King Conundrum
If you have a California king mattress and not a standard king, the comfort length really comes into play. California king mattresses usually measure 84 inches long and 72 inches wide. That means it is both four inches longer and four inches narrower than a standard king mattress.
While the width of any king-size comforter will fit a California, the length may be an issue. It is recommended to choose comforters that are specifically made for a California king bed or choose a king-size comfort that is rather on the long side, near 110 inches.
What is an Oversized Comforter?
Oversized comforters are basically designed for mattresses that are thicker than the standard bed, such as a pillow top or luxury mattress. For that reason, they are generally wider than a regular-size comforter. In case you have a thick mattress and don't want a comforter that is too long, you might want to try an oversized comforter.
Measure Your Mattress
You need to know your mattress' measurements to determine the perfect size for the comforter. You can get that information from a quick web search on your mattress. Alternatively, a tape measure can come in handy to measure the length, width, and depth.
Another thing to check out when buying a comforter is the thickness. The main purpose of a comforter is to keep you warm during the cold winter season, so you want to that's heavy and thick enough to do so. The weight and thickness will depend on your bedroom temperature and local climate.
It is always recommended to go with a lighter comforter if you're debating between weights as you can easily add a thin blanket or a flat sheet should you grow cold.
California King Comforter Size
Unlike mattresses, comforters are not standardized. For instance, you won't find a California king comforter with the same measurements as the California king bed. The California king comforter, approximately 107 inches by 96 inches, will cover the mattress and drape over the sides.
If you need something similar to a king-size comforter with a little extra room, then California king-size comforter is for you. It measures 107x 96 inches making it an ideal size for a big family or tall couples.
It is the largest commercial comforter. Its length is crucial as it may be an issue regarding size selection. Go for those with a length of 110 inches, as anything shorter may not look cool. It is great in beds that are longer than the width.
Queen Size Comforter Dimensions
It is important to note that the listed dimensions are not standardized, meaning some manufacturers may add a few extra inches or shave them off.  
A queen-size comforter measures 86x 96 inches. Besides, the actual size will depend on the brand. The queen-size comforters are suitable for couples as they give you sufficient individual space for a comfortable sleep.
Queen-size comforters range in length from 96-110 inches, and the width is anywhere from 86- 88 inches.
The Size Difference between King and California King Comforter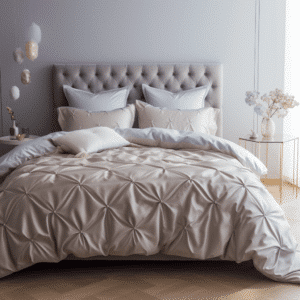 King and California king comforters are not interchangeable. California king comforters are longer but less wide than a standard king comforter. 
Using a king comforter in place of a California king bed results in the bedding touching the floor plus less coverage at the foot of the bed. Also, using a California king comforter on a king-size bed may leave extra fabric at the end of the mattress.
Regarding dimensions, king-size comforters range in length from 86-88 inches and a width of 102 inches. On the other hand, a California king comforter has a width that ranges from 107 to 110 inches and a length of 96 to 98 inches.
Why Is My King Comforter Too Small?
Many struggle to get the right size of comforter. Based on the material, a king comforter can be too small for a king bed. Stretchy materials do great 100% microfiber. 
Some comforters are of actual match options (length=width), meaning they don't cover as much space, more so after the first wash resulting in a not pleasing bed. There, it is recommended to get oversize comfort.