Perfect Hardwood Flooring for Cherry Cabinets, With their warm shades, rich looks, and outstanding durability, Cherry cabinets have been a favorite choice for decades.
Whether you have them in your kitchen, bathroom, or basement, these cabinets deliver a handsome addition to your home, thus helping you make a design statement.
But how do you make certain your floorings go well with the cherry cabinets? Well, it all comes down to your personal lifestyle and the look you prefer in your home.
However, you may want to start by figuring out what material you want for your flooring. Hardwood floorings are known to stand in as s supporting actor to cherry cabinets, but allowing both the wood and the cabinet standout can help achieve a more cohesive look.
To help make a more informed decision, we put together a list of the best color hardwood floors that go best with cherry cabinets.
After all, choosing to the floor shouldn't be a hard task, especially when dealing with something as adaptable as cherry cabinets.
What Color Hardwood Floor Goes With Cherry Cabinets? Some Suggestions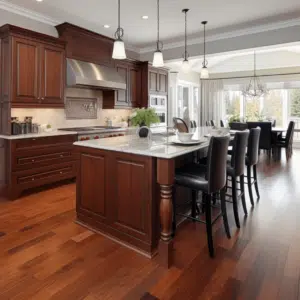 There are several different shades of cherry. That means the cherry cabinets you have are likely to dictate the flooring color you choose.
Cherry wood shades can be deep red or brownish-red. They range from lighter in color to deeper and darker. Below are the various color floorings that look stunning with cherry cabinets.
White
Light Cherry
Light brown
Beige
Getting the right flooring for cherry cabinets might seem to be quite involving, but it's not that difficult at all.
The fact that cherry cabinets are made up of such gorgeous shades of red means opting for other warmer colors can be a great idea for a head start.
Most flooring you'll come across will feature a variation of white, brown, and beige, but the point is to ensure that the color you're choosing contains the much-needed undertone to work alongside your cabinets.
Experts also recommend that you avoid using flooring shades that are darker than your cabinets.
There's no rule that says you can't- should it be your preference- but if you'd like to have some contrast in your kitchen rather than something that's too dark and somber, you'll be better off with lighter colors.
White
White floorings actually brighten up a room, and when you have something as dramatic as cherry cabinets, a little light really goes a long way. Light-colored floors are one of the best ways to give your kitchen a more modern lavish look.
Light Brown
Brown hardwood floors will take on the brown tones in the cherry cabinets you have. Keeping the flooring a light shade of brown means that it won't be too overpowering, making it look more like a library. Note that light brown shades add softness to the room without being too dark.
Light Cherry
Perfect Hardwood Flooring for Cherry Cabinets interested in uniformity, then light cherry would be an excellent choice. Go for a cherry color that is several shades lighter than your cabinets.
Lighter floorings will make your kitchen a little brighter, so the cabinet and surface won't look as if they blend together.
Lighter cherry floors also look nice with darker cherry cabinets. Even where they are of the same basic color, they won't appear like they're trying too hard to match. This in turn makes the room look less forced and more natural.
Beige
As you may already know, beige floors look great with just about every color. While cherry is a warm color, it only sounds perfect that another warmer color will work well with it.
Beige floors generally emphasize the richness of cherry cabinets. And if the beige has golden undertones, it will pair just fine with the reds in your cherry cabinets.
Overall, look for lighter colors- something that will appear lighter next to your darker cabinet.
This way, you can clean the hardwood with ease and make the whole lot look great next to your cherry grain. Again, avoid deeper shades such as walnut, as they won't deliver enough offset.
Types of Wood Flooring
Wood floors should be designed to withstand all the abuse. Thus, keep off from softwoods for your floorings, especially in kitchens unless when you want the surface to look distressed with dings and dents.
Various wood floorings options include solid hardwoods, bamboo, engineered hardwoods, and cork floorings, which is developed from cork oak tree.
Cherry Wood Floors
Although cherry floors stained with the same basic color as your cherry cabinets make the entire room appear cohesive, it may, however, be too boring to look at.
Cherry wood floors are known for durability, thus you can use light oak or maple stain to add contrast to the cabinets and bring out the texture of the cherry wood's grain on the surface.
Bamboo Flooring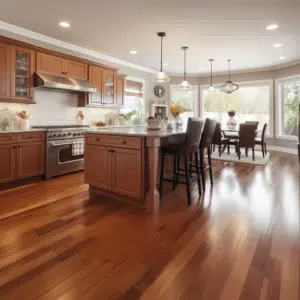 High-quality bamboo floorings in a light blonde stain often contrast against cherry cabinets, making them stand out with a different texture to the surface. Bamboo floors are likely to set the surface right as they provide a sandy, earthly feel to your room.
More to their gorgeous look, a quality-made bamboo floor can last through your independent years and still remain firm under feet.
Perfect Hardwood Flooring for Cherry Cabinets hold up well to stain, spills, and everyday abuse while still looking great. It's always best to choose wood flooring that matches your needs and lifestyle demands.
Dark Wood Floors
Note that dark wood floors can overpower the space and make your room appear too dark. Cherry cabinets are better served by wood floors that contain hints of gold, blondes, yellows, reds, and violet-reds- mostly analogous warm shades.
Such colors blend well with cabinets and tend to offset them in a pleasing way.
Wood floors with rather green tones provide a bold complement to the reds in cherry, especially when matched correctly in tone.
Meanwhile, maple, hickory, and walnut wood floors with dark brown or black stains usually work better with lighter-colored cabinets. This is because they detract from the beauty of the wood grains in the cherry cabinetry.