Garbage disposals are a timely invention that has been a significant contributor to environmental conservation efforts. 
While households benefit by not having to deal with the significantly difficult problem of food waste disposal, it is the overall environmental benefits that are truly essential.
Garbage disposals shred and pulverize food waste and dispose of it into a septic tank to be discarded through the sewer system in the same way as human waste.
Thus, landfills are spared domestic food waste.
These volumes of food waste cannot be burned or composted.
Landfills discharge huge amounts of methane gas into the air, soil, and water from food waste. Most animals and plants are threatened by methane. Garbage disposals send food to treatment plants. Unlike other appliances, garbage disposals are made by Kitchenaid and Insinkerator.
Kitchenaid vs Insinkerator garbage disposal: Features to Look Out For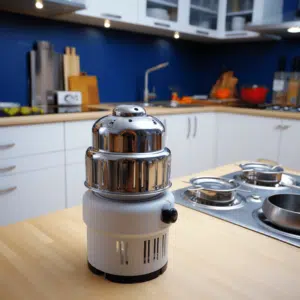 The following are the features to look for when selecting either garbage disposal:
Stainless steel body

Noise level or quiet operation

Multiple grind sections

The power cord

Anti-jamming feature

Quick-mount feature

Continuous feed or Batch feed 

Warranty
Stainless steel body
Stainless steel is the best material for a trash disposal because food waste and grinding it for years would cause corrosion and wear. Choose a trash disposal made of stainless steel if you want it to last.
Some trash disposals have blades made of stainless steel and a polymer plastic shell that is also strong. Stainless steel is now used in a lot of trash disposals.
Noise level
Garbage disposals create a lot of noise, but newer models have materials and technologies that absorb vibration to lessen noise.
Since garbage disposals can now handle bones and corn cobs, this is becoming more important.
These types of food waste will increase garbage disposal noise, making nose reduction a need rather than a luxury.
Multiple grinding sections
Many modern models have three grinding chambers to completely pulverize food waste.
Buy a device with many grinding sections since the finer the end product dumped into the septic tank, the easier it is to treat waste.
The power cord
Garbage disposals must be hardwired or on specialized circuits, and the power cord must handle higher voltage. Some brands sell power cords separately.
Choose firms with their own cords in the packing to avoid extra fees and buying a garbage disposal-unsuitable power cord.
Anti-jamming feature
This is a handy feature to have in your garbage disposal. Instead of having to pass water or reset the garbage disposal when bits of food jam, some brands now have an anti-jamming feature that detects stuck grinders and automatically reverses them momentarily to get them moving normally again.
Quick-mount feature
This feature is a design attribute that facilitates easy installation if the pipes are compatible with the nozzle of your garbage disposal. 
An instantaneous turn and lock system secures the garbage disposal to the sink fixing it tight enough without requiring expert installation.
The lock feature also makes it easy to detect problems since a loosening nozzle will equally be detected and the garbage disposal will automatically switch off.
Continuous feed or batch feed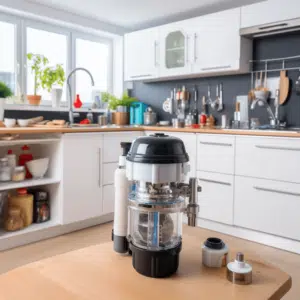 Continuous feed allows you to dispose of food waste while the machine is working, but batch feed requires you to cover the garbage disposal while one batch is shredded.
Either option is great depending on the overall feature profile of the garbage disposal.
Warranty
Newer versions have more features than previous ones, which increases the chance of malfunction. If you buy a newer model, be sure the warranty is more comprehensive to avoid excessive losses.
Most Kitchenaid and Insinkerator trash disposals are durable and rarely need repairs.
Garbage disposals endure 15 years or more in good condition, thus extended warranties are unnecessary.
Finally…
Insinkerator is the leading manufacturer of garbage disposals and their appliances are the most widely used. Some of Kitchenaid's garbage disposals are made by Insinkerator.
The two brands are sure to be a valuable addition to your home and depending on the specific features you are looking for, either is a great pick.
Some top models from both Insinkerator and Kitchenaid that you can look into based on the above considerations are:
Insinkerator Evolution Garbage Disposal

Insinkerator Badger Garbage Disposal

Insinkerator Compact Cord Garbage Disposal

Kitchenaid Continuous Feed KCDS075T Garbage Disposal

Kitchenaid KCDB250G

Kitchenaid KGIC300H

Kitchenaid KBDS100T

Kitchenaid KCD1075B
Keep in mind that some of these brands may not have quiet operation features but are still incredibly efficient and solid picks, especially where durability is concerned.
The Insinkerator Evolution series ticks all the above boxes and is the best garbage disposal on the market currently.