Whirlpool and Frigidaire are American brands that manufacture a number of appliances and have a wealth of experience in this arena.
If you are choosing between these two dishwashers then you are picking from two fairly similar dishwasher brands sporting a few key differences.
One of the common attributes of both Whirlpool and Frigidaire is that both companies offer affordable appliances.
This is a major selling point for these two brands and has been a major factor for consumers when buying either of these brands.
When choosing a dishwasher, primarily you are looking for the most optimal pick that your budget can accommodate but you have one major consideration which is that you want to have a machine clean your crockery and not have to do it yourself.
Whirlpool vs Frigidaire dishwasher: Factors to Look at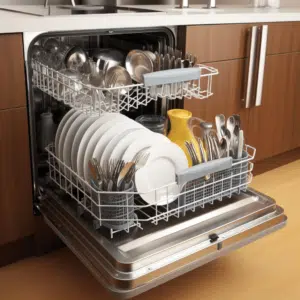 When stripped down to the most essential aspect, what you need here is an efficient dishwasher to save you time, energy, power, and water.
You have boiled your choices down to two great choices so of the two, which could outdo the other?
This will depend on the considerations outlined below:
Noise level or quietness

Durability

Appearance and aesthetics

Performance and cleaning efficacy

Cost

Additional features
Quiet operation
A great dishwasher would ideally be a quiet one but with both Whirlpool and Frigidaire, quiet operation is not a standard feature.
Both of these brands will afford you a fully functional dishwasher but if you choose either you will have to contend with the problem of noise.
Neither brand produces particularly quiet dishwashers and the lower the price point the greater the decibel rating.
Despite this, Whirlpool would probably be the safer choice but only by a small margin. For a few extra dollars, you may be able to buy the quietest Whirlpool model with a rating of 41 dB. This is actually a very quiet machine which is a good choice.
Frigidaire has its quietest model clocking at 47 dB which is quite noisy but within the limits of what will be tolerable. As a rule, stick to a decibel rating of anywhere between 44 dB and 48 dB. Louder than this is too loud especially if the home happens to be your workplace as well.
Certain Frigidaire models have a rating of above 50 dB which may not be ideal. If noise is not negotiable, pick any of the two but on the pricier end.
Durability
You want an appliance that will take you at least five years without breaking down or being replaced.
Durability relies on the craftsmanship of the dishwasher and on the material the dishwasher is made of.
Whirlpool has a long-standing reputation as a workhorse appliance manufacturer whose products are largely unproblematic and hardly ever break down. This is a testament to the craftsmanship of Whirlpool.
Frigidaire does not disappoint but it has been known to be rather troublesome and their dishwashers can be prone to breaking down from time to time.
Where Frigidaire boasts the upper hand is that most if not all their dishwasher are made of stainless steel which is an advantage in many ways while Whirlpool still largely produces plastic tub dishwashers.
Appearance and aesthetic appeal
Frigidaire may have the upper hand here since their dishwashers have a more sleek look while Whirpool still has the bulkier design featured on most of their dishwashers.
The two however may be neck and neck in this regard since different models have separate design features that appeal subjectively to different consumers.
Both Whirlpool and Frigidaire offer pocket handle door designs as well as towel bar handles. Both brands offer a palate of color options including stainless steel, black, white, bisque and slate.
While Frigidaire has its control panel at the top of the door which creates a more modern look Whirlpool have their controls on the front of the door which makes for a more dated look.
Frigidaire performs better here but depending on the specific model, you may find yourself preferring Whirlpool.
Performance and cleaning efficacy
Both Whirlpool and Frigidaire will give you excellent cleaning action and since this is the most important job of your dishwasher, either of these two brands will perform in stellar fashion.
On the less expensive models, you will find that all of them have the basic functions which are light, normal, and heavy wash. This is more than sufficient for your cleaning needs.
The more expensive the model the more options, cycles, and features you are going to get but regardless of which model you get and at how much, your kitchen will still get a worthy cleaning appliance.
Additional features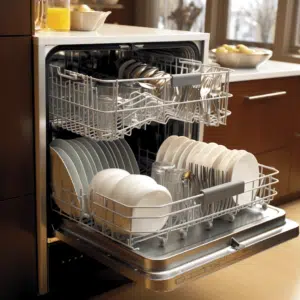 Whirlpool and Frigidaire do not have an array of features on their dishwashers. Regardless, the more expensive the model the greater the number of features it should have.
Notably, Whirlpool models have more versatility and a wider array of features compared to Frigidaire. Of note is that some Whirlpool models can be connected to your devices via your home wifi.
You can operate your whirlpool dishwasher from your phone or tablet and get notified if a cycle is complete or if you want to delay the start of a cycle you can have the setting configured on your phone per the timer.
Frigidaire does not have this smart feature on any of their models currently.
Another feature in the newest models Whirlpool has manufactured is Leak Protection. The dishwasher is fitted with sensors that detect leaks and switch off the dishwasher stemming the leak. This is very useful, especially where there are other people living with you and operating within the same kitchen.
Frigidaire dishwashers do not have a leak protection feature even in their more expensive models.
Cost
Both Whirlpool and Frigidaire are affordable brands and both companies cater to the tighter budget.
Even the more expensive models are still quite pocket-friendly so you should not be cleaning dishes by hand since either of these brands is accessible to just about everyone.
Based on the factors above, the models that should interest you include:
Whirlpool dishwashers Model Nos:
Frigidaire dishwashers Model Nos: