Valspar Paint Finish planning to undertake a major home renovation project or just a simple touch-up, a fresh coat of paint can be a great way to improve the look of your space without spending too much. Painting is generally affordable and can also be a great activity to do with your family.
Despite the numerous options on the market, the Valspar 2000 vs Ultra debate is one that has been ongoing for some time. While both have pros and cons, some people prefer the Valspar 2000 because it's a lower-cost option, easier to apply and it has a wide variety of color choices. Others prefer the Ultra because it is a more durable paint and it offers a smoother finish.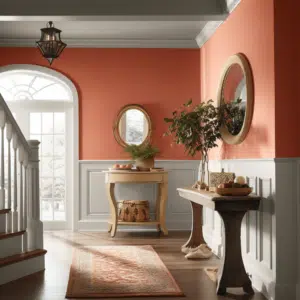 First off, it is important to state that Valspar paints are available in four different finishes, which can be based on two major categories: Valspar and Valspar Ultra. Under Valspar, homeowners can choose either Valspar Reserve or Valspar Signature, whereas, under Valspar Ultra, homeowners can choose between the Ultra 2000 and Ultra 4000.
The process of applying paint should be generally easy for both painters and homeowners. The paint should ideally be neither too thin nor too thick; if the paint is too thin, it will drip more easily. And if is too thick, it is possible for the paint to dry before the painter has had a chance to cover the entire surface.
Speaking of Valspar vs Ultra, the launch of the Valspar Reserve brand has brought about products with no VOCs, with the Valspar signature being the most recent to benefit from the new formulation. This new paint base not only outperforms the previous version, but it also lasts longer. That means buyers can find an array of beautiful colors, from pale hues to deep shades, all made from VOC-free tints.
Valspar Signature
Valspar Signature is the new improved primer and paint that has been developed to provide excellent hide and smooth coverage. It has been developed using Valspar's Scuff Shield Technology, so the paint remains resilient against stains and scuffing. There are four sheens offered by Valspar signature: eggshell, flat, and satin.
Ever since it was launched, Valspar Reserve has been recognized as a competitive product in the market. In fact, an independent consumer magazine rated this product as the best zero-VOC paint after two years of consecutive testing.
Contrary to other paints and primers, Valspar Reserve is a one-coat application that is convenient for modern-day lifestyles. The paint is also scrub-resistant and scrub-resistant, which makes it a great choice for households with children and pets. The various sheens available vary from eggshell to flat, satin and semi-gloss.
The best thing about Valspar Ultra 2000 is that it's a professional-grade coating that delivers excellent coverage and touch-up and is best known for durability. It's a great choice for repainting buildings and new construction.
The Valspar Ultra 4000 is recommended for new construction and commercial maintenance needs as it delivers excellent cover, hides, and durability. You can apply this paint easily using a brush, spray, or roll. It is available in various finishes such as flat, semi-gloss, and eggshell.
Various Levels of Valspar Paint
Although sheen might appear like a subtle detail, it plays a crucial role when in terms of how the paint works in a given setting. Homeowners can choose between high-gloss and flat finishes and either will work great in different situations. Below, we've discussed some of the most common sheens as well as how they differ.
Gloss
As the name applies, the gloss has a shiny finish. More to the shine, it bears an outstanding stain-resistant and scrub-free performance, making it an ideal choice for areas with a lot of traffic and surface used often.
Semi-Gloss
Semi-gloss is basically developed to add a sense of shine, luster, and richness to any space. Perhaps the only drawback to the semi-gloss is that it generally reveals more surface imperfections compared to satin paint. Nonetheless, semi-gloss paint boasts the benefit of enduring plenty of cleaning.
Satin
The thing with flat paints is that they do not deliver the same lustrous finish as satin finishes. They are scrub-resistant and stain-resistant and have a great hide, which means they can be an excellent choice for rooms with lots of traffic.
Flat
Underlying colors and surface imperfections are well covered by flat paints as they have virtually no gloss. Aside from toning down bright and bold colors, they make the space feel even more comfortable, especially in low-light areas. However, these aren't really the best for stain resistance, so you might want to use them for more formal rooms that get minimum traffic.
Eggshell
The overall appearance of eggshell paints is minimally glossy and soft. This option is considered great for most rooms given that it is low-lustrous and durable.
How to Choose A Valspar Paint Finish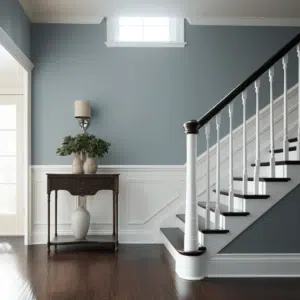 Paint surfaces are great based on different demands and applications. As such, you might be wondering which Valspar paint to get along with. Here are the guidelines on how to choose the right paint finish.
Laundry and Bath Rooms
Semi-gloss paint is an ideal choice for high-moisture areas because it is easy to clean. Just ensure the paint formulation is mildew resistant and if you're looking for a subtler finish, satin paint can serve exceptionally well.
Dining Rooms, Closets, and Master Bedrooms
Surfaces that are not prone to frequent washing should be painted with flat, matte finishes. These are great for older walls that have character, given that their soft soothing finishes cover imperfections.
Highly Trafficked Areas
For highly trafficked areas, you will be wise to opt for top-quality finishes such as eggshells and satin. These are easy to maintain, beautiful and long-lasting, and practical.
Cabinetry, Trim, and Woodwork
Valspar Paint Finish looking for something for woodwork, banister, and other detailed woodworking, you will be wise to go with a semi-gloss paint. Semi-gloss is also a great option for kitchen cabinets as it removes airborne grease easily. You just need to prepare thoroughly before cleaning.