Amana and Bryant HVAC Systems, How do you decide on the specific HVAC manufacturer when there are so many options? In addition, which brand should you choose when purchasing an air conditioning system?
When it's time to replace heating and air conditioning systems, these are common questions running in the minds of homeowners and business owners. Big names like Bryant and Amana are presumably familiar to you. However, what are the differences between the two HVAC brands?
According to USNews, Bryant is the best HVAC Company in 2022. It's regarded as one of the industry's early pioneers in heating and cooling. According to professional reviewers, Bryant sells the world's top HVAC systems.
The brand is owned by Carrier and has a nearly identical product line to Carrier. Bryant supplies air conditioners, ductless systems, geothermal heat pumps, heating and cooling products, air purifiers, and furnaces.
Amana is best known for its residential and commercial refrigerators, but the brand also offers well-regarded HVAC systems.
Much of the products from Amana are made on the same line as Goodman and use the same parts. Most people love Amana because of the award-winning warranty benefits.
Amana vs. Bryant Comparison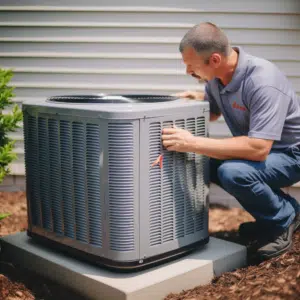 According to USNews, Amana is ranked 10th in the list of Best HVAC Companies of 2022. Since 1934, Amana has been manufacturing home appliances like Refrigerators, cold storage lockers, and microwaves. Recently, Amana branched to manufacture HVAC systems.
The Amana's HVAC equipment are made on the same assembly lines as Goodman's. The units are nearly identical to Goodman's, except for badging and cabinets.
Pros
Offer high-quality HVAC system

Excellent warranty

Offer American-made products
Cons
Slightly expensive

You can't transfer the warranty to another buyer after selling your item

Low SEER rating
Amana's top air conditioner has a SEER of 24.5 and a lifetime compressor guarantee, while their top furnace has an AFUE of 98 percent.
Amana heat pumps have SEER ratings up to 21. Amana's ComfortNet Communications technology lets you control your equipment from a mobile app.
Amana HVAC systems are rated among the finest but have more installation costs than comparable brands like Bryant. Some reviews say Amana's reliability and better warranty terms make it worth the expensive installation costs.
Amana's warranty is a plus. The compressor and heat exchanger cover for two years on lower-end versions, whereas components cover for ten years on higher-end ones. The top models come with a lifetime compressor and heat exchanger warranty. However, Amana and Bryant HVAC Systems sell your Amana product, the warranty does not transfer.
Amana's HVAC equipment is reliable. For example, Copeland compressors are used in central air conditioners and heat pumps, while stainless steel tubular primary heat exchangers are used in furnaces.
Amana Cost
Amana doesn't publish its prices online, claiming various factors influencing the actual cost. The amount you can spend with the Amana brand depends on your architecture, age, and ductwork.
However, most reviews claim Amana goods are competitively priced, while installation is more costly. Even with installation, the company's quality and guarantee are good values.
Amana Products
Unlike many HVAC brands, Amana does not classify its products based on overall performance. Instead, it ranks its units according to efficiency. They also have ComfortNet Communications compatibility to be coupled with a smart thermostat.
Amana Products include;
Air conditioners

Heat pumps

Furnaces

Air handlers

Coils

Thermostats

Packaged units

Ductless systems

Indoor air products, e.g., air cleaners, UV air purifiers, humidifiers, whole-home dehumidifiers, and ventilation systems.
Bryant
Charles Bryant started the Natural Gas Regulator Company in Cleveland, Ohio, in 1904, which later became Bryant. It was sold to Dresser Industries in 1934. In 1955, Bryant's former parent business, Affiliated Gas Equipment, merged with Carrier.
Bryant is now part of Carrier Global Corporation. Both firms' HVAC systems use the same parts and manufacturers. Despite having almost comparable models, the Bryant system costs less.
Pros
Carrier-quality HVAC system offered at a cheaper cost

Offer exceptionally quiet system

Energy efficient
Cons
Limited warranty

Lacks latest innovations
Given that Carrier Global Corporation owns Bryant Heating & Cooling Systems, it's no surprise that Bryant ranks just behind Carrier. Both are produced at the same plant and use the same components.
The only major distinction between the lines, apart from some models, is the brand name and a lower price tag. The rapid advancement and modern tech, on the other hand, usually make the Carrier line more superior to Bryant systems.
The top-of-the-line Bryant air conditioner has an inverter-driven compressor and a sound shield that suppresses noise to 51 decibels.
Its furnaces provide sustained comfort at up to 98.3 percent Annual Fuel Utilization Efficiency (AFUE), slightly low behind the Carrier's highest performance of 98.5 percent AFUE.
According to customer reviews, the Bryant counterpart is a better option if you need Carrier quality products but are on a tight budget.
Bryant offers three product lines which include Evolution, Preferred, and Legacy. The Evolution series of furnaces, air conditioners, and heat pumps are the company's highest-performing models.
The preferred series entails some of the company's energy-efficient products sold at reduced prices. The Legacy series is made up of the company's most affordable models.
Bryant sells air purifiers, smart thermostats, UV lamps, geothermal heat, heat pumps, dehumidifiers, CO alarms, pumps, furnaces, and air conditioners. The brand also offers a line of light commercial systems.
Bryant Cost
Consumers don't have fixed pricing information from Bryant. Bryant's systems must be acquired from a Bryant-approved HVAC dealer, who raises the price to compensate labor, taxes, and the dealer's profit margin.
Other elements that influence your ultimate Bryant cost include the size of your home Amana and Bryant HVAC Systems need ducts installed or changed and any other amenities you choose to include in the system, like an air purifier.
According to USNews reviews, a Bryant air conditioner costs between $6,000 and $9,000 to install, and a natural gas furnace costs between $2,700 and $5,000 to install.
Most Bryant air conditioners, heat pumps, and furnaces qualify for the federal tax credits of around$15 for furnaces $300 for air conditioners and heat pumps. Furthermore, units may be eligible for local tax benefits.
Bryant Products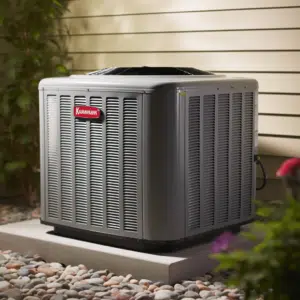 Bryant offers the following products;
Ductless systems

Packaged products

Geothermal heat pumps

Air conditioners

Heat pumps

Furnaces

Air purifiers

Humidifiers

Dehumidifiers

Carbon monoxide alarms

Thermostats

Other HVAC-related products
Conclusion: Amana vs. Bryant
Generally, Amana's efficiency ratings are significantly lower. Amana's highest AC unit has a SEER rating of 24.5, whereas Bryant's top AC unit has the highest SEER rating of 26.
Amana's top gas furnace has an AFUE rating of 98 percent, while Bryant's top gas furnace has an AFUE rating of 98.5 percent. Copeland compressors are used in their air conditioners and heat pumps, and the best models offer wireless thermostat capabilities.
Amana, on the other hand, stands out by the warranty advantage. Even the most basic Amana models have a two-year unit replacement warranty if the compressor or heat exchanger breaks.
Bryant's most efficient brands have a 10-year limited warranty at most. That is lower than Amana's lifetime replacement warranty on identical top models.