Cuisinart and Ninja Blenders, Blenders are one of the most common kitchen appliances in use today. This is in turn reflected in the sheer number of brands available out there.
As with all appliances and products, a growing demand gives rise to a surge in the number of providers and manufacturers, and in turn innovation and advancements skyrocket in an effort to carve out decent consumer loyalty and market share.
As a result, the quality of blenders out there today is top-notch regardless of price and the number of features from which to choose has never been more dizzying.
Cuisinart and Ninja are two of the most recognizable brands available today and are respected names in the kitchen appliance business.
Cuisinart is synonymous with the food processor since this product is what cemented its place in the market. With over a hundred years of operating in this space, Cuisinart is a household name and a household feature.
Ninja is one of the younger kids on the block making their debut as Ninja in the early 1990s. That said, Ninja is a solid player in this market with a large enough market share to date and still growing leaps and bounds.
These two companies produce some of the best blenders and strive to grant customers a wholesome experience so deciding which one to buy is an uphill task even with tons of information.
Cuisinart vs Ninja blenders: Factors to Look at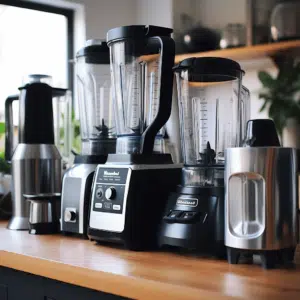 If you are to pick a brand you must concern yourself with the following factors:
Size of the blender

The capacity of the blender

Material of the blender

Aesthetic

Type of blender

Power of the mortar

Settings of the blender

Your budget
Size of the blender
Your blender is mostly a countertop implement hardly ever being put away.
While this is not a problem in most cases, ensure you measure the height of your countertops before buying a blender that you are forced to use awkwardly on other surfaces just because it's too big.
The average height of most blenders will not exceed 18 inches but some premium products could be larger.
The capacity of the blender
Pick a blender that surpasses your average daily quantity of smoothies and soups so that if there is a need for more you do not engage in repeated blending.
A small blender may suit your needs in the immediate time but once that changes the convenient thing to have is a larger capacity blender, not a smaller one.
Material of the blender
This is particularly important for the jug and the material directly determines how long the blender will last.
Stainless steel blenders perform best and are the easiest to maintain as well. Closely followed by glass blenders, these too last the long haul if there is no danger of frequently dropping them. They clean well and are quite the sight.
Plastic jugs are unbreakable but they do not last as long due to discoloration. The polymer plastics that do not discolor can crack and once this happens cleaning them is tricky since they tend to hold odors and even more color.
That said, they are very reliable and still perform well when cared for appropriately.
Aesthetic
You need a blender that is pleasant to look at and manufacturers make it their business to ensure you are buying a stunning appliance.
Type of blender
Depending on your needs, you have a choice of four main kinds of blenders:
Conventional blenders

High performance / professional blenders

Single-serve / personal blenders

Immersion blenders
Some blenders have multiple features in one and some conventional blenders may come with cups that make a single serving and parts that can accommodate immersion blending so the more versatile a blender the better.
Power
Your blender needs to completely pulverize your ingredients to provide a consistent liquid. Fruits are often easy enough to blend completely but seeds, greens, and dry ingredients such as groundnuts will not blend completely in some blenders.
High-performance blenders solve this problem since they pack higher wattage compared to the conventional blender and can blend a greater range of ingredients with ease.
Some professional blenders often have a wattage of over 1000 watts while most conventional blenders do not exceed 500 watts.
The professional blender, however, costs much more. Cuisinart and Ninja Blenders is larger and may consume more power so ensure that your needs call for this kind of blender.
Settings of the blender
Today gadgets do not just get the job done and blenders don't merely mix dry and wet ingredients to form a liquid. Today's discerning customer demands more from their machines and blenders are no exception.
Many blenders today come with blending options and an array of settings depending on what you intend to make. Additionally, many high-end blenders will often have a user interface to make the job even easier for you.
Smart options let you avoid guessing by suggesting the best blending settings, power calibration, and time. These are some of the best blenders to have.
Your budget
Most blenders are fairly priced and come in affordable price ranges so you have no reason not to enjoy a great blender on account of price.
There are however some models that will break the bank and the question is whether they are worth it.
In truth, most blenders available today are excellent machines and will give you excellent service for a good three to five years but there are some that will last twice that long without buckling.
These will definitely come at a premium so if you have a few extra dollars feel free to go for the pricier models. In any event, your friends will be envious.
The following blenders should be high on your list when considering all the above factors:
Cuisinart CBT – 1500
Cuisinart CPB – 300
Cuisinart CBT – 2000
Cuisinart CPB – 380
Ninja BL660 Professional Countertop Blender
Ninja QB1004 Blender / Food processor
Ninja Compact Kitchen System
Ninja BL480D NutriBlender
Finally…
Cuisinart and Ninja Blenders any of the above models is the one you pick, you will have made an excellent choice since all of them pass muster and are engineered in superior fashion. They are all excellent choices.