American Standard Cadet Pro vs. Cadet 3, is known for producing high-quality toilets. Many people, however, find it difficult to pick between the American standard cadet pro and cadet 3 toilets. You've come to the right place if you're one of these people.
The ability and performance of both the American standard cadet pro and the cadet 3 are outstanding. Although they have a lot in common, they also have some significant differences. We'll walk you through a quick comparison of the two toilets in this article so you can pick the best one for you.
American Standard Cadet Pro Overview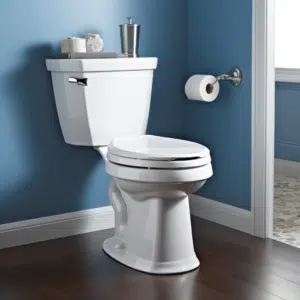 Features
Color: White
Pieces: Two-piece
Bowl shape: Standard height elongated toilet
Material: vitreous China
Flushing technology: Gravity fed
Flushing type: Single flush
Certificate: EPA Approved
Warranty: 5-year warranty
Construction
The Cadet Pro is constructed of vitreous china material. As long as it is maintained properly, this material is robust and long-lasting. As a result, you can count on this fantastic toilet to serve you for many years.
Elongated Bowl Design and Chair Height
With this toilet, you have nothing to worry about in terms of comfort. Compared to round bowl toilets, the Cadet Pro 2-piece has an elongated bowl design that provides extra sitting room. However, it can be placed in places where round bowl toilets are used. Furthermore, the toilet features a chair height that allows individuals of all ages to sit comfortably.
Two-Piece Construction
The American Standard Cadet Pro is a two-piece toilet with a 12-inch rough-in; hence it is simple to install. One can start by placing the toilet bowl and work their way up to the toilet tank. Because the 12-inch rough-in is standard on most toilets, you should have no trouble installing the toilet. However, note that you'll have to buy a toilet seat separately.
Clean Toilet Bowl
There will be no need to clean the toilet as often with the Cadet Pro because it has an Everclean surface that maintains the toilet cleaner for longer than other toilets. Bacteria that cause odors, filth, stains, and debris are kept out of the bowl.
 Cadet Flushing System and PowerWash rim
The Cadet flushing system works in tandem with the PowerWash rim to guarantee that all of the contents in the bowl are easily flushed away. Furthermore, they ensure that the bowl is cleaned using 20% less water.
EPA WaterSense Requirements are Met
This water-saving toilet is excellent for the environment and helps you save money on your water bill. Per flush, the toilet uses only 1.28 liters of water. This translates to a savings of at least 16000 gallons of water per year for the consumer.
Warranty
The majority of toilets on the market only come with a one-year warranty. On the other hand, the Cadet Pro comes with a 5-year limited warranty. This is great, especially since the toilets are of excellent quality.
Pros
The toilet can last for longer due to its highly durable construction

The Everclean surface ensures that the toilet's surface stays spotless for longer

Reduces the amount of toilet paper used and saves up to 20% of water

It's simple to put together and looks great in any bathroom, big or small

With the Cadet flushing system and PowerWash Rim, you can get a powerful flush

Excellent style and polish that blends very well with modern toilets

Certified by the Environmental Protection Agency (EPA) as a WaterSense product

Has a chair height that accommodates users of various ages

The elongated bowl design makes it more comfortable to use

Offers a 5-year limited warranty
Cons
The toilet does not come with a seat; hence you will need to buy one.

The seat is also poorly constructed; hence, it slides sideways when one sits on it.
American Standard Cadet 3 Overview
Features
Finish: White
Material: Vitreous china
Weight: 75 lbs
Shape: Round or elongated bowl shape
Certificate: ADA, WaterSense
Warranty: 5-year warranty
Construction.
The vitreous china material is used in the construction of this toilet. It is therefore sturdy and exceedingly lasting.
Toilet Design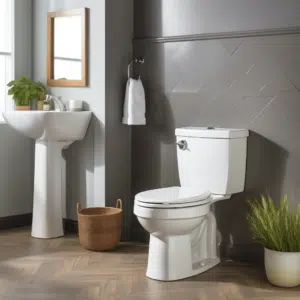 This toilet is convenient and dependable. With its elongated bowl design, it sits at a comfortable height. Additionally, as it is a two-piece toilet, it is excellent for both small and large bathrooms.
Installation
Considering it's a lightweight and compact toilet, its installation is relatively easy. It has a 12-inch rough-in, which is a plus. You can begin by setting the bowl, then go on to the rest of the body. After that, you can install the toilet tank, connect the water supply, and finally install the seat.
Flushing System
This toilet's flushing system is controlled by a chrome trip lever on the toilet tank's side. A siphonic action is used to increase the flushing power in its operation. Because of the smooth trap way, you can anticipate a powerful flush.
With each flush, the PowerWash rim appears to scrub. You will be shocked at how fast the system can dispose of a thousand grams of waste in just a single flush.
Water Consumption
Based on the Federal government's water consumption restriction, this toilet uses 20% less water. The toilet is WaterSense certified as a result of this.
The Cost and Warranty.
Cadet 3 is available at an affordable cost. Additionally, the toilet seat is covered by a one-year warranty, while a five-year warranty covers other mechanical parts.
Pros
Easy to clean

It's small and compact, making it ideal for small bathrooms

To avoid slamming and needless noises, the seat closes slowly

On its Everclean surface, dirt and bacteria will not accumulate

It has a sturdy build

Incredibly effective

It comes with a 5-year warranty
Cons:
Access to bolts during installation can be difficult

Because it is small, it may cause discomfort to certain people
Wrap Up
After reading the American Standard Cadet Pro vs. Cadet 3 comparison, we hope you are ready to select the best toilet for your needs. They are both built to last, are easy to clean, and have an effective flashing system. Consider the distinctions between them, such as bowl type, size, flushing system, and seat, to make an informed choice.