Essential oils are a great product and can be used in a variety of ways. Whether you use it topically or as a fragrance, essential oils are associated with many benefits such as keeping a room smelling fresh and setting up an ambiance.
You can also count on it to affect your mood and promote your overall well-being through aromatherapy. If you want to use it as a fragrance, you have to determine the most suitable means to get the fragrance to spread throughout the space you put it in.
Therefore, you may be wondering if you can put essential oils in a wax warmer.
Can You Put Essential Oils In A Wax Warmer?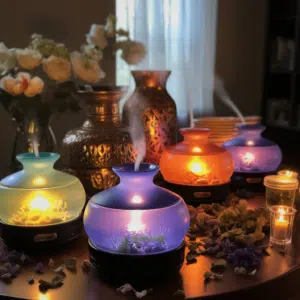 A wax warmer makes your home smell great. Warmers heat wax melts manufactured for warmers. These goods are useful for more than that.
Wax burners, or warmers, are wonderful for dispersing essential oils. A bowl or plate holds the hard-scented wax, which is gently heated. Wax melts and releases aroma as temperature rises.
Like wax melts, wax warmers disseminate fragrance. Further, electric wax warmers do not require an open flame.
Yes, essential oils can be used in the warmer. Essential oils can diffuse in wax warmers. Simply mix the oils with water in the melting bowl or dish to spread your favorite essential oil across the area.
That said, however, it is important to follow some precautions. Essential oils are naturally flammable to varying degrees and the flashpoint or rather the temperature at which ignition occurs is different for every oil type.
For instance, Lavender has a flashpoint of 149 Fahrenheit (69 Centigrade) while Ylang has a much higher flashpoint of 194 Fahrenheit (90 Centigrade).
How to Use Wax Warmers for Essential Warmers
Using a wax warmer to diffuse essential oils is easy. Turn on the warmer and mix a few drops of essential oil with water in the warming dish. The nice aspect about this procedure is that you can dilute excess oil with water. Add a few drops of oil if the aroma is weak.
You may also mix oils to make your own aroma to make your home smell like you and represent your individuality.
Though wax melts, water and oil evaporate. Thus, when diffusing your favorite oils in a wax burner, you must monitor the warmer and check it frequently. If you keep it warming after the water and oil evaporate, you risk fire.
Other than that, wax warmers spread essential oils safely. It will make your house smell great and provide other essential oil advantages.
Other Methods of Diffusing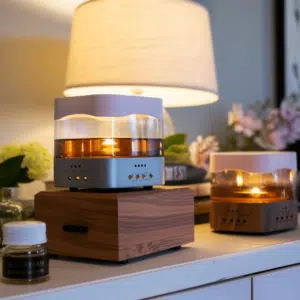 While using a wax warmer is a great way to diffuse the fragrance into your home, it is not the only option. There are also other products that are specifically designed for diffusing essential oils. So if you're looking for a product that is purposely made to diffuse essential oils, the good news is that you have plenty of options.
You may want to go with an electric diffuser, which utilizes water mixed with oils to spread your favorite fragrance into the room you place it in. You can also choose reed diffusers that involve just essentials. Your chosen oil will work your way up the reeds and diffuse to the space. Reed diffusers are available in many different variations so you can choose the one that works for you.
Another way to do this is to create a room spray. All you need is a glass bottle with a spray nozzle, witch hazel, Epsom salt, distilled water, and your favorite essential oil. In this method, you'll have to mix 8 ounces of water and 2 ounces of witch hazel or two teaspoons of Epsom salt with around 30 drops of essential oil.
Essential Oils
Put the mix into the glass bottle and spray it into any room you wish to add fragrance. Although this isn't technically diffusing, it is an efficient way to add fragrance to a room and still enjoy the benefits that come along with essential oils.
Another incredible way to diffuse oils without a wax warmer or diffuser is to make a gel diffuser. In this method, you will water-storing crystal, essential oil, hot water, and a glass jar.
All you need to do is mix one teaspoon of water crystal with one cup of hot water and about 20 drops of your preferred essential oil. Once you're done making the mixture, store it in the glass jar and place it without a lid in the room you want it to be diffused in.