The Andersen 400 Series and the Andersen A-Series are both popular window lines from one of America's most trusted manufacturers of residential windows. If you're in the market for new exterior doors or replacement windows, it can be difficult to decide which option is right for you. Here's what you need to know about these two styles of windows.
Overview
Andersen is a well-known brand in the industry, and they have been making windows and doors for years. They are known for their high-quality products that last a long time. Their windows and doors are made with high-quality materials, so they will last you for many years to come.
If you want to get new windows or doors installed in your home, there are many different options available to you. Two of these options are the Andersen A-Series and the Andersen 400 series window.
The Andersen 400 series has been around for decades and is one of the most popular replacement windows on the market today. The Andersen A series is a newer option, designed to offer homeowners the same level of quality as their 400 series but at a lower price.
Both windows are available in several different sizes, including double-hung and casement options. They also come in many different styles so you can choose the one that fits your home best! Let's take a look at how they compare.
Andersen A series vs 400 series: What's the Difference?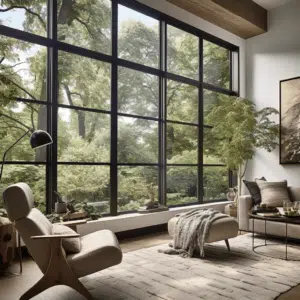 There are several differences between these two windows that will affect how they perform in your home:
Materials
Andersen A series window's interior is made of wood, and the exterior is made of Fiberglass and Fibrex. Fibrex is an Andersen-developed composite material that is stronger than wood and has better energy efficiency. Fiberglass is much more durable than vinyl, so it is less likely to crack or fade over time due to sun exposure or other environmental factors like moisture or wind damage. Vinyl is lighter, more flexible, and less costly than fiberglass, but it is not as durable.
The combination of fibrex and fiberglass makes this window series more energy-efficient than its vinyl counterparts.
Andersen 400 Series windows have a wooden interior, and the exterior is made of vinyl. Every wooden window has its own unique pattern of growth rings, which can produce varying shades of color depending on how it was harvested and dried. These variations are part of what makes wood beautiful, but they also affect how your windows perform over time.
Energy Efficiency
Both windows are Energy Star rated, meaning they are efficient in keeping the heat in during cold weather and keeping cool air in during warm weather.
The newer composite material (Fibrex) used in Andersen's A-Series windows provides superior insulation properties compared to vinyl or wooden frames found in 400 Series windows. The result is better energy efficiency for your home in all seasons, especially during cold winters when heat escapes through single-pane glass windows or older double-paned ones that don't seal properly around the edges of their frames.
Andersen A series windows come with Low-E glass, which helps keep your house cooler during the summer months by reflecting heat back out of your home.
Color Options
The color options for both windows are quite similar, but there are some differences. You can choose from several different colors for your 400 series windows, including white, black, and dark bronze. The A series also comes in several colors, including white, canvas, terratone, sandtone, and more. You can go with either series if you want something other than the colors mentioned above.
Installation
The installation process for both types of windows is similar. Andersen recommends that you consult with a professional to install the windows and doors, but homeowners can install them themselves with some experience.
Appearance
If appearances matter to you, then it may be worth paying more for an Andersen 400 Series window because they look more modern than their counterpart from Andersen. The 400 series uses thicker frames and better hardware than the A series does, which means that it looks better overall when installed in your home or business. They also come in a variety of styles, including double-hung, casement, and awning windows, so you can find one that matches your home's décor perfectly.
Style and Hardware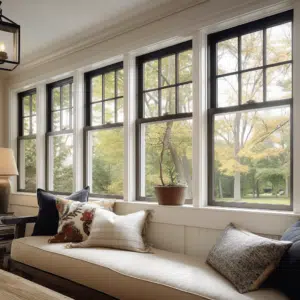 Both series include an array of options for hardware and window styles, so you can find exactly what works for your home.
A-Series and 400 Series windows are available in four standard grille designs. Custom patterns are available as well. The windows have fine light grilles placed between the inner and outer panes of the glass. This allows for easy cleaning, but these grilles are not removable.
You also have the option to install removable interior grilles. Removable interior grilles are exactly what they sound like: they're mounted over the glass on the interior side of the window and can be removed to allow for cleaning.
Price Comparison
While prices vary depending on the style you choose, Andersen windows are generally more expensive than other brands on the market because of the high-quality materials used in their construction. In general, however, both A-Series and 400 Series offer good value for money.
Andersen A Series vs 400 Series: Which One is Better?
Andersen A series vinyl windows are the best value for regular homeowners. DIYers and homeowners looking for a cheap solution might use them to install windows. Andersen 400 series double-hung or casement windows are an upgrade from A series. The 400 series has Low E glass, composite screens, and vinyl frames with metal reinforced corners, unlike builder-grade windows.
If you're installing replacement windows yourself or want a basic vinyl window, choose Andersen A series. We suggest the 400 series for a more luxurious, affordable option.