Bosch vs Makita vs DeWalt are three of the largest power tool manufacturers around. In many ways, they are comparable just like most other power tool companies out there.
They are all known for making a wide range of power tools, including, 8V, 12V, and 36V, cordless power tools such as drivers, drills, and saws. Bosch, in particular, is recognized for its drills and rotary hammers.
Makita, meanwhile, boasts one of the largest offerings on the market, including power tools that range from lawnmowers to radios. All three companies offer a line of outdoor equipment as well.
While it can be difficult to decide on one of these options, we will start by detailing each of their respective histories and then explore how their tool price, warranty, and customer services compare.
By the end of this article, you should easily determine which power brand would work great for you and your select situation.
Bosch Vs Makita Vs Dewalt: Overview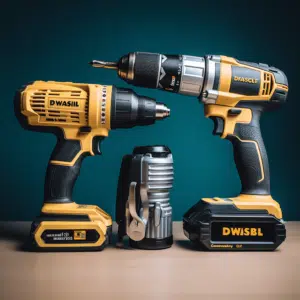 Bosch Brief History
First, this company is quite large and does not just make tools. It is a multinational engineering company that has manufactured many different things throughout history, ranging from magneto ignition devices for automobiles to windshield wipers.
Founded in 1886 by Robert Bosch in Stuttgart, Germany, this power tool company has a rich history, ever since it started creating better ignition systems and spark plugs. It was until some years later that they started producing power tools with the ingenuity of the hammer drill.
Bosch Company has invested a number of things over the years, including oxygen sensors, traction control systems,s, and electric motor control. In fact, much of the technology you see today would not be the same without this company.
Makita Brief History
Founded in March 1915 in Nagoya, Aichi Japan, Makita initially started off as a power tool repair business. The company didn't have any of its tools at the beginning, so they repaired tools made by other companies until 1969 when it went on to manufacture its first power tool.
Makita is also widely recognized for its inventive stacking box system. The company ships its tools in stackable boxes to prevent damages to the products and take up less space per package.
Thanks to the success, the company now manufactures a wide range of tools. Most recently Makita expanded into gardening tools and equipment. In 2012, the power tool company established production in Thailand and continues to do so until the present.
Dewalt Brief History
Raymond E. Dewalt, the radial arm saw creator, founded this company in Leola, Pennsylvania over a century ago. Two decades after its founding, American Machine and Foundry Company bought Dewalt in 1949 and sold it to Black & Decker in 1960.
DeWalt introduced its original series of portable electric power tools targeting professional woodworkers and residential contractors. Two years later, the company, launched 30 cordless tools and progressed in the power game at 14.4V. In the course of this launch, DeWalt also laid claim to the original combination drill, driver, and hammer drill.
In 2010, the company launched its first 12V max tools and shifted to 20V max lithium-ion tools a year later. We also saw it online in 2015 with its DeWalt Tool Connect and 2016 with the FlexVolt multiple voltage tech.
Several years down the line, the industry saw the introduction of DeWalt Flex Volt Advantage tools, which enabled 20V tools to have more speed and torque when paired with FlexVolt batteries.
Bosch vs Makita vs Bosch: Manufacturing
Is like many other tool companies, makes various tools in the US. Bosch outsources most manufacturing to foreign countries like China.
While most tools are created at various factories, one tool is often made in several. Note that "Made in America" tools may use foreign parts.
Makita has made various tools in the US since 1985, at a site outside Atlanta, Georgia. This is where they create most tools. Given that they are a Japanese corporation, several tools are made in Japan.
However, Bosch has factories in China, Brazil, Japan, Romania, Mexico, Germany, Dubai, the UK, and the US. Makita, like Bosch, uses global parts in most of its power tools, while others are created in specific firms.
DeWalt- being a global manufacturer of hand tools, power tools, and accessories- generally manufacture their tools in different countries including Mexico, China, Italy, the Czech Republic, the United Kingdom, and the United States. By having manufacturing facilities in these countries, DeWalt feels that it's able to best serve all of its customers.
Bosch vs Makita vs DeWalt: Tool Price
Well, it would be impossible in space we have to compare these three companies across every tool category, so we're going to focus on the most popular categories: price and warranties.
Generally speaking, Makita is considered more expensive than both Bosch and DeWalt. Even though it is not the most expensive power tool brand on the market, sometimes the prices are over twice as expensive.
Other times, the price may actually be pretty close together. After all, it really comes down to what you're buying and what deal you happen to snag. So, if the price is extremely important to you, you will probably want to avoid Makita.
Makita also has a reputation of offering a step-up quality in comparison to DeWalt, with a higher price tag to go along with it. But all these three brands are considered to be professional-level tolls across the board and are pretty much comparable overall.
Bosch vs Makita vs DeWalt: Warranty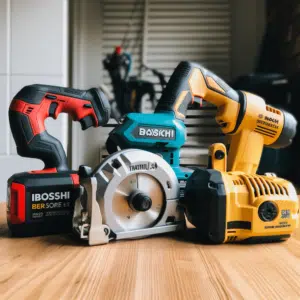 Both Makita and DeWalt offer a similar warranty, just like most tool companies out there. The small print on each warranty is usually what's matters, so we took time to read through it for a valid comparison.
They both offer a 3-warranty on their cordless tools, even though DeWalt provides an additional 90-day money-back guarantee and a 1-year service agreement. Both companies back their batteries for three years.
Speaking of Bosch, however, this company has a slightly shorter warranty at only a year. The warranty is also limited, meaning only faulty components and craftsmanship may have affected the quality of the tool.
In the event that the tool breaks due to something they did or dint do, it is covered under warranty. However, you don't want to expect a refund or replacement when you drop the tool or break it in another way. On the bright side, though, this company also offers a one-year service protection plan, which covers electrical, safety, and performance checks for free.