Eco-friendly home cleaning, We rarely talk about keeping our homes clean. However, why is it the case? Even if several products on the market deliver excellent results, picking a single brand might be challenging.
Introducing Branch Basics and Grove, each of these companies is committed to producing cleaning supplies of the finest quality for your home and you personally. Even though they appear comparable, many have small variations.
Typically, these companies provide goods that are unavailable in your neighborhood store. They concentrate on a select range of goods and services. You can receive a monthly resupply from some of them because you can subscribe to their services.
Branch Basics Vs Grove: Understanding the Two Brands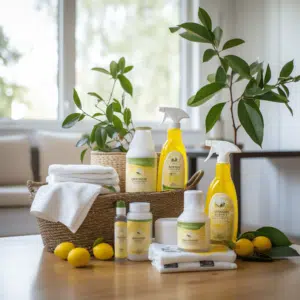 Branch Basics wants to revolutionize home health by helping people eliminate dangerous chemicals from their daily lives so they may feel the power of purity. They have a potent, multipurpose cleaning concentrate that won't harm you and will handle all your cleaning needs.
Three mothers searching for a softer, more natural substitute for the harsh chemicals included in most household cleaning products started the Branch Basics business in 2012.
Branch Basics ingredients mostly consist of natural components and are free of aromas, colors, and other harmful chemicals. These ingredients include sodium bicarbonate, citrate, phytate, organic chamomile, and decyl glucoside.
The goal of Branch Basics is to assist individuals in building healthy homes. Their all-purpose spray, dishwashing detergent, and laundry detergent are manufactured with the cleanest ingredients and don't include harmful additives or scents. That enables you to thoroughly clean your house without compromising effectiveness or quality.
Where can I find Branch Basics?
Branch Basics company is based in the United States. Eco-friendly home cleaning manufactures cleaners that are safe, efficient, and environmentally friendly. The headquarters of Branch Basics is in Austin, Texas, and it boasts a staff of enthusiastic people dedicated to giving clients the most incredible experience possible.
Where is Branch Basics manufactured?
The Concentrate and Oxygen Boost are both made in the United States. All of the raw materials are locally bought in the US or Europe. The silicone sleeves for glass bottles, foamy wash bottles, and spray triggers are created in China. However, the bulk of bottles are made in the US. The scrub brushes are also made in China.
How Does Branch Basics Work? Are Branch Basics Valuable And Worth the Price?
Branch Basics sells multipurpose cleansers in spray bottles that may be used as laundry detergent, dishwashing liquid, and other cleaning products. Select an all-purpose spray bottle, add water to the cleaner to the "lines" specified on the label, and thoroughly mix.
Branch Basics and Grove offers a subscription service that delivers the items to your door at the frequency of your choice, and its products are reasonably priced.
What Are The Ingredients of Branch Basics Cleaning Products?
Branch Basics is a fragrance-free, biodegradable cleaning solution with non-toxic components that won't hurt you, your family, or the environment. It also has no dangerous preservatives. Branch Basics concentrate has a lot of floral extract and an antioxidant made from plants.
The ingredients of Branch Basics include sodium percarbonate, chamomile extract, sodium citrate, purified water, sodium bicarbonate, and sodium phytate. Decyl Glucoside and Coco-Glucoside are sugar-based cleansers.
Do Branch Basics Contain Ammonia?
They use ammonia-free liquid cleansers. Only biodegradable chemicals like sodium percarbonate and sodium bicarbonate are utilized; no hazardous preservatives are employed.
What is Branch Basics' pH?
Products from Branch Basics have been proven to endure for a very long time, even when diluted. Their high pH values of 8.5 +/- 0.5 enable this.
Grove
The most environmentally friendly cleaning supplies are the ones you currently possess, but if you want to convert to an even greener choice after using up your current supply, Grove is the place to go.
In an effort to increase household access to eco-friendly and plastic-free cleaning solutions, Grove offers everything ranging from plant-based dishwashing pods and all-natural moisturizing dish soap to reusable glass spray bottles and soap dispensers.
However, the new citron and white rose multipurpose cleaning concentrate has been most people's particular favorite.
Is Grove Cleaning Product Reliable? Does Grove Have Scent
The all-natural product has subtle scents from essential oils that don't appear powerful enough for your fastidious cleaning practices. After all, you should think of having cleaning agents that won't irritate your throat and nose.
After a few applications, you will note that Grove's solution is powerful and free of harsh chemicals. Eco-friendly home cleaning will help you clear difficult-to-clean surfaces, including oily counters, a burned cooktop, and soap-scum-covered bathroom tiles.
Eco-friendly home cleaning also quite simple to use Grave: pour the cleaning concentrate from the little glass vial into one of Grove's reusable spray bottles, fill it with water, firmly twist the lid back on, and shake.
You need a few spritzes because the solution easily penetrates any filth. However, to give the cleaner time to do its magic on difficult dirt, let it stay for a few minutes before wiping with a towel or scrubbing with a sponge.
Additionally, one little bottle of the concentrate may last for several thorough cleaning sessions because the reusable spray container has a capacity of 16 fluid ounces.
In summary, the multipurpose cleaning concentrate from Grove Collaborative helps you use less plastic and makes cleaning your bathroom more fun.
Does Grove Glass Cleaner Contain Ammonia?
There are no parabens, phthalates, phosphates, formaldehyde, synthetic colors, ammonia, or chlorine bleach in this Grove glass cleaner's 95% plant-based composition.
Is Grove Worth The Price?
Grove offers all-natural personal care, cosmetics, and home goods that may be delivered to your door regularly. The company specializes in eco-friendly, pure, and ethically sourced items for your home's kitchen, bathroom, and other rooms.
Your initial Grove order may also include additional Grove Collaborative products for free, depending on your purchase amount.
Are Grove Products Non-Toxic?
Grove Collaborative sells non-toxic and ethically manufactured goods such as natural cleaning supplies, cosmetics, and baby items.
Final Thoughts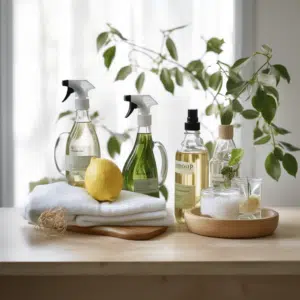 Branch Basics and Grove products are gentle for your skin and suitable to use around kids and pets. Additionally, they are efficient, leaving your house fresh and clean without harmful chemicals or leftovers that discourage healthy living.
Furthermore, even the most delicate skin may use Branch Basics or Grove without irritation. Their laundry detergents work whether you have a coffee stain on your shirt or grease spots on your pants.