Wood sealer comparison, From houses to furniture and even decorative objects, people have been using woods for centuries to build stuff. In addition to being durable, wood is also one of the most versatile materials you can work with. Plus, it brings a classic appeal to any building.
But even with its advantages, wood isn't as sturdy as you may think. Unlike plastic, metal, or concrete, wood is naturally impervious to elements and can be damaged quite easily by external elements.
Shifting weather, humidity, and temperature can cause it to shrink or expand. As such, it tends to lose its initial shape and may even get warped or twisted over time. Doors, sheds, and other outdoor furniture that's constantly exposed to the elements are especially prone to it.
Fortunately, this is where wood protectors come to play. They seal up the wood's surface, keeping it from soaking up water and moisture from the environment. They preserve the internal structure of the wood, which, in turn, prevents the whole thing from losing its original shape.
But there are so many wood sealer brands out there, each claiming to offer the best products on the market. How do you decide on the right brand? Well, things can get a little more challenging especially when you have no background in woodworking.
To make this easier for you, we've explored the web for recommendations from experienced woodworking experts. So in this article, we'll be comparing the Cabot Clear Wood Protector vs. Thompson. Both are arguably the most popular brands in the market today. So let's get started!
Cabot Clear Wood Protector Vs Thompson: Cabot Clear Wood Protector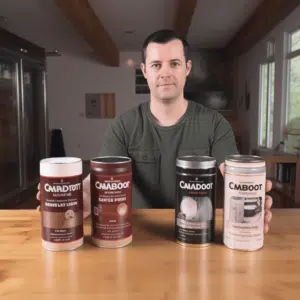 Among the best alternatives for a deck sealer, Cabot clear wood protector will come in handy for those looking to finish the wooden exteriors of a house, especially where the more premium varieties of wood like teak and mahogany have been used.
Also, in the event that you're working with wooden surfaces that are rather denser and difficult to penetrate, this Cabot penetrating formula is designed to deliver the desired results. Note that there are variances in the range of areas that the penetrating formula can cover, subject to how porous the area is.
For instance, it can cover between 250 and 350 square feet where the area under consideration is irregular, going up to 400 or even 600 square feet for the smoother exteriors.
So is Cabot a Good Wood Sealer?
All things considered, Cabot is one of the best oil-based deck-stain on the market today. It is made to penetrate and preserve where applied.
You can cover a large deck complete with two coats and the deck will still look brand new. So if you're planning to use the best, you may want to consider Cabot's oil-strain-based stains.
In case you're wondering how long the Cabot clear wood protector lasts, keep in mind that the finish durability depends upon wear, weather, and other local conditions.
Nonetheless, the finish typically lasts between 1 and 2 years on decks and 1-3 years in siding and fences. Here are some of the benefits of choosing the Cabot Clear wood protector.
Cabot penetrating oil has multiple applications and is very easy to apply. This oil is not usable on regular wooden surfaces that are commonly used to build decks, it can also be used for a number of accessories including those for cooking or parts of appliances around the home.
Another major advantage of the Cabot Formula is that it has been made to seep deep into even the more dense wood types that are often richer in resin.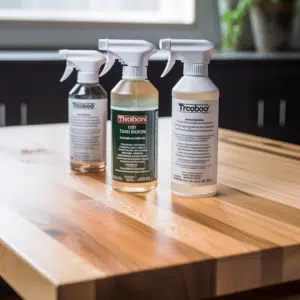 Thompson has been a reputed brand for wood and concrete waterproofing products for quite a long time. Perhaps that's why they top the list of recommended wood sealers in most woodworking blogs.
In addition to resisting most types of mold and mildew, the Thompson wood sealer is also long-lasting. That means you don't have to worry about reapplying the sealer every couple of years.
Wood sealer comparison applicable on both dry and damp wood and can be used on outdoor furniture, doors, decks, patios, and fences.
Wood sealer comparison is intended to provide exceptional protection against any possible water damage and resistance to mildew. Here are some of the benefits of choosing Thompson water sealer.
As a water-based formula, this product offers great value for money and is suitable even for exterior applications. It works just as well for damp and dry wood.
This makes it a considerable choice especially when working on areas around the pool that are usually wet and cumbersome to wait for them to dry out completely.
The wood protector is straightforward to use and it just takes one coat of the product to provide great protection. Most users report that Thompson water sealer lasts between 1-2 years before re-application.
Some users mentioned re-applying after one year although their deck was still beading water, meaning that may not have been necessary.
The Bottom Line
Cabot Clear Wood protector, on one hand, is a deep penetrating waterproofer. It is enhanced with dual action UV protection and a mold, mildew, and algae resistant coating.
The resultant true clear finish and soap-and-water cleanup make it even easier to apply. Contrary to wax-based clears that remain on the top of the surface and wear away, Cabot Clear Wood Protector seeps deeply into wood fibers for long-lasting protection.
Thompson Water Seal, on the other hand, is a great option if you're looking for a deck or patio sealer that provides long-lasting protection.
It is very easy to use and can be applied to both damp and dry wood. What's better, you only need to apply one coat to give you the desired results.