Harvey and Pella, Trying to find out which company makes the best replacement windows? High-quality windows can safeguard your home against strong winds, extreme cold, and even draughts.
Fortunately, Hervey and Pella offer some of the best top-quality products that fit most homeowners' needs. These two popular companies bring maximum protection to your property.
Harvey and Pella are two of the leading companies for manufacturing windows, which is possibly why they come recommended highly. Before we jump into the actual comparison, it's important to state that both companies offer great quality windows that should serve well.
It can be hard to compare these two companies, especially considering that their products are pretty much similar. Both manufacturers are well-established and they all seem to get great reviews. Nonetheless, it might help if we choose to focus on their differences for the sake of determination.
Harvey Vs Pella Windows: Overview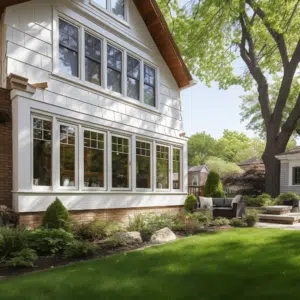 Harvey Windows Overview
Founded in 1961, Harvey windows has delivered quality craftsmanship and excellent customer service to become a reputable brand. Their products come with carefully-crafted designs and are made from high-quality materials to ensure durability.
Harvey largely specializes in replacement windows made from vinyl, which can be a great choice for shoppers looking to keep costs down and tackle minimal maintenance.
Still, that doesn't mean that they don't cater to high-end window consumers. The company offers a range of elegant designs including wood windows across their majesty line.
Simply put, Harvey windows are energy-efficient, long-lasting, and low maintenance. These are some of the features that set it apart from its competitors. The company's windows also come with exceptional sound dampening qualities that homeowners prefer.
Today, professional builders and designers recommend Harvey windows mainly because of their durability and ease of use. The company also offers a wide range of styles and sizes, which are available in multiple shades.
Pella Windows Overview
Since its first outset in 1925, Pella has developed a long history of innovation. In fact, this company was named after a town in Lowa, where the company was established. The founders; Lucille Kuyper and Pete decided to invest some of their bucks in a new invention.
This invention was based on a novel idea of creating a window screen that rolled up and down like a shade. By enclosing the screen in a carefully designed frame, they made it possible to even provide easy storage.
The invention was a great success and they are still manufacturing these kinds of screens even today. Pella, as a company has evolved a lot since those days, without about 7,000 employees on board.
Harvey vs Pella Materials
Despite the fact that these companies offer a wide range of windows made from different types of materials, certain trends do exist between the two that you might want to know.
On the whole, Pella seems to stress the use of all-vinyl frames, which presumably helps to explain their relatively lower prices. Aside from the lower cost, vinyl is considered one of the most water-resistant materials on the market.
On the other hand, Harvey windows are recognized for their high quality and performance. The company's thermal resistance feature is particularly better in comparison to other windows out there and is designed to resist corrosion and abrasive contaminants.
Being a leader in the window manufacturing niche, Harvey windows are made with only quality materials such as Vinyl and majesty wood.
Harvey Windows vs Pella: Cost
When it comes to costs, it is good to note that prices tend to vary based on design and size. Starting with Harvey windows, the cost of a glass window-hung will be dictated by the design chosen. Their standard vinyl window costs around $350, while slimline designs come in at around $285.
On average, a Harvey casement window will set you back about $165 per window. Hiring a professional to help with the installation will cost you between $325 and $385 per window.
Pella, on the other hand, does have windows that cost upwards of $1000. However, their most expensive options don't go higher than $1,100.  That means buyers can possibly get these windows for less than $1000 per window with some tasks costing as little as $770 for each.
Harvey Windows vs Pella: Customization Window Types
There are various factors that might lead you to opt for custom windows. These include aesthetics and the weather in your area.
Harvey windows are known for versatility as they embrace changes in style, designs, and color preferences. Moreover, their classic design window is still one of the most favored choices around.
Pella, on the other hand, we've already stated that this company started off with an innovative and unique design, demonstrating that they're pretty much prepared for new things.
Pella has placed a high value on innovation and it's hard to come across such things in other brands. It seems that they mostly specialize in making their frames from wood because they have a vested interest in doing so.
Harvey vs Pella: Warranty Coverage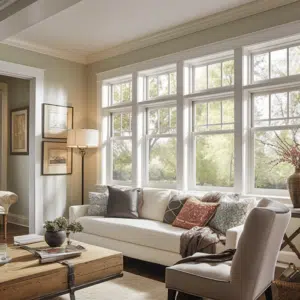 The best part about Harvey windows' coverage is that it caters to all replacement window items including shades, blinds, glass, draperies, and shutters. Shoppers will also get lifetime warranties that cover stains, dents, and tears. Where a replacement is necessary, Harvey promises to visit your home to help resolve the problem.
Harvey offers a 10-year warranty against material and quality faults on wood and aluminum structural components for their majesty windows. Keep in mind that this 10-year warranty begins on the date the product leaves the factory, not really when the window is purchased or installed.
Pella windows, on the other hand, come backed by some of the strongest warranty terms for replacement windows and doors. As you could have guessed, quality products such as Pella windows and doors come with great warranties because they are generally made to last.
So, Which is the Better Choice
Overall, both Harvey and Pella windows offer a wide range of styles and sizes, and their products are available in multiple shades. They also offer a variety of warranties and different window treatments to choose from.
Keep in mind that different windows may have features such as security, noise control, energy efficiency, and low glare. Otherwise, your ultimate choice will depend on your needs and preferences.