Jarlsberg is the Norwegian cheese available in the United States and Irelland under the Norway license. It's a mild-flavored cheese from cow's milk. Jarlsberg cheese has a buttery texture and a slightly sweet and nutty flavor that resembles Gruyere to some degree.
On the other hand, Gruyere is a world-renowned cheese loved by many people because it is delicious, delectable, and can be used in different cuisines and dishes. It's people's favorite; unfortunately, some stores might lack it and if available it's expensive. Therefore, you can have Jarlsberg as an alternative.
The other Gruyere substitutes include Raclette, Emmentaler, Edam, Parmesan and Beaufort Cheese.
Jarlsberg Vs Gruyere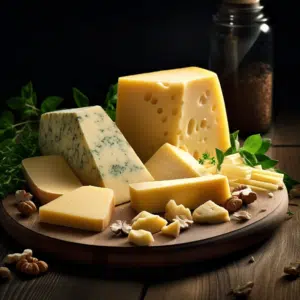 Jarlsberg Overview
It is a mild, semi-soft Norwegian cow's milk cheese. Anders Larsen Bakke designed it to seem like a Swiss Emmental with unusual, open, and uneven 'eyes.'
Jarlsberg is frequently sold as a Swiss cheese due to its features. However, it is sweeter and more potent than Emmentaler.
Here is a piece of summarized information about Jarlsberg cheese:
Made from the pasteurized cow's milk

Country of origin: Norway

Region: Jarlsberg

Aroma: nutty

Color: pale yellow

Family: Swiss cheese

Flavor: buttery, mild, nutty

Producers: Norseland Ltd.

Rind: waxed

Texture: open, smooth, and supple

Type: semi-soft

Vegetarian: no
What makes Jarlsberg Cheese Special?
Jarlsberg has a semi-firm yellow interior with a buttery, creamy texture and a mild, nutty flavor behind the yellow wax peel.
It's a versatile cheese that can be used in cooking and snacking. Jarlsberg is excellent on sandwiches, fondues, quiches, and other hot foods because it melts so beautifully.
Jarlsberg is a cheese with a lot of personalities as well as adaptability. The cheese's adaptability is well-known outside of Scandinavia, in the United States, the United Kingdom, and Europe. The semi-soft cheese goes nicely with fruit, nuts, and perhaps even dark chocolate on a cheeseboard.
Jarlsberg cheese is a joy to work with when it comes to cooking. The unique creation is sometimes mistaken for Swiss cheese. Jarlsberg is a blend of Gouda and Emmental cheeses (the Swiss cheese).
It has a distinctive structure and pattern of holes that are inextricably linked to the mild, nutty flavor. Jarlsberg has a proprietary propionic acid, the source of both the flavor and the holes in its top-secret composition.
Jarlsberg adds something special to any dish. It's ideal for gratins, pizzas, burgers, quesadillas, and cheese melt sandwiches. Jarlsberg has mild nuttiness that pairs well with most spices and herbs.
When melted on top, it has a unique flavor and perfect chewiness. Jarlsberg mixes homogeneously with fondues, soups, and sauces.
Jarlsberg makes a tremendous impact in everything from the simple sandwich with only a few cheese slices to the most complicated sauce. The unmistakable mild, sweet, and nutty flavor adds an extra taste without overpowering the palate.
Jarlsberg is in a class by itself when melted. It gives any dish a new depth of flavor with the added sweetness stimulated by heating. Whatever you're making, Jarlsberg will make it even better if it's good with cheese.
Gruyere Overview
If you like cheese, you've undoubtedly tasted Gruyere. However, do you know what Gruyere is? What makes it so tasty and adaptable?
Gruyere is a yellow Swiss cheese with a firm texture. It was named after the Swiss town of Gruyeres. Gruyere is created from whole cow's milk and is matured for up to six months or longer.
It has a low number of holes, which is rare for Swiss cheese. Large holes are common in most Swiss kinds, especially the Jarlsberg, caused by gas bubbles during the cheese-making process.
What Makes Gruyere Cheese Special?
Gruyere is renowned for its taste, which is rich, creamy, salted, and nutty. However, the flavor of Gruyere varies with age: young Gruyere has a distinct creaminess and nuttiness, while mature Gruyere has acquired a more complex earthiness.
Gruyere is ideal for baking because it's tasty but not with an overwhelming flavor. It gives cheese-infused comfort meals like quiches and gratins an exceptionally creamy texture and a faint sweetness.
Gruyere is a delicious melting cheese that's also great for fondues and dips. What makes it dissolve so gracefully? The water-to-oil ratio in Gruyere is high. The additional water ensures that the cheese melts uniformly rather than splitting into fat pools. Because of this, it's ideal for typical cheesy French recipes like French onion soup.
If you're putting together a cheese board for an upcoming gathering, Gruyere is a good and beautifull choice. Its salty-nutty flavor is widely appealing.
You can use shredded Gruyere instead of Cheddar on mozzarella-topped pizzas or mashed potatoes. There are truly endless possibilities with Gruyere.
Jarlsberg Nutritional Facts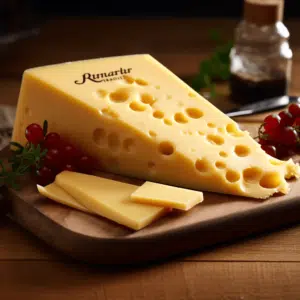 A 100g of Jarlsberg cheese contains the following:
Energy -1458 kJ

Protein -27 g

Total fat – 27 g

Saturated fat – 17 g

Total Carbohydrate – 0 g

Sugar- 0 g

Sodium- 440 mg

Calcium- 770 mg
Gruyere Nutritional Facts
Gruyere is a Swiss cheese that pairs nicely with sandwiches or as part of a cheese plate. It's also a fantastic melting cheese and one of the most common fondue cheeses. Gruyere cheese is a creamy, nutty cheese made from whole cow's milk and matured for six months.
Despite being calorie-dense and heavy in fat, Gruyere cheese is rich in calcium and other critical minerals.
According to USDA, 23.5g (1-once serving) of the Gruyere cheese is composed of the following:
Calories: 117

Fat: 9.2g

Sodium: 202mg

Carbohydrates: 0.1g

Protein: 8.5g

Calcium: 286mg

Vitamin B12: 0.5mcg
Can Jarlsberg be Used in Place of Gruyere?
Jarlsberg cheese can be substituted for Gruyere. Jarlsberg has taste characteristics that are quite close to Gruyere.
Is Jarlsberg an Excellent Melting Cheese?
Jarlsberg is Norway's most well-known culinary export, loved for its nutty flavor and pleasantly melting properties. Even hipsters recognize Jarlsberg, which melts quickly as ice cream on hot pavement. It's a strong favorite among Brooklyn's pricey grilled cheese trucks' pegboard menus.
What is a Less Expensive Alternative to Gruyere Cheese?
Gruyere is an expensive cheese, but there are cheaper options. Jarlsberg is a pale yellow cheese from Norway, an excellent substitute for Gruyere, especially for melting cheese on top of grilled veggies. Jarlsberg is cheaper than Gruyere.