Pella and Window World are two of the top window brands on the market, so it's no surprise homeowners often find themselves trying to decide between the two. While both companies offer high-quality products, they do have their differences. Learn more about Pella vs. Window World and decide which is right for your home.
Window World vs. Pella: Brand Overview
Pella Windows has been a trusted name in the industry since 1925. The family-owned and operated business is one of the world's largest manufacturers of wood, fiberglass, and vinyl windows and doors. To put it simply, they're good at what they do. They have a reputation for quality products and exceptional service, which is probably why they've managed to stay in business for as long as they have.
Window World is a leader in the window industry, providing windows and doors at an affordable price that are high quality. The company has been around for over 50 years, and its goal of providing good quality at a great price is still here today.
Their windows and doors range from entry-level options to high-quality, custom options. Their "Exclusive" line of products includes full-length exterior door systems, glass block windows, and much more. If you're interested in upgrading your home with beautiful new windows or doors, this is the brand to look at.
Window World vs. Pella: What's the Difference?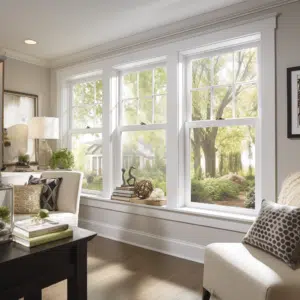 Window World and Pella are among the more notable names in the window industry. Both companies offer energy-efficient windows at a competitive price, but which one is right for you?
While both make great products, there are some differences between them. Let's see how these two models stack up.
Style
There are many things to consider when choosing new windows for your home. One of the most important is style. After all, if you're going to spend the money to replace your windows, you want them to look good! When choosing between Window World and Pella, consider the wide range of styles that both companies have to offer.
Window World offers 9 primary styles of windows: Sliding, Awning, Double Hung, Picture, Bow, Garden, Casement, Bay, and Basement Hopper Windows. Each style comes in a variety of colors and finishes, so you can be sure that your new windows will match both the exterior and interior design of your home.
Pella offers 8 primary styles of windows: Double Hung, Awning, Casement, Custom Windows, Single Hung, Sliding, Bay, and Bow. They also offer a number of specialty window options, such as their "Pella® 250 Series," which are designed specifically for durability and energy efficiency while maintaining affordability.
Window Frame Materials
Window World Windows are 100% vinyl. Vinyl is the most popular window frame material in the US. Vinyl is a popular choice for replacement windows as it is durable, energy-efficient, and maintenance-free.
On the other hand, Pella Windows offer a variety of window frame materials to suit different needs. Choose from three different options: Fiberglass, vinyl, and wood. While fiberglass windows are more energy-efficient than vinyl, they require periodic repainting or staining to keep them looking their best. They can also be more expensive than vinyl windows. The same goes with wood windows—while they are beautiful and timeless, they require frequent maintenance and repair to keep them in top shape.
Warranty
When it comes to warranties, both companies offer a lifetime warranty on their windows, but Window World covers labor in addition to parts for a longer period of time than Pella. The good news is that this warranty is transferable if you sell your home, which can be a great selling point for potential buyers.
Pella Windows' limited lifetime warranty covers its windows products for the original purchaser of those windows. However, if you transfer ownership of your home, the warranty term reverts to 10 years.
The warranty guarantees that Pella will repair or replace any component that fails under normal use and service. Specifically, this includes "all mechanical parts of the hardware, glass unit, and sash pivot blocks." The warranty also includes two years of skilled labor coverage for the installation of new products.
Price
For starters, don't assume that the lower-priced window will save you money in the long run. It might not even be as good as the higher-priced one. One reason for this is energy efficiency. Cheaper windows often do not have a low-E glass or argon gas between panes. These things can really improve your home's energy efficiency and save you considerably on your heating and air conditioning bills throughout the year.
Another thing to consider: Will cheap windows really last as long as a more expensive brand? Remember that replacement windows are a big investment, and they should last many years without needing repair or replacement.
As far as price goes, the costs differ little. The range for Pella products is $350 to $600. Window World charges anywhere from $300 to $525.
Installation
Window world does not have its own installers; rather, they use local contractors for installation jobs. This can be beneficial because these third-party installers know your area better than a national company would. They also have fewer overhead costs and can pass those savings onto you.
The downside is that if you have problems with your new windows or installation job after they're installed, then it's harder to get in touch with someone who can help fix those issues because they aren't affiliated directly with Window World like an employee would be.
Pella Windows, on the other hand, has its own installer network that includes over 1,000 certified installers across North America. This means that if anything goes wrong during the installation process or after your windows are installed, there's someone readily available at Pella who can help resolve those issues quickly without having to go through multiple different companies.
Conclusion
When it comes to home improvement projects, replacing your windows can be one of the most rewarding investments you'll make. The right windows can bring a new style, feel, and energy to your home that will benefit you both inside and out.
As you begin to research reputable companies in your area, you will likely come across two national window companies: Window World and Pella Windows. These companies have a great deal in common, but they also have some distinct differences that set them apart from each other. We hope this guide will help you make an informed decision before purchasing.