Joybird vs. Lovesac online sofa shopping, Online purchases take a leap of faith because you are buying something unseen. And this is not any different when it comes to sofas, which cost hundreds or thousands of your hard-earned money and can be a hassle to refund.
There are several styles, sizes, and types of sofas, and the best is a matter of personal taste. Therefore, in this write-down, we will compare two popular e-furniture brands, Joybird vs. Lovesac. Ensure you stick with us as we walk you through the differences.
Joybird Vs Lovesac: Overview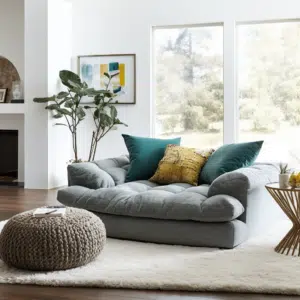 What about Joybird?
Joybird's main slogan is that people should be "boldly original" with their furniture choice. So the primary focus of Joybird is to create custom-made, high-quality items that meet the unique preferences of their customers and are durable.
The company creates handcrafted furniture at affordable prices tailored to your needs and specifications, resulting in outstanding pieces and an exceptional customer experience. Their inspiration is drawn from the mid-century movement and designers like Cara Greenburg, Wright, and Eero Saarinen.
Advantages of Jaybirds
They offer consultations on design

They have fabric samples 

A lifetime warranty on foundational elements

Free returns within 14 days, and they pick the couch

No restocking fee on returns

They provide a variety of fabric and color options(

89

)

One-year trial available

The sectional is reversible for versatility

In-home, white glove delivery present

Multiple styles (

59

) and accessory pieces in their collections

Exceptionally comfortable
Disadvantages
Higher price vs. other online retailers 

Return shipping is not refunded if it is over 14days from the date of purchase.

Higher price vs. other online retailers 

Limitation on fabric warranty to 3years

Some fabrics require extra shipping time.

Only two showrooms: Brooklyn, NY, and Washington.
Lovesac
They offer long-lasting comfort beyond flexibility to meet the changing needs of families. The bean bags and couches are soft, stylish, and built sustainably. The company is widely known for its Lovesac bean bag chair.
They are created out of a passion for comfort and proximity, made to be snuggled on. The company says, "Sacs are the closest thing you'll get to sitting on an actual cloud," which is agreeable among customers.
A supersac is the best thing if you want to unwind and hang out; giving you such a feeling like a cloud is hugging you. Lovesac's product ranges include sofas and sectional sofas known as "Sactionals," which are flexible and easy to reconfigure into various limitless arrangements.  
Pros of Lovesac
They offer free shipping anywhere within the contiguous united states

They offer a lifetime warranty on soft insert pieces

They have a broad selection of sizes, fabrics, patterns, and colors for your choice on both their sacs and sectionals, including free fabric samples to try before you make your purchase

It has over 70 showrooms across the mainland United States, not just online retailers.

Lovesac produces accessories, pillows, blankets, guest bedding, coasters, and drinks holders, which are very famous with their customers.

All different covers are removable, exchangeable, and machine washable, with other benefits like a fancy fresh look.
Cons of Lovesac
Customized items are susceptible to longer shipping windows

They are pricier than their counterparts

A

14-day

shipping duration with no white glove delivery services

The warranty is limited to a

3-5 year warranty

on their fabrics when other brands offer you a lifetime warranty on their product.
Joybird vs. Lovesac Brand Comparison
Pros Comparison Table
| | |
| --- | --- |
| Joybird Pros | Lovesac Pros |
| Provides frequent discounts and promotions than Lovesac | Has greater brand recognition than Jobird |
| Fast shipping than lovesac | It has better fabric options than Joybird |
| Better furniture condition than lovesac | Offer price adjustment policies |
| Offers availability of  outlet stores | Offers veteran discount policies |
| Offers email discounts | Offer free shipping policies |
| Gives in-store pickup | Offers PayPal support |
| Offers modification and cancellation policies | Offers Amazon Pay Support |
| Offer in-store layaway | Offers teacher discount policies |
| Has two active coupon codes | Offers gift card support |
| | Offers nurse discount policies |
| | Lovesac has one active coupon code. |
Cons Comparison Table
| | |
| --- | --- |
| Joybird Cons | Lovesac Cons |
| Lack the nurse discount policies | It does not offer in-store layaway |
| No gift card support | It doesn't allow modifications and cancellation policies |
| No teacher discount policies | It doesn't offer the availability of outlet stores |
| No amazon Pay Support | It doesn't offer in-store pickup |
| No veteran discounts | It doesn't provide Email discounts |
| No PayPal support | Worse furniture condition than Joybird |
| No free shipping policies | Fast Shipping than Joybird. |
| No price adjustment policies | |
The two brands have a back to back competition; with Joybird slightly leading in terms of rating reviews at 4.5 while Lovesac at 4.4 
Factors To Consider Before You Order Sofa
The horror stories of purchasing the sofa of your dream only to discover it would fit through a doorway, navigate a staircase, or even worse, fit inside the room are true. To avoid falling into such a trap, here are some tips to follow:
Accurate Measure of the Sofa
The online website page should include measurements of at least the width, height, and depth of the arm and the depth and size of the seat cushions, all in a downloadable spec sheet or assembly manual or by emailing.
Joybird vs. Lovesac online sofa shopping is better to check the showroom nearby to gain confidence and do your measurements.
Delivery Process
Be aware that not all sofas are completely assembled; some come in detached legs and separate cushions, and others need extensive assembly. Check out all these details before placing your order.
Measure your entryways
The entry to your home can hinder the delivery process; for instance, a narrow stairway, a narrow corridor, a low overhanging chandelier, etc., can cause insurmountable challenges.
Test the Footprint
Ensure your sofa fit where you want it to go
Qualities Of A Good Sofa
The appealing design is the first thing to steal your attention when buying a sofa. However, you can get easily deceived by outer beauty. Below is a glance at the features you can consider:
Frame material
A reasonable frame should enable your sofa to maintain its overall shape and integrity.
Frame Joints
How a piece is connected counts towards the enhancement of the sofa's strength and durability of its frame
Cushion filling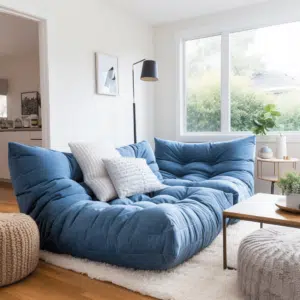 They play the role of supporting you whenever you need to relax and also give your sofa form and volume.
Foam
 The stiffness or softness of the material used and the amount of air bubbles during the curing process determines the foam's general feel and outcome.
Polyester Fibers
Joybird vs. Lovesac online sofa shopping bounces back to their former shape, meaning they are resilient and thus suitable for sofas.
Having shared at length the differences, benefits, and cons of Joybird vs. Lovesac, including various tips on purchasing sofas online, you are more than ready to make a decision you won't regret. We leave it unto you to choose the brand of your choice.