Luxury sheet, Are you searching for new sheets after discovering some dents in your favorite set of sheets? They say numbers don't lie, which reflects well with these two top-rated luxury sheet companies -Red Land Cotton and Boll and Branch- for a good reason.
The idea of getting home, snuggling into bed, and reading until sleep takes over makes sense, right? Most people struggle to find suitable sheets. How will you find the perfect, cool, crisp, soft sheets for your bedding upgrade and a night of comfortable sleep at night?
Join me as I walk you through the top luxurious sheet-producing companies that have not only been around for generations but also offer the heirloom of linens. Without much waste of time, let's get started.
Red And Cotton vs Boll And Branch: Overview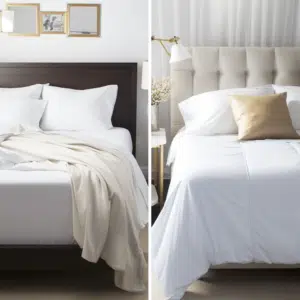 In this section, our focus is to help you understand the differences between Red Land Cotton vs. Boll and Branch. For easy comparison of the labels, it is best if you have ideas about the fabric's basics to enable you to make an intelligent choice.
Remember, to select soft, comfortable, and long-lasting sheets, look for the best thread count and difference between weave types and materials, with cotton being the most preferable for sheets.
Thread Count
The number of horizontal and vertical threads per square inch refers to "thread count." The rule of the thumb is that the higher the thread count, the softer the sheet and the more likely it will soften over time.
Good sheets range between 200–800, although astronomical thread counts aren't necessarily proof that the sheet is better. Therefore, please don't assume a low thread count equals low quality, for they might have an excellent mechanical finishing rendering it a lovely hand and performance.
An ideal sheet is a combed cotton sheet in the 300 –400 thread count range.
Material
Even though fine polyester fibers are cheap and soft, they are less breathable and thus a wrong choice for those with sensitive skin.
On the other hand, cotton with extra-long fibers that are spun into fine, strong yarns produces high-quality softest sheets.
Weave Types
It is not that essential, though, but takes note of Sateen, Percale, and Combed cotton.
Side To Side of Red Land Cotton Vs. Boll And Branch
Pros Table
Pros of Boll and Branch
Pros of Red Land Cotton

Has got 22 active coupon codes

Offers availability of outlet stores

Shows commitment to racial equity

Offers free shipping policies

Provide Zip financing support

Offers price adjustment policies

The brand is high known compared to Red Land Cotton

Offers Amazon pay support

Has 20 active coupon codes

Gives international shipping policies

Offers Apple Pay Support

Provides Shop Pay Installments Support

Offers Payment Support
Cons Table
Boll and Branch
Red Land Cotton

Lack of international shipping policies

It doesn't accept Apple Pay Support

It doesn't receive installments Support

It doesn't receive Venmo Payment Support

It doesn't offer the availability of outlet stores

It doesn't accept Zip financing Support

It doesn't allow modification and cancellation policies

Doesn't publish commitment to racial equity

Don't offer free shipping policies

It doesn't accept Amazon Pay Support

Don't offer adjustment policies
From the above-listed benefits and cons, it is clear that despite both brands being great and manufacturing quality items, they are not equal in various ways. Boll and Branch take the lead, which is why it is more popular than Red Land Cotton.
For a better understanding of the two brands, let's dive into the about of the two brands.
Boll and Branch Sheet
Founded in 2014, Boll and Branch have made a name for themselves as a sustainable bedding brand. Their sheets are from organic-staple cotton, which has a history of producing very oft, strong, and durable fabric with 100% recycled paper packaging. They also sell mattresses, duvets, blankets, and pillows.
What Makes Boll And Branch
The sheets are woven with single-ply cotton into a 300 thread count, thus creating a light and sumptuous feel. Each set contains one flat sheet, one fitted sheet, and two pillowcases. Although, the settings are ordered in Twin or Twin XL sizes with one pillowcase instead of two.
The cotton used is certified by the Global Organic Textile Standard (GOTS) AND 100 by Oeko-Tex, meaning all the materials meet specific ecological criteria (organic seeds, free from insecticides, ethically sourced). The sheets feature sateen is woven, which lacks the sheen signature, and buttery smooth hand feels, though subtle.
Boll and Branch sheet is popular because of its soft, light, and lustrous fabric. Luxury sheet are looking for a classic-meets-luxurious kind of aesthetic, then this brand fits the bill.
The 300 thread-count sateen sheets offer a lightweight, super soft feel that is cooling. Luxury sheet is suitable for
Those with a thicker mattress require a fitted sheet with a deeper pocket.

Those who prefer a

100%

organic, fair trade sheet set

Sleepers who get hot at night and a moisture-wicking sheet
Red Land Cotton sheet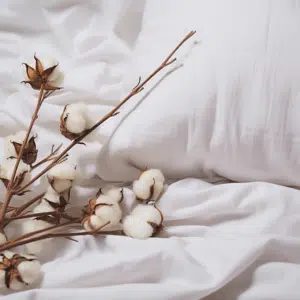 The company started with two lines of bed sheets, both 100% made in the USA, making it the only company producing direct-to-consumer products yet strictly from the farm. Presently the company has grown in leaps and bounds.
The brand provides luxurious cotton bedding, fresh linens from the farm, and towels. The Red Land Cotton sheets are soft, durable, and comfy and come in a range of patterns and styles featuring classic, timeless, and heirloom-inspired designs.
With a focus on producing heirloom-quality bedding and bath linens, the sheets are unique with a crisp, delicate yet sturdy, and artfully made. They get softer with each washing and come in various sizes, from Twin to King, including the pillowcase.
Red Land Cotton is rated high because they are soft, elegant to look at, and have luxury cotton sheets for a great night of sleep.
Conclusively, Boll and Branch sheets are buttery soft to the hand feel while offering an excellent feel for a sateen-woven sheet yet very breathable. Their maintenance is simple because you quickly wash on a warm cycle and then tumble dry on medium heat.
On the contrary, Red land cotton uses percale, over-under basket weave resulting in a more crisp and cool sheet. The judgment now is for you to make depending on your personal preference.