KitchenAid and Cuisinart Immersion Blenders, An immersion blender is a must-have in your kitchen. It is a handheld device with a rotating metal blade at the end of a long shaft. This allows you to blend food and liquid directly inside a container or pot, instead of transferring it to a blender.
However, immersion blenders come in many different varieties and price ranges, and each brand offers distinct advantages. For example, there's the KitchenAid and Cuisinart immersion blender.
A Kitchenaid immersion blender is an excellent choice if you are looking for a powerful yet affordable blender that can handle a wide range of tasks. The Cuisinart immersion blender on the other hand has many of the same features but at a much lower price point.
What sets these two brands apart? Which one should you buy? Let's take a closer look at each product to find out!
Kitchenaid vs Cuisinart Immersion Blender: Overview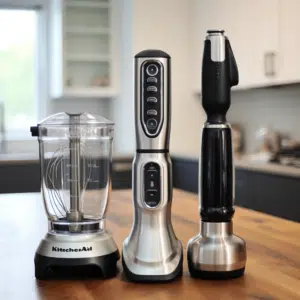 Kitchenaid Immersion Blender
The Kitchenaid immersion blenders have a few great features that make them a fun tool to use in the kitchen.  
Pros
Comes with a locking mechanism
Most KitchenAid blenders come with a cool locking mechanism on the handle that keeps all the attachments in place during blending. This feature makes it much easier to hold than other immersion blenders which often have loose attachments and weak handles.
An LCD
Most of these blenders feature an LCD that shows which attachment you're using and how long it will take until your food is finished being blended so you don't have any surprises when opening up the container.
Elegant design
KitchenAid gives a stylish design in different attractive colors such as aqua and deep red. Kitchenaid's color theme is consistency in all their appliances, this creates the flow of uniformity in your kitchen.
More options for attachments and accessories
Kitchen Aids immersion blenders come with more accessories compared to Cuisinart, they have an adjustable pan guard to cover your kitchenware during use.
High-quality customer service
The Kitchen Aids brand includes a range of outstanding customer service characteristics examples are a troubleshooting page, a blog with appliance tips and recipes and a live chat.
Cons
       

Costly professional models

       

A less powerful basic model
KitchenAid Immersion Blenders
This is a cordless immersion blender from the KitchenAid brand. It is much more available and safer than corded brands. This blender is easy to use, not bulky and very simple. Hence, it's a must in the cookware for its efficiency and flexibility.
The cordless blender comes along with a pair of very rechargeable batteries, you need not run looking for new batteries, for they are long-lasting and power savers. These batteries are time savers for they charge in no time.
The blender is battery-powered but quite powerful. It is easily pulled out of the drawer and thus you can use it without searching for an outlet. The charger seems to last forever for everything from applesauce to chili.
KitchenAid variable speed corded hand blender-khbv53
The kitchen aid corded hand blender comes with an eight-inch blending arm.it has an attachment of four points stainless steel blade that is used to quickly blend smoothies, soups, milkshakes, etc. This corded hand blender takes the control of overall recipes with the help of easy-to-use speed trigger switch.
The blender has the US-patented replaceable pan guard to help protect your kitchenware while blending. This corded blender has a 3-cup BPA blending jar. The jar lid is very accommodating for people who do blending jobs. You can use them to store in or use later.
Cuisinart Immersion Blenders
Cuisinart immersion blenders is a prominent brand dealing with kitchen utensils for all types. It makes varieties of immersion blenders. They are composed of cordless and corded models. Primary benefits of Cuisinart are that their power wart is 300-watt hence capable for crushing ice and grinding silky-smooth purees. These Cuisinart blender motors are very strong and do not make noise while processing.
Cuisinart smart stick is the most popular hand blender. This blender comes in different styles and speed settings. The most common Cuisinart stick is corded and comprises two speed settings. It is less expensive.  Well, the Cuisinart smart cordless has different speed settings that facilitates in control and flexibility of the blender. The cordless Cuisinart smart is costly and highly stylish composed of various designs.
Cuisinart smart is found with a limited choice of colors in essence they do not offer an array of colors nor accessory. They just give a few of them. Every Cuisinart immersion blender has a safety lock that helps the blender to stay intact so that in that state the blender can never turn on unexpectedly. However, Cuisinart immersion blender challenges lots of people since it's almost impossible to operate with one hand due to the main button being on top of the unit. Cuisinart blenders pros Fewer attachments and accessories Cuisinart gives little attachments and accessories when compared to Kitchen aid. Cuisinart comes with whisking and chopping attachments.
Limited colors available
Cuisinart blenders are founded with few color choices but their colors are unique compared to kitchen aid array of chic colors.
Safety feature is annoying to use
Cuisinart blenders come with a safety lock with a trigger attached at the top of the unit, this trigger makes the blender impossible to operate using one hand.
Very strong and not noisy motor
These Cuisinart blenders contain powerful motors of 300- watts which are very conducive to the environment since they are silent. 
They are not expensive
Cuisinart immersion blenders are less expensive compared to KitchenAid. These are special cases, especially in professional mode.
Cuisinart Immersion Blenders Cons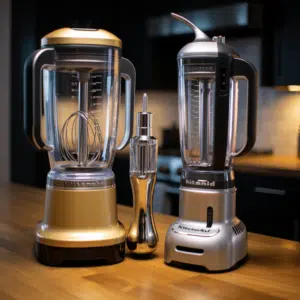 Very frustrating safety feature
Cuisinart stick blenders have a safety lock that is quite challenging. This safety notch is at the top of the blender and it's a must to be switched on every time when using the blender. This makes it hard and time-wasting for users
Fewer attachments available
Cuisinart smart stick blenders give few attachments, on the other hand, Kitchen Aid comes with varieties of them. Well, immersion blenders come with whisking and chopping attachments which Cuisinart smart do not offer.
Which one should you get, a KitchenAid or a Cuisinart blender?
Cuisinart smart and KitchenAid both manufacture splendid immersion blenders, KitchenAid offers varieties of important features that make their blenders the best quality of choice.
KitchenAid offers high-quality customer service, with robust accessory options that are a win to the customer, they are also accompanied by stylish designs. Although Cuisinart's smart has a stronger and super powerful motor that does not make noise while processing, KitchenAid comes along with bigger and better resources, and hence they are the best.