Most homeowners understand that when they build or buy a house, they're going to want to perform some upgrades to make their home resemble their personal design and needs.
To some extent, you can alter the styling of your home with modern paint and floor, but such upgrades are more cosmetic than functional.
On the other hand, interior doors not only improve the design feeling of your house but also bring practical advantages to how you live in the house. Two of the more popular brands for building products are Mastercraft and Jeld Wen.
Mastercraft vs Jeld Wen Interior Doors: Overview Comparison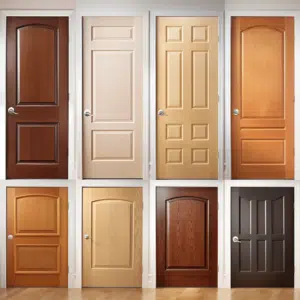 Mastercraft is a brand of home improvement products sold by Menards stores in the United States. Their doors are built from the finest materials to deliver the best and most stylish door for your home. Made by Midwest Manufacturing, Mastercraft doors have become some of the most popular options in the Midwest.
They work with different materials including steel, wood, and fiberglass. Their doors are well engineered to perform great throughout. So whether you're looking for one or many, Mastercraft promises a great door inside and out.
Jeld Wen, on the other hand, is one of the world's leading manufacturers of reliable windows and doors. They have an extensive product offering that features interior doors, windows, exterior doors, and related building products. Jeld Wen products are sold globally through multiple distribution channels from retail centers to building product dealers and wholesale distributors.
Jeld Wen has been building great doors, employing unbeatable quality in terms of both design and convenience. Reading on their website, Jeld Wen doors are built in America by people enthusiastic about everything that opens and closes.
Quality and Convenience
Mastercraft Doors
Mastercraft makes interior and exterior doors mostly sold through Menards. Interior doors are sold in widths ranging from 18 to 38 inches. Some of the most popular Mastercraft door materials include engineered wood, oak, maple, pine, and poplar.
Another important aspect is that these doors are built with safety in mind. They are designed with 24-gauge steel and a 20-minute fire rating. That means it can provide safety and security for your home without falling short on elegance as it creates a welcoming atmosphere.
In terms of price, Mastercraft interior doors can cost anywhere between $70 and $300. Needless to say, these are some of the cheapest options you can install in your home. Although there are expensive Mastercraft doors, most of them are quite affordable in comparison to other brands including Jeld Wen.
Having said that, these budget interior doors from Mastercraft are notorious for the issues they're associated with. Most buyers investing in the more expensive Mastercraft doors don't have as many complaints though.
Overall, Mastercraft doors can last and they agreeably look very good. However, there are a few issues that keep resurfacing with these doors that you might want to know.
Quality control issues hinder these doors from being a favorite choice even compared to other in-store alternatives. Perhaps the only main reason to opt for them is their low purchase cost. Otherwise, nearly every custom-made door is going to be accompanied by a few issues.
Jeld Wen Interior Doors
In terms of customization, Jeld Wen doors will allow you to express your style and personalize your home, which is probably why they offer the opportunity to design a door. Buying doors from Jeld and Wen is fast and reliable and customized products are shipped free to the store in about seven days.
Prime doors from Jeld Wen will make painting your door any color simple and effective. Glass panels are designed with protective plastic that will help with masking. Just a light sanding and these doors will be ready to take an oil-based paint of any color.
Color variations in Jeld Wen doors may vary between doors but this doesn't affect the final color. Generally, what you get here is right in a swing door constructed from 24-gauge steel primed white and ready to be finished with an energy-saving insulating foam core.
Jeld Wen also offers fire-rated doors for exterior and interior usage. Note that fire-rated doors are great for reducing the spread of fire and smoke in a home. This is one of the reasons why they're generally considered ideal for both commercial and residential structures.
Jeld Wen vs Mastercraft Interior Doors: Which is the Right Choice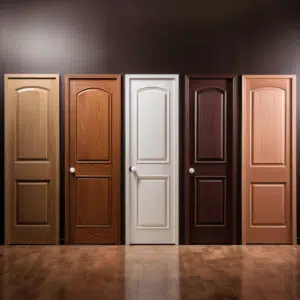 We have talked about Mastercraft and Jeld Wen Interior doors' quality and convenience, but how do you decide which is the right choice for you? Well, there are a few things you can think through while making your decision.
Performance and Durability
Both companies' years of experience make them considerable and rather competent to deliver the right product. They both aim at manufacturing excellent doors that are engineered for high performance and style. They are popular for their great durable products as supported by the warranty.
That said though, it is important to state that Mastercraft frame doors are often marked as "thin". As such, the frames may even break during the installation process. Of course, most doors are installed by professionals, but there are still plenty of issues with frames breaking altogether even before ready for use.
Design and Variety of Options
With Mastercraft, interior doors aren't as badly made according to some buyers. A more plausible explanation is the budget cost of these interior doors. It is hard to complain when you pay as little as $70 for a house door.
Reading on the customer reports, however, it seems that even if under warranty, some problems are directed towards the customer to resolve. Trim and door details, for instance, are typically uneven leaving buyers with all sorts of improvisation ideas in front of them.
With Jeld Wen, on the other hand, you get a wide variety starting from the paint options to stain choices and materials. That means there's a style for every household's aesthetics, both traditional and modern. They provide sustainable options which is a big plus for sustainable users.
In addition to that, Jeld Wen has also partnered with Energy Star to meet the minimum efficiency energy standard as their products are manufactured locally. So the variety aligns with your expectations, Jeld Wen may be the right choice for you between the two.