Milgard and Pella, As a homeowner, whether building or renovating an existing home, it is always important to make sure you get the right choice for your windows.
Milgard and Pella are two of the more popular window companies you'll come across in the building industry. While both companies are largely recognized for high-quality products, understanding how they compare can help find the best quality, type, and window design for your specific project. Putting these two companies side by side is only part of the equation, though. You definitely need to consider your requirements and local conditions to determine what product best suits the bill.
Pella and Milgard make good windows, but they differ in key ways. Pella is better for wood and fiberglass, whereas Milgard makes aluminum windows. Both firms make comparable vinyl goods, but Pella has better fiberglass windows.
Milgard vs Pella windows: How do they Compare?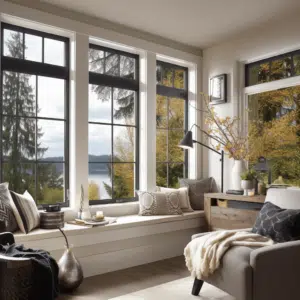 As mentioned, Pella and Milgard both offer some great windows. They are all included among the top brands for windows because of their great quality and energy efficiency. While Milgard offers aluminum-clad wood products, which is a step up from their standard vinyl products, Pella does not produce include such a variety in their product line.
It is usually best to find a window based on how well they match your needs, as opposed to just checking brands as the most crucial aspects. The window with the least features may actually turn out the most suitable for your needs.
Pella Windows Overview
In 1925, the Kuyper family founded Pella as a family business, with an aim of producing roller screens and Venetian blinds. The company later evolved to manufacture wood frame and steel frame windows and sliding doors. They also progressed with window blind production and development.
As the company grew, its products became more popular, which lead them to focus on innovating and designing its range of products. Pella currently holds more than 150 designs and innovation patterns for its products. Reading on their website, the company has a great focus on sustainable quality and ongoing product development and improvement.
Their presence even after nearly a century along with the fact that the Kuyper family still controls them gives buyers confidence that Pella products will be available well into the future.
Milgard Windows Overview
Milgard is an American company with its main office in Tacoma, Washington. It was started by a father and son in 1958. The company began by selling glass and then grew to make metal window frames.
They improved their goods by designing and making the first aluminum frames for sliding windows and doors. These frames are great for places with cold weather.
Later, they made a thermally better aluminum frame with breaks between the outside and inside sections. This new idea from Milgard made it possible for people who live in places with cold winters to buy metal frames.
Milgard Window Materials
Milgard windows are produced from several materials. Their products are unique for the most part, as the company manufactures most of its window components itself. Generally, Milgard offers windows made from materials such as Aluminum, vinyl, and fiberglass.
Milgard has been using aluminum since its first outlet in the industry. This innovation made aluminum windows an option for homeowners in colder climates. They also have great control over fiberglass vinyl products where they emphasize making products with specific traits and features for windows.
It also employs different materials in the production of its windows, even though fiberglass and wood windows are particularly the most common.
Pella windows made from wood provide a traditional and warm appeal, and you can choose from standard wood frames or wood frames with external aluminum cladding.
The clad update protects the wood's exterior while preserving its natural beauty inside.
Vinyl and fiberglass are other Pella materials. Vinyl is a unique compound for frame durability and color preservation, while Impervia fiberglass is Pella's patented design for strength and longevity.
Milgard vs Pella: The Best Type of Window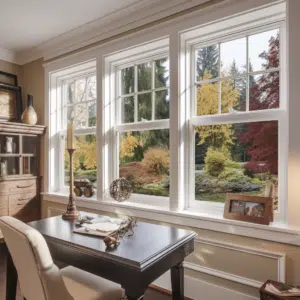 Even though Milgard and Pella both produce high-quality windows, the best material will depend on your specific needs and requirements. The vinyl products from both companies are comparable in terms of versatility and strength. So if you're interested in a vinyl window, a product from either company would be a good choice.
However, if you're looking for an aluminum product, then Milgard is the best bet. Aside from the fact that Milgard does not provide an aluminum range, Milgard boasts substantial innovation in its aluminum product range.
Milgard fiberglass windows are ideal for colder climates as opposed to wood. However, it is not the best for coastal regions or homes close to a beach. This is because the salty air combined with high moisture can cause the aluminum to corrode and compromise its integrity.
That said, if the preferred material for your window is wood, then Pella is the best choice. Pella windows made from wood are treated for longevity and come with a natural insulator that gives a warm rich feel to a home.
The presence of exterior aluminum cladding on the wood frames makes the windows ideal for locations where they were initially unsuitable.
Conclusion
Overall, Milgard and Pella are both popular for manufacturing quality windows. Their history and reputation in the industry make them stand out from many other competitors. Perhaps the main deciding factor between these two companies is the availability of products in your location.
Pella takes the lead in product quality and excellent craftsmanship for fiberglass products, but the vinyl products are pretty much comparable for both suppliers. Another major consideration would be the price.
Pella entry-level products are just about the same price as Milgard entry-level products. However, on the upper end, Milgard windows are relatively more expensive in comparison to the upper Pella range.
Other than these differences, your ultimate choice will be influenced by your personal needs and which supplier meets those requirements.