Milgard Style Line and Trinsic are two of the most popular vinyl windows that you can buy. Each one has many positive qualities, but which one is better for your home? Let's take a look at the differences between these two window styles to help you make an informed decision.
Overview
Milgard, a company known for its high-quality windows and doors, is now offering two new lines of vinyl window products to the market: Milgard Style Line and Trinsic. Both are made from Milgard's signature vinyl formula. They have been engineered with performance and durability in mind and have been tested to withstand harsh weather environments.
Milgard Style Line and Trinsic are two of Milgard's best-selling lines. Both lines offer a variety of windows and doors that come in multiple colors, styles, and options to choose from.
Both lines feature a variety of double-hung and casement styles with options for different colors, hardware, and installation types. They can be installed in nearly any climate and are backed by a lifetime limited warranty on glass breakage and workmanship.
But how do you choose between them? There are some subtle differences that make one better suited for your needs than the other. Let's take a look at how they compare:
Milgard Style Line vs Trinsic: How do They Compare?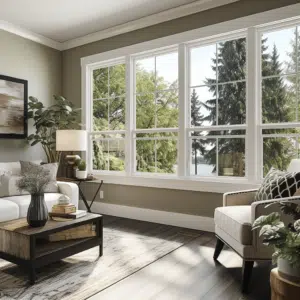 Whether you're looking to replace your old windows or add new ones to your home, Milgard has an option that is right for you. Milgard offers two types of vinyl windows: Style Line and Trinsic. Here's how they compare:
Color Options
The color options are similar for both series, with about 10 different options available.
Standard interior and exterior colors: Tan, White, and Clay
Premium Exterior Colors: Classic Brown, Bronze, Tweed, Espresso, Sand, Fog, Silver, and Ivory
Appearance
The Milgard Style line features a sleek, clean design that is perfect for modern homes. The Trinsic collection has more traditional styling and looks great in traditional homes.
The Milgard Style line is designed to be installed in new construction or on existing homes where you want to update the look of your windows with a modern style. The Trinsic collection is an excellent option if your home has traditional architecture and you want to maintain its classic appeal with new windows.
Materials
Both the Style Line and Trinsic series are made from Milgard's signature vinyl formula and feature solid construction.
Vinyl is reliable because it is non-porous and weatherproof, which means that it won't rust or rot over time like wood does. Vinyl also has low maintenance requirements and can be cleaned easily with a damp cloth or mild detergent. It does not absorb water, which means that your windows will never leak — even after rain and snow!
Both of these windows use similar panes, so you can choose from an array of different styles and sizes.
Hardware
Milgard offers positive action locks for its Style Line models, while Trinsic offers SmartTouch® locks. Both of these options are easy to use and require very little maintenance over time.
The SmartTouch® lock features a deadbolt locking system that prevents window break-ins from happening through your windows.
SmartTouch locks are more secure than positive action locks because you can't open them with a credit card or other similar device if you need access inside your home quickly in an emergency situation (like a fire).
The screen door pull features an integrated keyhole for privacy and an optional keyed lock for security. This allows homeowners to easily lock their doors at night or when they leave the house, even when there is no one home to hear a knock on the door!
Energy Efficiency
Milgard Styleline windows come with an Energy Star rating, which means they are 30% more efficient than comparable products. This is due to their Low-E glass and argon gas that helps reduce UV rays and heat transfer into your home. Style Line windows also feature triple-pane glass with low-emissivity glass that reduces radiant heat loss by up to 65%.
Operating Styles
The Milgard Style Line and Trinsic styles offer many different operating systems for your convenience, including Single-hung, Casement, Awning, Picture, Radius, and Double horizontal sliders options. Single sashes have one movable pane of glass, while double sashes have two movable panes of glass with an overlap that can be locked into place when closed. You can also find various tilt-in functions on both lines of windows, so you don't have to leave them open all the time!
Warranty
Milgard's Full Lifetime Warranty is the best in the industry. It covers labor, parts, and workmanship for as long as you own your home. This means that if something breaks or fails on your Milgard window or door, the company will fix it for free. And if something goes wrong with one of our products during the lifetime of your home, the company will replace it at no charge.
Milgard's full lifetime warranty guarantees that your Trinsic or Style Line windows will be free from defects in material and workmanship for as long as you own your home.
Installation
The easiest way to determine which style is right for you is by looking at how easy or difficult they are to install. Both styles have similar installation processes.
Both of these styles are easy to install, but if you're not handy around the house, you may want to hire a professional to do the job. For example, Trinsic requires more complex framing and can be a bit trickier to install than Milgard Style Line. If you want to save money or have experience with remodeling projects, Milgard Style Line is a great choice for DIYers. On the other hand, if you don't have time or experience installing windows, hiring an experienced contractor will ensure that your window installation goes smoothly.
Pricing
Both Milgard Style Line and Trinsic offer affordable options for homeowners on a budget. However, Milgard Style Line offers more affordable pricing compared with Trinsic.
The cost ranges from $470 – $1,145 per window for the Style Line series, and for the Trinsic, you can expect to spend between $485- $1,175 per window (depending on a few factors).
Which One Should You Choose?
When it comes to choosing a new window, there are several factors that you should consider. These include the type of material used, the design, energy efficiency, and even the cost. Ultimately, whichever series you choose mostly depends on your needs and preferences. We hope this review helps you make an informed decision.