MP Doors and Andersen, From time immemorial, we perceive the door as a way in and out. However, a doorway has more practical uses. Doors signify the identity of a building and not just a sheer means of access and exit.
Your doors should be taken into account when designing. Doors should invite your guests with a décor touch that personalizes your home. There are several styles available to offer some elegance or relaxed comfort.
MP Doors and Andersen are great manufacturers of many doors, from the interior to the exterior compositions. Does this mean they are equal, or is one better than the other? As we dive right into the door, we leave the verdict to you.
MP Doors vs Andersen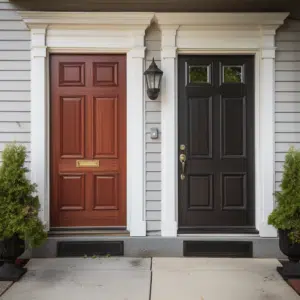 In terms of Quality, MP doors are slightly the same as that of Andersen, but if you are a person who considers Quality, then MP Doors has got you because their doors are made of fiberglass, which makes them strong and durable.
MP Doors might be slightly priced high but have low maintenance costs because their flush doors are glazed and give a clean surface look, and are easily painted to match your home's color theme.
Regarding Durability, both companies focus on stable features through MP Doors leads slightly as they have fewer products.
Security is paramount as it is the primary reason for doorways in our homes. The doors are installed with security systems like alarms to protect your property with the new technology.
The Roles of New Doors
Several benefits come with the installation of a new door. Aside from bringing the excellent appeal that instantly transforms your entire home, it comes with extended economic benefits too, like:
Increased security– Old doors are prone to forced entry due to the lack of safety features in modern models. The home contains many valuable items like family and valuables, requiring security doors.
Durability- The traditional doors are susceptible to warping and weathering effects like bubbling and chipping. The remodeling of an old look is to resolve the problem. Modern steel and fiberglass doors reduce the cost of maintenance as they use oil-based paint, which repels weather damage.
Return on investment- The installation of a brand door adds value to the property if you may rethink reselling the property in the future.
Curb Appeal- New doors look great. Modern craftsmanship and design inventions epitomize your taste in it. With various options to use wood, fiberglass, and decorative glass, you will never lack options to help you incline the cub appeal of your home.
Energy Efficiency- Loss of a large amount of heat is through the door and windows. The new comes with many insulation features that help maintain a favorable temperature in your home while reducing energy costs.
Tips to Bear in Mind when choosing a Door
Door type
Material used
Energy efficiency
Security
Durability
Color and Finish
Installation
MP Doors: What you Need to Know
MP doors rank highly as the best overall in formulating beautiful and durable doors. Matching their slogan "An open the door to Quality and Craftsmanship,"
MP Doors has been in the industry for over 25 years; they have rich experience in creative design, research, and development.
The components of their doors focus on the highest standards in the production process. Here is why they stand out:
Fiberglass: It is a strong and long-lasting material that doesn't get affected by harsh weather conditions. Unlike the regular doors that rot, rust, delaminate and warp, MP crafts doors with fiberglass and complete composite edging and frame.
Benefits of Fiberglass
The high compression-molded fiberglass offers robust protection and Durability.

Fiberglass skin doesn't delaminate/dent like steel

It is environmental friendly-100%CFC free

Easy to stain or paint surfaces and easy to clean

No yellowing of the white pre pigmented smooth white skin doesn't need repainting.

Energy-efficient six times the standard doors

Lifetime limited warranty

They are dimensionally stable due to the rigid CFC-free polyurethane core.
Types of MP Doors
Each type of MP Door comes in many designs and colors

Residential Doors- are highly air and water tightness and a fantastic thermal and acoustic insulation.

Sliding Glass Doors- offers top-notch security, Durability, and elegance

External Bifolding Doors-are a substitute for sliding doors allowing you to open an entire wall

Aluminum fire windows, etc.
MP Doors are protected with Hydroshield from water infiltration, allowing you to be worry-free about warping, rotting, and delamination. The mix of fiberglass door panels edged in water-resistant composite material and frames makes them withstand use in the harshest conditions.
Andersen: What you Need to Know
The Andersen doors encapsulate every architectural style, offering you the freedom to design gorgeous spaces that connect the indoors with the outdoors bringing your vision to life. Their doors are available in several configurations, giving authentic and creative architectural designs.
For more than a century, being in the field, Andersen has had a wide range of quality doors, from front doors and patio doors to moving glass walls.
Factors to consider
Design

Functional

Structural

Performance
Types of Andersen Doors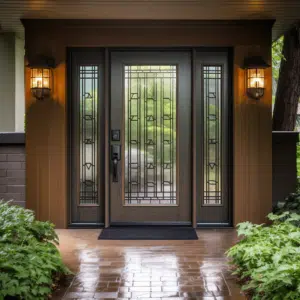 Andersen has been the most trusted window and door company for over 115 years in the field; they continue to innovate products for your lifestyle, performance, and security you desire.
Durability is the key in all their product design. Andersen also has many doors, just as windows are categorized as per their materials.
Wood Door: Gliding patio door, Hinged patio door available in all their five series: E-series, A-Series, 400-series, 200-Series, and 100-Series.
Fibrex/Composite: In this category, the doors are in A-series and 100-Series, and Renewal by Andersen
Vinyl: Available in 400 and 200-series
Aluminum: present in E-series and Heritage
Fiberglass: Available in A-series.
Andersen Door styles
Big doors

Entry doors

French and Hinged Patio

Gliding patio

Storm Doors and Screen Doors

All Doors.
It has a wide variety of doors catering to interior and exterior design preferences. Andersen has a lot at your disposal. You have the freedom of choice, for they have catered to every customer in terms of price.
Overall:
we leave it to you to make a rational choice between the two companies and where to acquire your doors.