Among the top leading woodshops are Woodcraft and Rockler, and you cannot go wrong if you choose either. However, they contain unique products that might meet your expectations, such as air compressors or hand tools.
Rockler vs Woodcraft: Which is Ideal for you?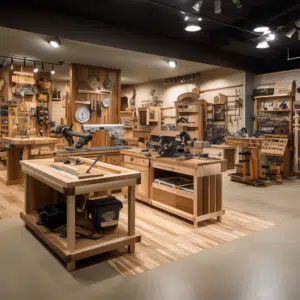 So, between Rockler and Woodcraft, which is ideal for you? In this piece, we will share the advantages and shortcomings of each to help you draw an informative decision.
What is Rockler?
Rockler has 31 stores in more than 21 states, less than half of Woodcraft. The 1954-founded family business has expanded since it began as a small mail-order business.
To add to their box stores, Rockler has a huge web presence and is dedicated to offering hardware, power tools, hand tools, wood species, and instructional training via both business channels.
In terms of wood products, Rockler's choice is less than Woodcraft's, particularly in the exotic species department. Their wood products shine in their various types of products even as they provide domestic and exotic lumber.
The wood products have various wood veneers, dowel rods, inlays, plywood, live-edge slabs, and knife scales.
Rockler has a great selection of power tools that are fairly expansive with everything in-store and on the internet (online), from dust collection, sawing, woodturning, sanding, routing, air filtration, and laser machines.
It hosts its classes and woodworking events while giving expert advice and project ideas to novice woodworkers from its stores.
Rockler store is famous because it has developed an innovative gadgets suite that pairs perfectly with other products. The gadgets upgrade the woodworker's quality of life.
About Woodcraft
Woodcraft has been a giant in the woodworking industry since 1928, starting as a small one-room shop in Boston. It has grown with now over 72 stores in 35 states across the United States.
They have a diversified range of products from power tools, wood species, hand tools, workshop accessories, and home goods which are closer to a big box store specializing in woodworking.
It offers a great area for novice and middle woodworkers to converge and share tips and get the opportunity to experiment with the tools. If you are looking for an awesome resource and project ideas, then Woodcraft is a suitable choice.
They sell kits as part of one of their product lines with its most sought–after products: their quality and exotic wood varieties. You may find it is the only store offering them in most areas.
When working on a project, it is paramount to factor in flexibility. Woodcraft offers you numerous choices of materials to enable you to complete a project, such as:
Macacauba- is highly rated because of its durability and decay-resistance features, thus providing excellent protection against pests and insect attacks. It is grown in South America and has become a scarce species.
Padauk- is an African-grown wood that is a favorite of many woodworking hobbyists because it is easy to work with, has a unique color, and has a pleasant scent. It is resistant to pests in case they attack.
Pros and Cons OF Both Rockler and Woodcraft
| | |
| --- | --- |
| Rockler | Woodcraft |
| Has great brand recognition than Woodcraft | Allows modifications and order cancellation policies |
| Offers more regular discounts and promotions than Woodcraft | Offers email discounts |
| Provide free shipping policies | It contains 3 active coupon codes. |
| Offers international shipping policies | |
| Has six active coupon codes | |
| | |
| | |
| Cons | Cons |
| No email discounts | No shipping policies |
| No modification and cancellation policies | It doesn't accept debit and prepaid card support |
| | No international shipping policies |
Rockler vs Woodcraft Contrast
The two famous stores have many crossovers, although their intent is on different things, each with other pros and cons to both approaches. Let's dive into a little detail about their differences.
Wood Products
Woodcraft has a great selection of domestic and exotic wood species, with excellent community presence due to their multiple locations, unlike Rockler.
Tools
Rockler beats Woodcraft with their availability of power tool offerings, while the latter offers a similar amount of hand tools as one. Also, it has the edge on accessories with innovative products formulated to blend with its other tools.
Quality
Both brands have high-quality products. They may not be cheaper in terms of quality, and none has an advantage over the other.
Therefore, you're guaranteed quality and reliability whichever product you go for, whether Rockler or Woodcraft.
Price
The two stores charge high-end prices with no claim to offer better prices than the other. Nevertheless, they both offer incredible value for their product.
The brands add personalized instruction and project service, which adds an extra value to their products, justifying the extra value to the products' price tags.
In terms of sales, Rockler seems to lead more than Woodcraft, which compensates by offering more email discounts than Rockler hence striking a balance.
If your concern is getting the best offer between the two, research promotions may lead to either brand offering better prices to another at various times.
Customer Service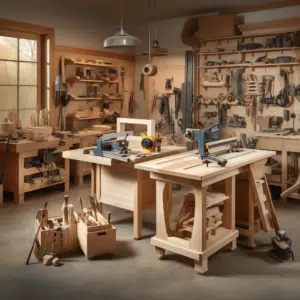 Rockler has the edge over Woodcraft supply and does exceptionally well in customer service. Rockler has recurrent discounts and promotions on its products. They also offer free shipping policies, including international shipping, for part of their product. Due to its lack of email discounts, they lag as they don't track the orders to inform you to cancel or modify your order.
On the contrary, Woodcraft has email discounts and allows you to adjust your order, although; they don't offer free or international shipping. Rockler and Woodcraft franchises their locations, thus exposing you to both the sweet and the sour experiences based on the store you visit.
Both companies perform similarly and offer hands-on experiences for beginners and intermediate woodworkers. Woodcraft is a great brand with many products and offers regular discounts through its email newsletter. On the other hand, Rockler is more of a beauty shop and has better customer service. Therefore, they both offer great quality.
There are immense benefits to whoever chooses between the two brands because both are great. Woodworking products surpass the time and imagination of woodworking hobbyists, professionals, and artists.Whether you're looking for rare, cheaper, or quality products, both brands won't disappoint you in any category. Remember, it all trickles down to personal choice.