Choosing couches with quality and comfort is preferable for those who will spend much time on them. Doing so ensures that they will enjoy their purchase without having any regrets in the future.
However, in our market today, there are so many options; the hardest part is choosing between Lovesac vs Burrow. These two companies offer various high-quality sofas, coaches, and chairs to choose from, depending on our preferences.
To help you decide which brand suits you, this article will walk you through a comparison of Lovesac vs Burrow.
Lovesac vs Burrow: Overview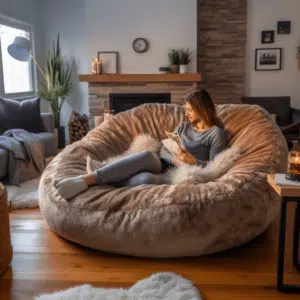 About Lovesac
Several businesses or brands currently offer sofas, couches, or chairs in boxes that you may assemble when you get them, much like those from IKEA, and one of the most well-known is Lovesac. Since they are among the best and have high-quality products made of good materials that are also comfy, many people appear to fall in love with them.
Although the company sells a range of products, its modular sofas and bean bag chairs are arguably the most well-liked.
Regardless of how frequently you enjoy watching movies or playing video games, these items can be a nice addition to your living room. This is due to their excellent comfort, enabling users to spend hours in the same position without feeling the urge to get up immediately. However, this article will only discuss their Sactionals sofas.
Lovesac Design
Lovesac modular sofas are available in various options ranging from two to 10 seats, so you can pick one that best fits your living room or based on the number of occupants in your home. 
 This chair is equally as comfy as the bean bag chairs that appear to be a requirement for many college students, but it has a more mature feeling without being too serious or "old."
Lovesac Advantage
Many people like Lovesac Sactional or modular couches because they have a seat and armrests and backs.
You can make a deep loveseat with a footrest, an L-shaped sectional, loveseats, or sofas depending on the amount of seats. Tables provide a stable surface for drinks and nibbles. When installed without the back, they become ottomans.
The main benefit of this sofa is that you can configure it to fit your living area and the event. You can also add components if your arrangement needs an extra side or a wedge-shaped seat for curvature. As an upgrade, Lovesac offers 197 coverings you may modify to match your mood or space.
Assembling Lovesac
The setting up of the couches is the next crucial factor to consider when buying pre-installed sofas because you will need to perform some work before you can even arrange the sofas as you desire.
Fortunately, Lovesac is incredibly user-friendly and has a straightforward completion process that can be completed without the need for any tools. The sole drawback is the piece's size, which makes it challenging to handle with one hand due to its weight. But it's also advantageous because it indicates they are strong and thick enough to be cozy.
About Burrow
Burrow, like Lovesac, has a selection of high-quality, fashionable sofas and other furniture for your apartment or home. The first thing you will appreciate about them is how they can provide high-quality goods at such reasonable prices.
The company offers single chairs, loveseats, and sofas with multiple seats, with an extra seat you may use as an ottoman. Each category is filled with further variants that pair a seat with an ottoman or a chaise sectional, allowing buyers to choose the style or design they desire swiftly. They also sell extras like pillows and throws if you need to upgrade the setup.
Burrow Design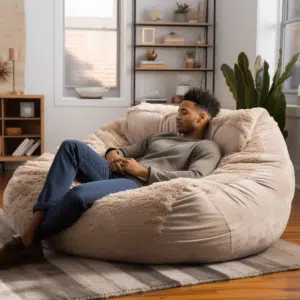 The use of Asian Oak-made wooden legs, which make the overall sofas smaller and less bulky, lends the Burrow sofas a slightly minimalist air. These legs will come in three finishes: classic matte black, dark, and light.
There are two options on its arms or sides, allowing you to choose whether they be high or low.  The frame is also modular, allowing users to disconnect the frame from each seat depending on their needs. 
Burrow Advantage
Like any modular seat, Burrow couches or sofas are excellent for their ability to be customized without any effort.
They are also easier to pack for apartment dwellers or those who plan to move because you can separate them and box them according to how you will reassemble them. Moving a normal sofa will require more effort.
Burrow's fabric selection—beige, navy blue, brick red, charcoal, and crushed grave—is another plus. They are unique since they are made of olefin, a popular furniture fabric. The fabric is sturdy, fast-drying, fade-resistant, lightweight, easy to clean, and abrasion-resistant.
Assembling Burrow
It may take about 15 minutes to put them all together, depending on individual ability. You won't need any tools because the hardware is already built into the pieces. Overall, lock and unlock is used to set up, which is quite convenient.
What's remarkable about these Burrow sofas is that they each have a power pack underneath that you can connect to the wall and use to recharge your mobile gadgets, including smartphones and tablets.
Lovesac vs Burrow: Comparison
Let's now compare Lovesac with Burrow. The design is where they most noticeably differ from one another because Lovesac is heavier, thicker, and bulkier than Burrow, which has a more streamlined appearance. 
Additionally, Lovesac is also available for a higher price than Burrow. Burrow also has a broader room below that is simpler to clean because of its wooden leg and a power pack underneath.
Conclusion
Overall, both brands provide high-quality sofas that are comfy. You can choose based on preference, but Burrow is preferred since it is more cost-effective than Lovesac while still being more slender and cozy with a wide area underneath.