Whirlpool and GE Microwaves, Today, most people use microwave ovens to quickly heat and cook food and beverages. Whether you're cooking full meals, or simply reheating your coffee, you rely on their quick response. Indeed, microwaves have evolved to become an essential tool for most households.
Whirlpool and GE companies are among the most popular home appliance brands in the microwave space. They're both recognized for high-quality microwaves that help you cook fast and with ease.
Whirlpool vs GE microwave: Pros and Cons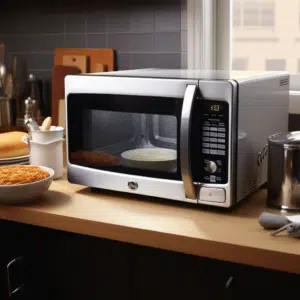 While everyone wants to get the best deal, this article seeks to explore microwaves from the two brands, so you can understand their pros and cons, how they work, and the features they incorporate. Are microwaves from Whirlpool any different? Well, let's find out!
Whirlpool Brand Overview
Based in Michigan, United States, Whirlpool Corporation is a Multinational Company that is well into producing and marketing home appliances.
The company's line of products includes home dishwashers, freezers, refrigerators, mixers, cooking equipment, and portable household appliances. They operate in North America, Europe, Asia, the Middle East, and Africa.
Whirlpool Microwave Ovens
Whirlpool microwave ovens are designed to make your cooking chores quick and enjoyable. That means laying out a dining table full of homemade delicates will be a breeze. Buyers can get a solo microwave oven, a convection microwave, and a grill microwave from Whirlpool.
For those who love grilled food, a grill Whirlpool microwave can be an easy recommendation. With it, users can also indulge their loved ones with delicacies like bacon, grilled corn, pizzas, sausages, grilled meats, or fish fingers.
What's more, some models from Whirlpool feature a feather-touch membrane control, which you can operate with ease while cooking. The different power levels will allow you to set your unit to varying temperatures so you can grill the food to your liking. Grill from this brand also incorporates the option of cooking, defrosting, and reheating food.
You might want to choose a solo Whirlpool oven if you're someone who prefers microwaves that only include basic functions such as cooking, defrosting, and reheating.
These appliances provide as much as 20 L capacity, making it easy for you to prepare a pretty large quantity of food at a go. Another impressive thing about Whirlpool solo microwaves is that they come with an LED display that showcases the oven's settings. Still, there are many others that come with mechanical knobs that are easy to use.
That said, a convection oven from this brand will allow you to prepare great appetizing starters, desserts, filling entrees, among other foods.
These options are also known to have better moisture retention capabilities that allow you to prepare dishes like chicken tandoori or paneer. Other models feature incorporate as many as 150 auto-cook menus to help users prepare meals effortlessly.
Pros of Whirlpool Microwave Ovens
Non-steak interior for easy cleaning

Most models are fingerprint resistant

The LED display showcases the settings for ease of use

Easy to operate

Convection microwaves offer many auto cook menus

Sensor cooking in convection microwaves for max performance

Innovative dual crisp technology that ensures excellent crispness
Cons of Whirlpool Microwave Ovens
Some Whirlpool models come at a high price tag
GE Brand Overview
Based in America, the General Electric Company (GE) is a multinational company that's well known for its work in renewable energy, power, aviation, and healthcare industries.
The company produces electrical consumer goods, boasting one of the largest lines in the world. Through the GE and Hotpoint appliance brands, General Electric has evolved into a top seller, offering different types of home appliances.
GE Microwave Ovens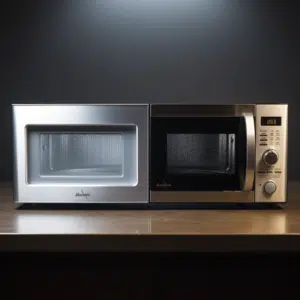 GE microwave ovens are described as durable, highly reliable, and durable. With a microwave from this brand, buyers can rest easily assured of maximum functionality.
The GE brand offer microwaves that will most possibly meet most of your culinary needs. Their models come in three varieties, including the built-in countertop and over-the-range.
GE's smart microwaves incorporate scan-to-cook technology that enables you to utilize their app alongside your mobile device for cooking food to specification without human intervention.
There are other models that feature SmartHQ WiFi technology. With this feature, users can easily monitor their timers from anywhere, cook their meals and employ their own voice, of course with Amazon Alexa or Google Assistant.
Their built-in and over-the-range microwaves free up valuable counter space while being perfectly reliable for baking grilling and even broiling foods up to eight times more than a convection oven.
For golden-brown results, the GE convection microwave ovens come with a heating element that couples with a fan to circulate warm air around foods evenly. There are other models that feature a built-in air fryer to help you cook crispier and healthier varieties of your favorite meals.
Pros of GE Microwave Ovens
Available in a variety of colors

Easy clean interiors

Designed with great accessibility in mind

Fingerprint resistant

GE models are ADA compliant

Some GE models cook eight times faster than regular ovens

Smart microwaves that use scan-to-cook technology to help eliminate guesswork during cooking

Cook healthy and effectively in less time
Cons of GE Microwave Ovens
A bit expensive

Not the best for persons with tiny kitchen spaces
The Bottom Line
In terms of functionality and overall product quality, Whirlpool and GE microwaves beat so many models from other brands. You'll hardly go wrong by getting a model from either brand.
While GE microwaves may be better for those who are willing to spend a bit higher on a number of extra features, Whirlpool is considered ideal for people who value better warranty and price.
Whether you want a solo appliance for basic cooking tasks, a convection microwave oven, or a grill model to help you prepare barbecue from time to time, these two brands are worth checking out.
Both Whirlpool and GE microwaves available on the market offer a comparable amount of burners. The great news is that their models come in a varying price range to fit everyone's budget.