Whirlpool and Samsung Dishwashers, Kitchen appliances have provided us with a completely different experience of daily life with the most essential quality being speed. 
Convenience and better results overall are not far behind so naturally, the best brands will continually feature in list after another of consumer queries.
Whirlpool and Samsung are two of the most famous names in the appliance industry today and model after model released has features that run to the tastes of a significant number of consumers.
Most dishwashers today are easily interchangeable if all you need from your machine is reliable and consistent quality performance in cleaning. Few brands and models would fail to satisfy this basic function.
However, with modern machines, more is demanded so more is offered and dishwashers are no exception. One of the notable aspects of these two brands is that Whirlpool has been in the appliance space a lot longer than Samsung.
Whirlpool is predominantly an appliance company while Samsung has largely been in the entertainment hardware business.
Samsung is famous for its screens and sensational sound systems as well as in the technology and digital space. Samsung tablets and phones are some of the most coveted devices.
In recent years Samsung has delved into the appliance market and just like with its other products Samsung has relied heavily on the latest gadgetry and features.
Both Samsung and Whirlpool are excellent brands but if you are trying to decide between these two then the following should help.
Whirlpool Vs Samsung dishwashers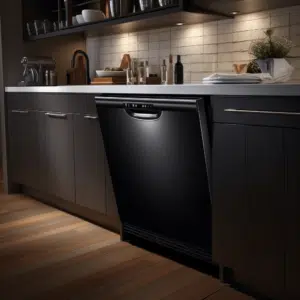 Durability and Longevity
Customers trust Whirlpool, an ancient appliance brand with a lot of experience.
Samsung is new to the appliance market, yet their products are packed with modern technology.
Workhorse brands like Whirlpool are built for durability, strength, efficiency, and longevity. This rarely happens with Samsung dishwashers. Samsung is impressive in technology and entertainment, but their dishwashers aren't.
Their dishwashers compete on style and technology but lack durability and longevity. Samsung dishwashers are just as efficient in washing and cleaning, but they break down after many hours of intensive dishwashing.
Samsung dishwashers are improving in durability and repairability. Whirlpool has few digital and technological advances, yet it lasts a decade and requires little maintenance.
Noise Level
Today the home is not just where you retire to at the end of the day but an intentionally crafted space for rest and relaxation. In the changing tides, it has also become an extension of the workplace or a workspace in itself.
This demands a quiet within the home that uncompromisingly accommodates rest and work when need be. A noisy machine is a nuisance at best.
Whirlpool brands are not quiet machines and produce an aggravating amount of disruption in the home. 
If you have to work from home this is definitely a concern. Modern home plans also feature open plan kitchens which are basically just an extension of the living area or the family room.
All the activity in the kitchen is activity that can be gleaned from the family room. A loud machine may not be ideal in most modern homes.
Whirlpool brands are not built with the best noise control technology and some of their best brands are still quite loud. 
Whirlpool dishwashers have a noise level of between 47 dB and 55 dB. Even their quietest dishwashers are still too loud. The industry standard today is 44 dB which is a low hum that allows for conversation to carry comfortably.
Samsung dishwashers are a breeze to own as far as noise levels are concerned. None of their brands even lie at the industry standard and Samsung has made a name for itself as a very quiet dishwasher at a noise level of as little as 39 dB. 
It is nearly impossible to tell when the dishwasher is running so this is the dishwasher you want if quietness is a major factor for you.
Smart Technology
Samsung makes gadgets that lead the trends in this field. Samsung dishwashers come with a dizzying array of style features that consumers want and are willing to pay for. 
Leak protection and Auto Air are two of the best features you will find on Samsung dishwashers and not on Whirlpool machines.
Samsung dishwashers will detect leaks and turn off the dishwasher until the leak is dealt with which is quite savvy. 
The Auto Air feature opens the door of the dishwasher once a cycle is over to facilitate the escape of moisture and prevent mustiness which means you can leave the dishwasher running and go to sleep.
You will wake to find the dishes dry and the dishwasher fresh. This is not the case with Whirlpool. Smart features are not a staple with Whirlpool dishwashers but in recent years, Whirlpool has been incorporating some smart features in its newer models.
Price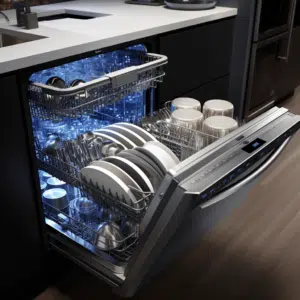 Most Whirlpool brands are affordable while Samsung is known for pricier machines.
The extra dollars you will have to spend to get a Samsung dishwasher will give you value since more features are present in a Samsung dishwasher compared to a Whirlpool dishwasher but if you have a Whirlpool dishwasher, you still have an appliance that will get the job done with little or no fuss and one that will stand the test of time.
If you are looking to purchase any of these two brands, look into the following models. These are the top-rated choices from both companies. 
Best Overall: Whirlpool WDT730PAHZ
Features: Whirlpool WDT750SAKZ
Budget: Whirlpool WDF540PADM
Best Overall: Samsung DW80R9950US
Second Best: Samsung DW80R7060US
Third Choice: Samsung DW80R5060US