Whirlpool is a giant and a well-respected player in the appliance field. With decades of experience and significant market share, Whirlpool enjoys widespread brand loyalty and recognition. 
Whirlpool also has a good repair and breakdown record. It routinely tops customer satisfaction surveys and performs well when ranking appliances, especially dishwashers with little repairs.
For reliable appliances, buy Whirlpool.
Kitchenaid is another popular appliance brand. It is considered high-end but is actually a mid-range appliance with a good durability and performance record.
Whirlpool bought Kitchenaid in the 1980s, making it difficult to compare the two appliances.
Whirlpool's high-end appliance, but they are created by the same company.
Kitchenaid vs Whirlpool dishwasher: Which is better?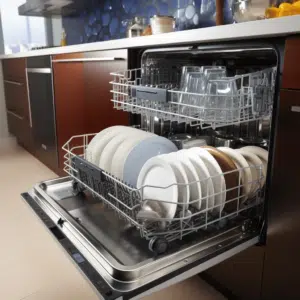 Kitchenaid dishwashers are a more modern design compared to Whirlpool models while Whirlpool is fairly dated but is a proven brand that will last several years. 
That said as appliances go, Whirlpool is the more established brand with innovation being a very important part of survival for any business, Whirlpool is slowly but steadily making the shift to producing models that appeal to younger buyers who need more than simple utility. 
The following factors should be top of the list of things to consider when choosing either one of these models.
Noise level
Kitchenaid is the better option to go with if the noise level is particularly important for you. Most home plans today feature an open kitchen that sits adjacent to the family room with only half a barrier separating the two rooms.
This means that all the activity in the kitchen can be seen and heard by all who are in the family room or the living room. A noisy dishwasher will disrupt conversation, relaxation, and work which is less than ideal. 
If the kitchen is removed or completely separate then the noise level may not be too bothersome.
Whirlpool dishwashers are not particularly quiet with a number of them ranging at a noise level of 50 dB. This will interrupt a conversation and irritate anyone who could be working or enjoying leisure. 
Stainless steel tub
A stainless steel tub is a growing preference among today's consumers and a growing number of brands are changing out the traditional plastic tub for the stainless steel tub.
Most Whirlpool models especially at the lower price points still have plastic tubs while Kitchenaid boasts only stainless steel tubs. 
This is a major difference between these two brands and while Whirlpool still makes long-lasting machines, they cannot outlast Kitchenaid stainless steel interiors.
Stainless steel interiors clean better, therefore Kitchenaid will certainly win Whirlpool in this area if they are compared neck and neck.
Simple dishware can be washed successfully in either tub, but tenacious filth, delicate China, heavy-duty pans, and pricey wine glasses are better in stainless steel tubs.
Stainless steel interiors are also easier to maintain in hygienic condition than a plastic tub which is yet another win for Kitchenaid. Stainless steel tubs also mean greater stability and therefore greater durability and performance overall.
Rack options and space
Kitchenaid features an additional third rack that may be missing in some Whirlpool models. This extra room allows you to wash as many if not all dishes at a go and accommodates all dishes properly to give the dishwasher optimal access to each item.
This eliminates the need to do dishes more than once or to redo dishes that may not have had sufficient access to the sprays and dispensers within the tub. As a result, you will end up saving on both power and water which is something you cannot afford to ignore.
Later models of Whirlpool are slowly incorporating this feature so be on the lookout for the newer models of Whirlpool as well.
Smart features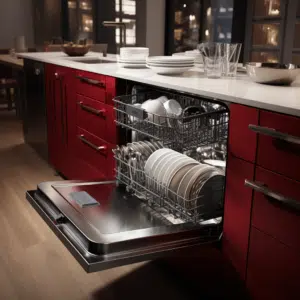 Kitchenaid has an extensive history of providing the best possible technology in their dishwashers which makes them easier to use, more convenient, and better in terms of conservation.
Traditionally Whirlpool had not focused on the extras and had instead made a name for itself as an appliance that focuses primarily on utility over all else. 
With emerging trends and consumer preferences changing over time, Whirlpool is also incorporating smart features and additional perks to attract an ever-growing demand for better devices that offer more.
Consider the following models if you are on the market for a dishwasher from either of these brands:
Whirlpool WDTA50SAKZ:
Noise level: 47 dB ( The industry standard is 44 dB)

Has a third rack

Has an adjustable upper rack for more dishes 

5 wash cycles: Sensor wash, Normal, Heavy, Quick, Soak and Clean

Silverware basket 

LED indicator light to indicate when the dishwasher is running 

6 options: Delay Start ( 24 hours), Hi Temp Wash, Sani Rinse, Heated Dry, Control Lock, Extended Dry
Kitchenaid KDTM404KPS:
Noise level: 44 dB which is the industry standard

Has a third rack as well as an adjustable upper rack

5 wash cycles: ProWash, Express, Tough, Normal, Rinse Only

5 options: Delay Start ( 8 hours ), Hi Temp Wash, Sani Rinse, Heated Dry, Extended Dry

Heat dry and vent dry options

Advanced Clean Water Wash System

Satin Glide rails
Finally…
Regardless of the features and characteristics, you are looking for, Whirlpool and Kitchenaid are tested brands that have earned the trust of many. Both brands will give you superior cleaning performance which is the most crucial factor to consider when buying a dishwasher.
Newer models emerge sporting better and smarter options and features that will make your experience even better so be on the lookout for new merchandise from these two brands.