Indeed it's quite hard to choose between Windows 400 and 600. If you're to pick the right type of window, you need a lot of verbal and visual input.
 You should know what you're looking for and the specific features that meet your property criterion since various window components contribute to overall durability, aesthetic appeal, and energy efficiency.
Window World, founded in 1995, is the largest US replacement window provider. Over 200 local franchisees offer new windows, cladding, and entrance doors for the company.
Window World has many window styles—for example, casement, double-hung, awning, and sliding, among others under their windows product line. The frame materials are primarily manufactured from Vinyl.
Notably, different Window World Series are starting from 1000 series to 6000 series. Specific components determine the long-term performance of any unit. Therefore, which is the most efficient window style to go for?
Window 400 vs 600: Overview
Is it Window 4000 or 6000? Of course, Window 1000, 1500 and 2000 are still ideal, depending on your structure. However, in this article, we will solely focus on comparing Window 4000 vs. 6000.
First and foremost, don't overlook how the window operates since this might affect air circulation within your home to cause severe respiratory problems and allergies.
In addition, whether you're going for Window 4000 or 6000, you should consider the general complexity and specialty of the window. It should be well-designed to offer the desired ventilation and adequate light penetration.
Are you in a dilemma trying to choose between Window 4000 and 6000? This article is the best one for you. Read below to know everything you ought to understand about Window 4000 and Window 6000. In the end, you will get to know the best window series worth your purchase for your ongoing or future project.
Window World 4000 is the modern generation series with an excellent precision-engineered to meet or exceed strict energy star criteria. It gives a triple-pane energy-saving performance in the dual-pane unit.
The innovative energy architecture that places 4000 Series Windows in a category of their own includes thermally optimized frame, dual-pane, non-conductive composite, and double-strength insulated glass. It has luxury window performance with guaranteed affordability.
The 4000 Series is also the most popular vinyl replacement window, with the ability to open from the top or bottom sash, enabling adequate fresh air to your house.
Window 400 series
Tilt-in sashes are easy to clean and save you time and hassle for exterior washing, especially on multi-level houses. From the comfort of your own home, you can easily clean both your windows' inner and external surfaces.
Most significantly, by selecting a high-performance insulated glass package to match your climatic requirements, you can optimize your energy savings.  The lower the Average U-Factor, the less energy you'll need to keep your home at a comfortable temperature.
The lower the SHGC (Solar Heat Gain Coefficient) in a hot environment, the more money you'll save on air conditioning. The greater the SHGC in a chilly area, the more energy you'll save on heating.
Generally, the Window 4000 series improves the energy efficiency of your home and reduces energy losses since it creates good barriers against moisture and air infiltration. As a result, your home's interior will feel more comfortable with great energy-saving strategies.
Features of Window 4000 series
Enhanced appearance and easy installation due to diverse frame options.

The design of the Window 4000 series is heavily rooted in energy efficiency.

The triple-plane system helps protect energy loss and ensures a comfortable homes' interior. It also reduces the outside noise.

The cavity foam option is a thermal barrier to reduce heating and cooling energy.
Window 6000 Series
Innovation is at the heart of the Window 6000 Series. That is why it has more outstanding performance than Window 4000. Every component of Window 6000 has been meticulously crafted to help save energy.
Extra-thick, fusion-welded frames and sashes give enhanced structural strength and form a durable barrier against air and moisture intrusion, resulting in higher energy savings and reduced utility costs.
The 6000 Series windows blend style and practicality for a classic, detailed look. With the different window designs available in the Window 6000 Series, you can enrich any room to have a sophisticated appearance. You can complement any style with luxurious woodgrain laminates and elegant exterior color selections.
With stunning finishes, foam-enhanced frame, energy-efficient triple-pane glass, SolarZone TG2 EliteTM glass package, and skilled installation, you'll know you've made the perfect decision with the Window 6000 series. In addition, the Window World Warranty assures that you'll get the best from the industry leader.
Features of Window 6000 series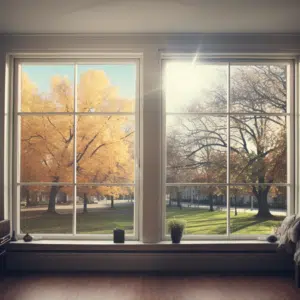 Unmatched performance and energy efficiency

The triple-pane insulating glass makes you comfortable and protected wholesomely from all exterior elements.

High-density foam improves thermal protection.

Have recessed and opposing cam locks
Features that differentiate Window 6000 series from Window 4000 series
Ballance channel covers provide a polished look.

Heavy-duty weatherstripping on the sash sides keeps dirt and noise out while preventing air intrusion.

Push-button vent closures with spring-loaded latches enable safe and effective nocturnal ventilation.

The welded, heavy-duty vinyl structure provides strength and durability.

Tilt-in top and bottom sashes make cleaning from inside the house safe and straightforward.

Windows with a beveled outside profile provide more flair and curb appeal.
Conclusion
Window 4000 and 6000 are both made from Vinyl. They're used to improve the aesthetic appearance and ventilation of your home. Window 4000 and 6000 have excellent features for energy saving, but the Window 600 series is superior to the Window 4000 series because of the Heavy-duty weatherstripping and the vinyl structure.
Generally, Windows 6000 has more additional features than those of Window 4000. Unfortunately, its price is higher. You need a budget level of between $515 and $1,290 for the Window World 6000 Series. The budget of the Window 400 series is medium, ranging between $395 and $1,075.