Building a 24×30 Garage, There are several reasons why you may want to add a garage to your home or property. In addition to protecting your car against elements, a garage can provide extra storage space and workspace for everything from car repairs to woodworking projects.
However, one of the most common questions among homeowners and property owners alike is the average cost of building a garage per square foot.
So, How Much Does It Cost To Build A 24×30 Garage?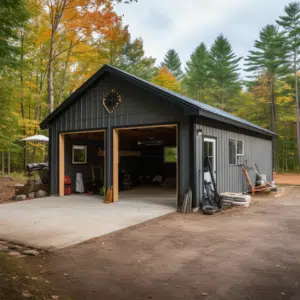 While the national average cost to build a garage is $24, 000, or around $50 per square foot, the cost of building a 24×30 garage can be anywhere around $31,200. Garage cost can vary considerably depending on location, materials, size, and finishes like electricity and garage door style.
How Much Does It Cost to Build a Garage?
Building a garage costs $35–$60 per square foot. A 1-car, 2-car, and 3-car garage cost $7,500 to 14,000; 19600 to 28000+; and $30,000 to $42,700, provided all components are purchased at market price. Materials and labor will cost around half and half, respectively.
The size, material, and labor expenditures of a garage, foundation, and driveway will determine its cost. Because it's custom-built, a detached garage costs more than an attached one. You should hire a certified electrician and plumber to install or upgrade a drain, hose, or workstation sink in your detached garage.
Single-Car Garage Cost
Typically, single-car garages come in many different shapes and sizes, each with its own price tag. You may want to choose a slightly larger footprint for extra storage space.
The cost for a single-car garage can range anywhere from $15,000 (12 by 24 feet) to $20,400 (14 by 28 feet). The costs are calculated using a $52 per square foot average and rounded to the nearest $100.
Cost to Build a 2 Car Garage
A two-car garage typically costs an average of $52 per square foot to build. However, garage construction costs like a security system, slab foundation, and livable loft space mean that you could pay between $35 per square foot.
Perhaps the largest cost factor for multi-car garages is the number of garage doors that need to be installed. Subject to your lot size and how you plan to access your cars, you may choose to park side-by-side or front-to-back, commonly known as a tandem.
A local garage builder should be able to give you a more accurate estimate, but these are good estimates for what you can expect. The cost of building a garage varies by location and the size of the structure; however, if you're looking for an average price point, this range provides a reasonable ballpark number.
3-Car Garage Cost
Garages designed to accommodate three or more cars often cost more because they require more square footage. They are suitable for families with multiple vehicles ranging from recreational vehicles to economical cars.
The average cost to build a three-car garage can range anywhere from $44,900 (for a 36 by 24 feet garage) to $62,000 (for a 30 by 40 feet garage). Note that a single-car, detached garage kit can cost around $7,250 while an attached three-car garage with loft can cost about $50,000.
How Much Does It Cost to Build a Detached Garage?
The cost of detached garages can range from $ 1,500 for a no-frills stainless steel kit that fits one car to $50,000 for a barn-like custom garage that accommodates three or more cars in an in-law suite.
The actual costs will depend on the size, functionality, labor, and materials. Stainless steel garage kits with manual garage doors and no insulation are often the most affordable and fastest to build.
Meanwhile, detached garages with siding, trim, and roofing that match your home will definitely cost more. You will have to hire an electrician Building a 24×30 Garage installing or updating electrical to your detached garage to suit the security system, lighting, and automatic garage openers.
You will also need to hire a plumber to install wet features such as a drain, hose, or work-station sink.
detached garage costs between $19,200 and $45,000 to build.
The cost of building a garage, including the foundation and driveway, will vary depending on its size, what materials are used, the finishes you choose, and how much labor it takes to complete.
Get the advice of a contractor before you start building to ensure that the cost is within your budget.
Attached Garage Cost
It will cost an average of 26,000 to attach a garage to your home or property. However, you may end up paying anything from $10,000 to $43,000 depending on how many vehicles you'd like to accommodate and whether it provides livable space.
Building a 24×30 Garage usually costs less to install a new electrical or plumbing to an attached garage, especially where those features connect with existing lines. For example, if you want a garage with an apartment, consider choosing a floor plan that permits new wet rooms to share walls with your existing bathroom or laundry.
Also, you may need to replace the door connecting your home to the garage with one that is fire-rated. Consider checking local housing codes or talking to your garage contractor.
Garage Cost
On average, the garage material cost can range anywhere from $15 to $40 per square foot. This typically works out at $5,250 to 14,000 for an average 350-square-foot garage. Note that this does not include the cost of hiring a contractor or paying for building permits.
The costs vary significantly depending on whether you want a bare-bones model or a high-quality finish with an insulated interior, running water, electricity, and HVAC.
Adding windows, upgrading the flooring, or specifying better roofing or designer doors all add to the total build cost.
To put up a garage, you will need to start with the foundation. The average cost of a concrete slab foundation is $4 to $8 per square foot. Be sure to measure the length and width of your new garage foundation to generate a rough project budget with the following costs per square foot:
Foundation Cost: $4-$8

 

Framing Cost: $5-$15

Siding Cost: $2-%50

Roofing Cost: $1-$10
Remember to coordinate concrete installation with any plumbing, drainage, or HVAC system requirements. It's recommended that you hire a general contractor to complete the project successfully and on budget.
Garage Material Cost
More to the foundation, you'll either need a prefabricated garage kit or a custom wood frame to raise/erect the walls and roof.
After that, you can install the garage door as well as any exterior doors and windows. Check the following per-unit costs, including materials, labor and add them to your project budget:
Exterior Door: $600-$700

Exterior Windows: $100-$700

Garage Door: $600-$1,500
If you want a finished garage, you will need electricity to install a garage door opener, electric vehicle charging stations, and lighting. After installing electrical and optional plumbing, then you can proceed to insulation, drywall, painting, and other features such as storage solutions.
Garage Door Opener: $200-$525

Lighting: $80-$900

Storage solution: $500-$10,000

 

Electric vehicle charging station: $1,000-$2,300
24×30 Wood Garage Kits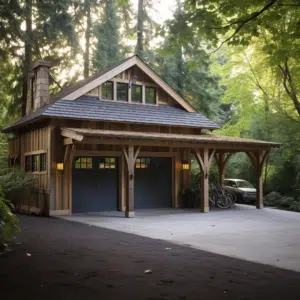 You can find a variety of wood garage kits that are 24×30. Wood is cost-effective, stylish, and easy to work with, which makes it a popular choice for DIYers.
If you're planning to build your own garage from scratch, the garage kits are a great starting point. They can be used as a base for your own design and modified to suit your needs. Some homeowners choose to use the kits as-is and simply extend them to meet their space requirements.
Conclusion
Having a well-constructed, secure garage can be a great investment for your home or property. You are likely to boost your ROI by creating livable square footage as your household grows, probably to suit guests or tenets. While single, or two-car garages are most common, the cost to build a 24×30 garage is often worth it.