There's almost nothing like an extra crispy piece of fried chicken, fried plantains, or pillowy doughnuts hot and fresh out of the fryer.
Without a reliable deep fryer, however, achieving the same crispy greatness may be impossible; the cleanup alone makes someone shy away from the idea of frying anything at home.
Fortunately, you don't have to spend a ton on top-notch models, nor do you have to reserve a whole chunk of counter space. You simply just need to invest in one of the best deep fryers with a removable oil container and enjoy all the great flavors of fried food without the hassle.
We reviewed the top deep fryers on the market that come with a removable container to help you find the best choice for your kitchen.
These modern deep fryers are loaded with safety features so that this cooking method is no more dangerous than cooking with oil in a skillet, provided you take some precautions.
Best Deep Fryers With Removable Oil Container: How to Make the Right Choice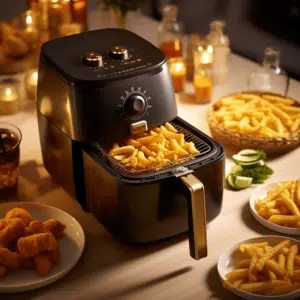 While choosing, it's important to pay close attention to the dimensions of the models in question to ensure they fit well on your kitchen counter. You should also note that some units feature a filtration system and dishwasher-safe parts that are meant to make cleaning up easier.
So if that's important to you, make sure you pick a fryer with those options.
Presto 05461 Stainless Steel Pro Fry Deep Fryer
The Presto 05461 Stainless Steel Pro Fry Deep Fryer is an excellent addition to any kitchen. It is compact, safe, easy to use, and looks nice too. The whole thing is easy to clean as it comes with a removable heating element and enameled pot. Not forgetting the 7-inch immersion depth.
While some fryers hardly get hot enough, this cool daddy does. We like that it has a cover and basket and is much more stable on the counter. That means you don't have to worry about tripping it over or burning yourself with screaming hot oil.
Perhaps the only downside is that the temperature settings are slightly off from the actual temperature. We can't really tell if the filter actually cuts down on cooking odor but it might have a small effect.
The cord can be fussy at times, but this is an awesome fryer overall. It is very lightweight, and amazingly easy to use and store. Plus, the inside container for the oil is removable.
T-fal FF492D Stainless Steel 1.2-Liter Deep Fryer with Removable Lid
Nice little fryer. This one has a small footprint but holds quite a bit of food in the basket. Small enough to keep in the refrigerator so the oil does not go bad, yet carefully sized to take a larger capacity unit to hold temperature.
This little guy heats the oil quickly and bounces back equally fast after throwing in a basket of frozen fries. The basket can be propped above the oil to let it drain after frying.
One complaint, however, is that it is not the easiest to clean. The lid is removable to make it easier to access the area where the oil goes, but the lid itself is not washable.
Everything can be wiped but it's messy, and while the instruction booklet says you can leave the oil in the fryer, it just sounds gross. Other than that, this is a small, oil-efficient deep fryer worth considering.
Chefman Jumbo Electric Deep Fryer with Basket Strainer & Removable Oil Container
Planning a family or friend party? Impress them with fried food. Any day of the week, the Chefman Jumbo Deep Fryer can prepare delicious fried delicacies for the family. Big capacity and easy to clean, this Chefman model will wow.
It can cook chicken fries and onion rings in batches without overheating. The unit's XL 4.5L basket can fry large amounts of food at once, saving time. This handy stainless-steel deep fryer cooks food perfectly every time with easy-to-use temperature, time, and lid viewing windows.
The 4½ liter capacity extra-large frying basket is versatile for solo or family meals. You also don't have to worry about a splattered, messy kitchen afterward. This fryer comes with a safety lid and a viewing window that will let you check your food so you can stay safe.
Overall, this is a good product and heats up very well. Super-easy to clean and dissembles neatly to tuck away in storage. Plus, it puts fears to rest due to the temperature control and the ability to see through the cover.
WantJoin Commercial Deep Fryer with Visible Window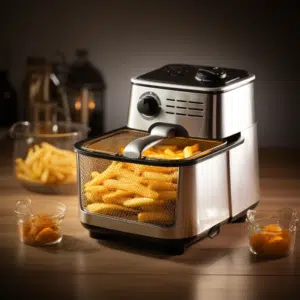 Similar to other best models reviewed here, the WantJoin Commercial Deep Fryer is super easy to set up, heats up quickly, and cooks fast. You wouldn't expect too much from this product given the price, but we must say it's an excellent product designed to last.
We like this product because basically you could cook fish on one side and meat and portly on the other side without the fish taste. Excellent design. However, be forewarned; it's stated in the user's manual sharp edges could really cut yourself.
We couldn't find any dislike, and according to previous buyers' feedback, your food will come out wonderfully. It is light, easy to clean, and easy to use.
Hamilton Beach 35032 Professional Grade Electric Deep Fryer
This is yet another great fryer. The Hamilton Beach 35032 Professional Grade model heats up quickly, cooks evenly, cleans up easily and does not take up much storage space due to its shape.
Overall, you will be very pleased. The fryer is generally good. It has a pretty good material, which is kind of thin so it feels a little sketchy, especially when you heat it to 350. We found reports where buyers used it at least a half dozen times and have no problems.